15 Oct. 2019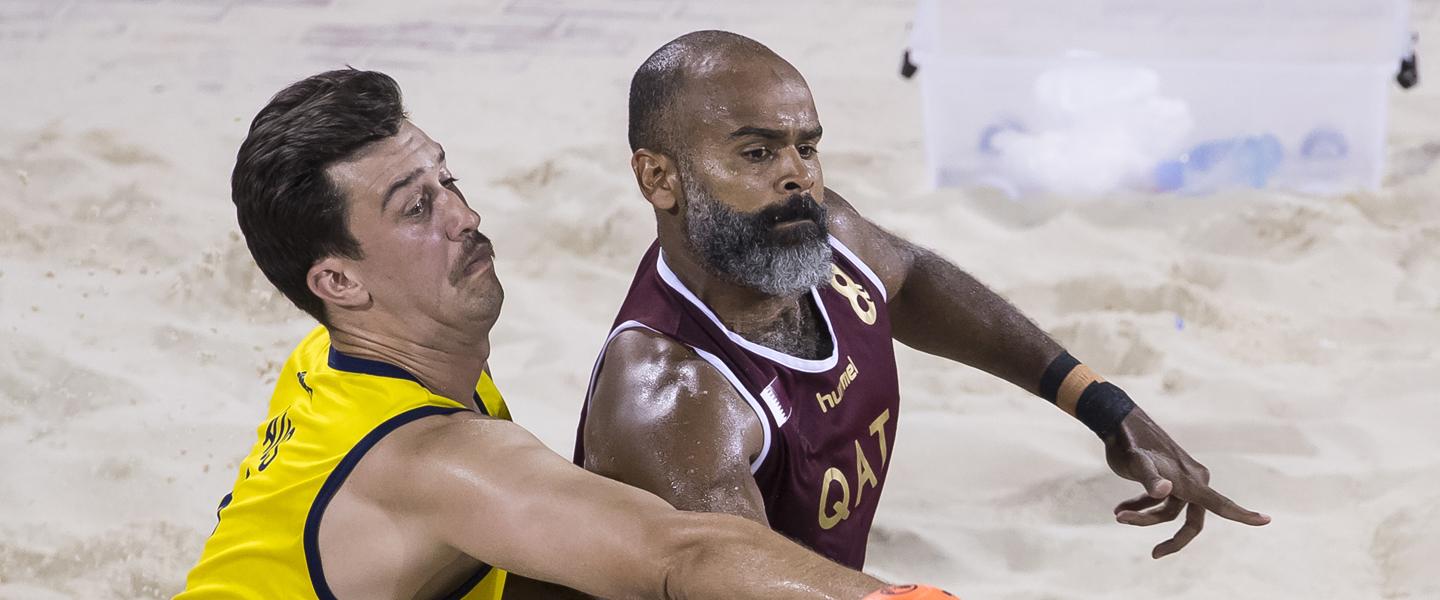 Qatar defeated Australia last night in the last quarter-final of the day at the Al Gharafa Beach Handball Arena in front of well over 2,000 noisy spectators.
Specialist Mohamed Hassan spoke with IHF.info after the enthralling contest which saw the host nation run out 2-0 winners to set up a semi-final clash against Brazil.
IHF.info: How was it playing in that atmosphere? Could you hear what coach Khaled Aly was telling you in the time outs and during the match?
Mohamed Hassan: It felt really good, but we couldn't hear what the tactics were because of the noise of the crowd, but they make you feel pumped up.
IHF.info: Australia had chances to come back in the first period and coach Aly took a time out with 90 seconds left to calm the situation down with you 20:17 up. Did you expect such a tough fight?
Mohamed Hassan: We expected them to be strong; it's not their first participation, they have been in the World Championship and World Games many times. They are a good, promising team, and we expected that from the beginning so that's why we started in a strong way.
IHF.info: In the second period you dominated more and made some assists and passes with a real freedom of expression, how does it feel to play like that?
Mohamed Hassan: Most of our players have been playing this game for 10-15 years so it's normal to get enjoyment from playing.
IHF.info: You face Brazil in the semi-final, how do you beat them?
Mohamed Hassan: We need a big concentration as they are the current and five-time world champions but also we are Asian champions for five successive times.
It's not getting any easier and it will be hard, but it's not the first time we have played them.
IHF.info: At the end of the game His Excellency Sheikh Joaan bin Hamad Al Thani came down to talk to you after the game, what did he say and how important is it to have his support?
Mohamed Hassan: His Excellency talked about the teams from Qatar in this tournament and that he will be here with us watching us in the semi-final to encourage us. This is the first time we have played here in our home town and we have made a promising start for a medal for a Qatari team here at the World Beach Games.
IHF.info: Six games in a row won, playing at home, in a semi-final with all these fans. How does that feel?
Mohamed Hassan: I have never felt better than this. This is a promising team who have played in 45-degree conditions in the morning and 70-80% humidity in the evening so they deserve this chance for a medal – it is what we have been waiting for.