16 Oct. 2019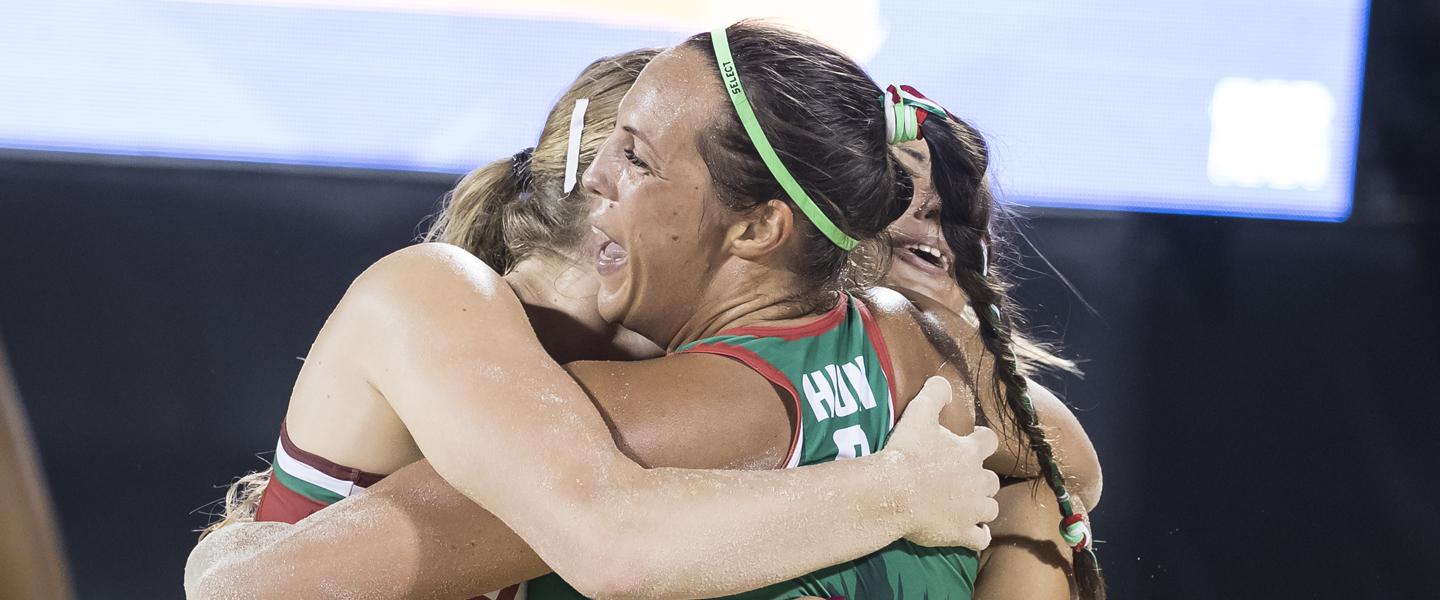 Hungary beat Vietnam 2-0 in the semi-final of the women's beach handball competition at the ANOC World Beach Games – Qatar 2019 to seal their final spot where they will face Denmark, the team who they lost to in the 2019 EHF Women's European Beach Handball Championship final in Poland back in July.
Hungarian goalkeeper Agnes Gyori and Hungarian Handball Federation Secretary General Gabriella Horvath spoke with IHF.info about the result and possible gold medal.
IHF.info: Agnes, at the end of the game when Hungary celebrated the win the players all gathered together and fell to the floor in celebration and got back up again, but you stayed on the sand, physically exhausted. How much did that game take out of you?
Agnes Gyori: Yes, I was very, very tired at the end. But I was very, very, happy. I am very old, and I was [lying there] thinking 'this is too much, too much,' but minutes later at the finish I was once again up, thinking; 'one more game, one more."
IHF.info: You may a number of key saves in the game, what do you feel like when you make them?

Agnes Gyori: I feel fantastic…I cannot explain the words in English.
IHF.info: You face Denmark in the final, a team you lost to 2-0 in the EURO final in July, are you looking for revenge or is it just another game?
Agnes Gyori: This is a new championship, a new game and a new final, so want to beat them, like every match we play. We will prepare as well as we have for all other games and do everything we can to win the gold medal, but this is a celebration – this is not my job, this is my life.
IHF.info: How important is getting a medal and getting to a final to inspire beach handball back in Hungary?
Agnes Gyori: As a player, it's a lot easier to teach the children back in Hungary as they can see how I play, they can see how passionate I am, and the kids are proud of me.
Gabriella Horvath: We've been working on the development of beach handball, and even more on the acceptance of beach handball as most countries have a really long way to go and every good performance we can have (like this) can help us convince the people that this is a beautiful sport.
The better we play here and the better rankings we achieve, can help us convince people that this is a beautiful sport and any further recognition the sport gets in Hungary is hugely important.
Outside and inside of handball we are really happy because we already have a lot of people coming over and watching us. They really like it and find it a spectacular sport, which it is. I really hope we will have some news about it and some buzz so we will have an easier job to sell the sport within Hungary and within and outside of the Hungarian handball community.
I also cheer for the acceptance (of the sport) all over Europe, and the world, because it's a fantastic sport and we need to have it.