15 Oct. 2019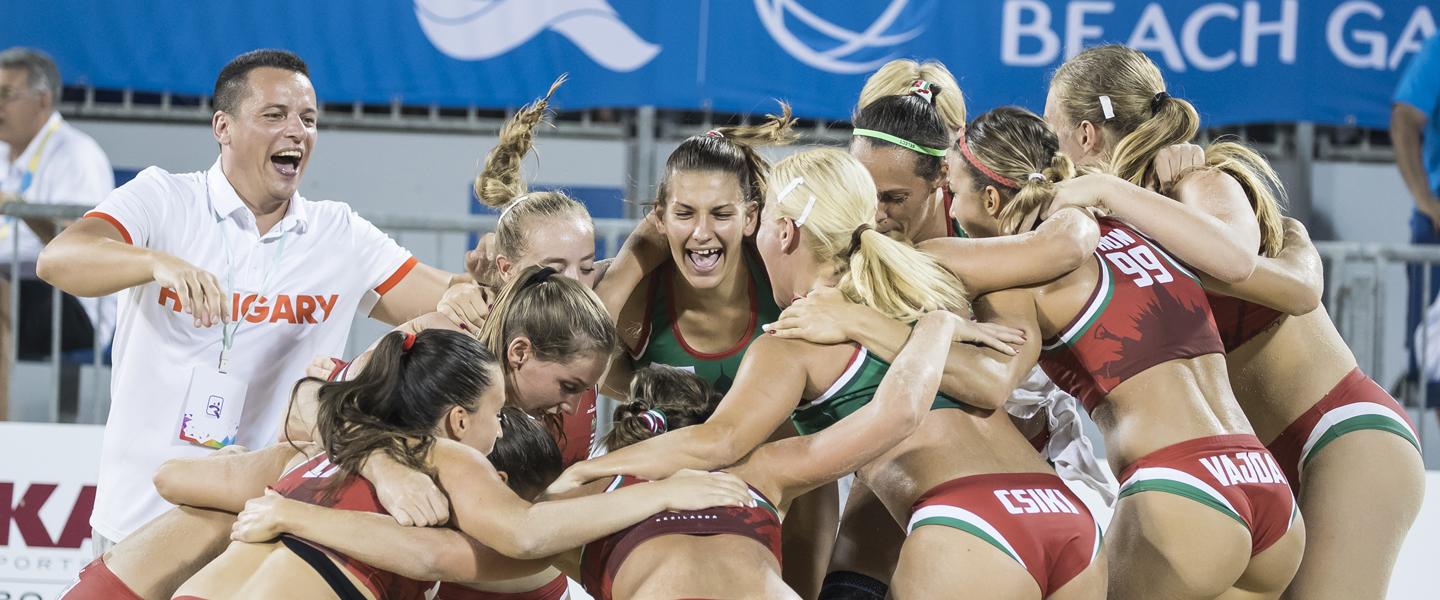 European champions Denmark overcame Brazil, while Hungary ended the Vietnamese fairy-tale in the women's semi-finals of the beach handball competition at the ANOC World Beach Games – Qatar 2019 today to set up a gold medal clash between the two finalists of the Women's EHF EURO beach handball championship this past July, which Denmark won.
Semi-Final: Brazil vs Denmark 1-2 (20:23, 20:16, SO 4:7)
Brazil meant business from the very start as pivot Renata Santiago won the start, deadly specialist Camila Souza slotted home the first two points and then Denmark's leading points scorer Frederikke Laerke saw her first shot saved.
But the two teams could not be separated at all until after the halfway mark of the opening period (14:14) with 4:20 remaining on the clock. Up to that point, fine defence from both sides had contributed to a tough encounter, but with the impressive reach of Laerke, Denmark are a threat all over the sand and she slotted home from distance in a classic 'indoor' style as Brazil found it hard to contain the 1,86m specialist.
While Brazil's eyes were on Laerke, left wing line Christensen was having success to, and combing with Laerke she pushed her side into a four-point (20:16) lead with 150 seconds left. Brazil stepped up their defence to make it more aggressive and open and at 22:18 down and 42 seconds left, their coach Marcio Magliano grabbed the opportunity for a team time out as he hoped to bring the Danish lead to within two.
However, after stepping on the line, that next Brazilian attack was thwarted as the Danish coaching staff let out a huge cheer, thinking they had sealed a first period win – but more drama was to come. Denmark threw the ball out on the attack and Santiago scored to make it 22:20 to Denmark, with coach Morten Frandsen Holmen calling a time out with six seconds left.
Three passes between Laerke and Kristensen later, Denmark were 23:20 up and taking a one-period lead into the half-time break.
Holmen let out a huge sigh of frustration immediately at the start of the second period with his side losing the start again, but goalkeeper Laura Louisa Ferlov Askvist saved the Brazil chance, and their next one after Melanie Fuglsbjerg shot wide for Denmark in-between.
The lead changed hands a number of times before it became all square at 14:14 with just under five minutes left after Beatriz Correia Gomes Da Cruz scored for the South Americans.
This seemed to inspire her side who then went on a 6:0 scoring run (20:14), which would have been more had Danish goalkeeper Maria-Teresa Gronning Faurhoj not pulled off two saves in a row.
It was time for another Holmen time out (75 seconds left), but their attack broke down and Faurhoj had to save again before Carolina Suelen De Lima Braz was shown a red card for a defensive foul. Denmark scored to come with four (20:16) and Brazil took a time out with 14 seconds left to ensure the shoot-out would follow.
But, again, Faurhoj saved their shot, but the win was in the bag already for Magliano's team and the shoot-out was imminent. 
With her series of shots late on in the second period, Faurhoj had the 'hot hand' and she proved to be the difference as she saved the very first Brazilian effort from Correia, with the ball disappearing into the night sky after ricocheting off of her left arm.
Santiago kept her side in it, scoring from a lob under pressure from the onrushing Camilla Fangel to make it 4:4, and when Fangel used all her defensive skills to bring about an attacking foul from Cinthya Piquet De Medeiros Pires, all Denmark had to was to score the solitary point, which they did, through Ann Cecilie Fruhstuck Moller.
Semi-Final: Vietnam vs Hungary 0-2 (14:25, 12:16)
Vietnam's dream was stopped in its tracks by a Hungary side who did not let up in either attack or defence for the entire first period, stopping the key to Vietnam's success – speed, and their left wing, Hang Pham Thi My – from dominating in the game early on.
With seven goals in the first 150 seconds, it was a blistering start as Hungary were up 8:6, but they did not look back from then on as right wing Reta Kiraly received great service to pounce throughout the opening 10 minutes, thanks to her side working the ball out to her well. 
After Vietnam took a time out with just over four minutes remaining, Hungary put their pedal to the metal as the European silver medallists shut up shop at the back thanks to the experience of Agnes Gyori in goal.
With one minute and 14 seconds remaining the difference was +10 (24:14) and the period was decided. 
As expected, Hungary's fellow continental runners-up, came out harder in the second period, taking a 4:2 lead through Pham Thi My, but that was the last time they would be in front as Hungary kept their noses in front, doing just enough and setting up a rematch of the European final tomorrow, against Denmark.
Poland defeat Spain, Greece lose to Argentina
In the first set of matches in the Placement Round 5-8 the past two world champions both lost with 2016 winners Spain going down to Poland and title-holders Greece losing to Argentina with Buenos Aires Youth Olympic Games gold-medal winner Gisella Bonomi scoring 12 points to top the South American scoring charts with 59 points.
Australia grabbed their first win of Qatar 2019 to finish 11th, beating Tunisia.
Results: Women's Competition – Tuesday 15 October
Semi-Finals
Brazil vs Denmark 2-0 (20:23, 20:16, SO 4:7)
Vietnam vs Hungary 0-2 (14:25, 12:16)
Placement Round 5-8
Poland vs Spain 2-1 (18:17, 14:15, SO 9:8)
Argentina vs Greece 2-0 (19:18, 25:16)
Placement Match 11/12
Australia vs Tunisia 2-0 (14:13, 13:11)