14 Oct. 2019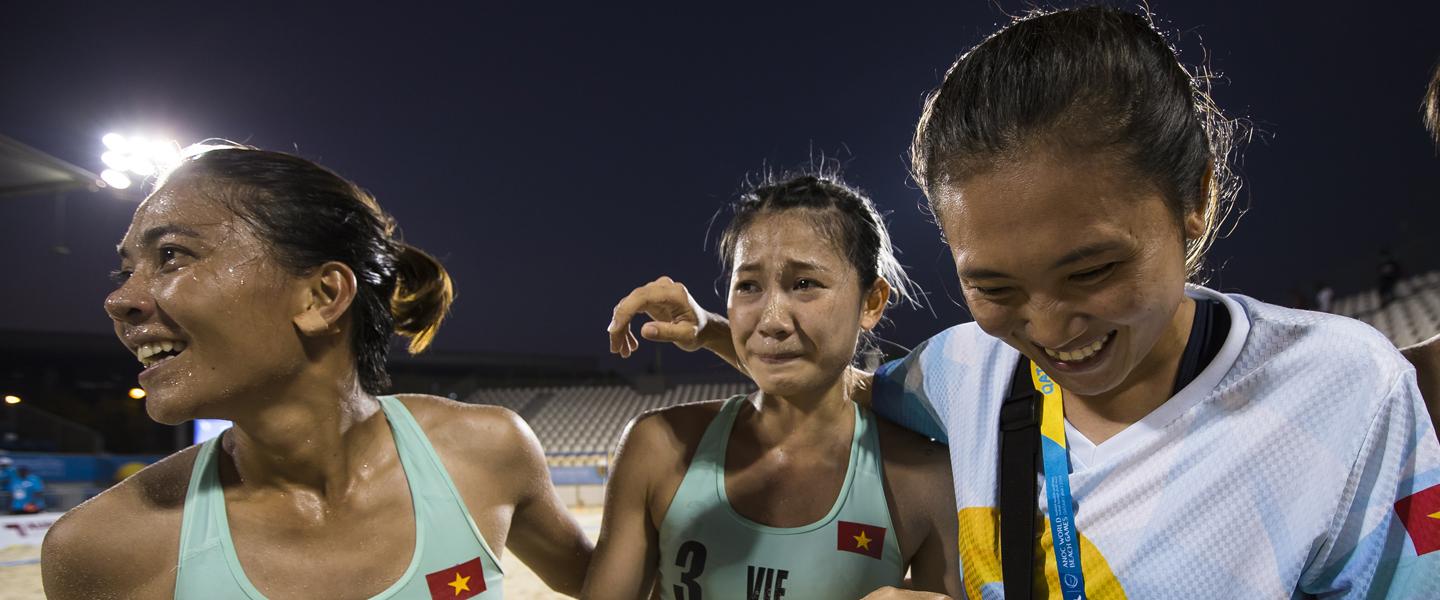 The four semi-finalists of the women's beach handball competition at the ANOC World Beach Games – Qatar 2019 are known after a day of intense rivalry took place on the sand at the Al Gharafa Beach Handball Arena in Doha but featured just one shoot-out in the six games played.
Brazil continued in their perfect way, defeating Poland, Vietnam won the duel of the up-and-coming teams against Argentina, European champions Denmark dispatched Spain, while Hungary overcame world champions Greece. The day also saw the start of the Placement Round 9-12. 
Brazil in perfect rhythm, Vietnam take their place at the top table
Marcio Magliano's Brazil proved the old saying that 'defence wins championships' as they restricted Poland to just a total of 20 points in their opening quarter-final of the fourth day of competition at Qatar 2019. 
But Poland will be kicking themselves after letting the opportunity slip to cement a lead in the first period a number of times. Brazil were warming up throughout the first 10 minutes, never fully in top gear, but showing flashes of brilliance, such as the quick thinking from Ingrid Frazao, who scored into an open goal from full range after the Brazilian goalkeeper had made a save (10:8). 
However, a number of sloppy moments saw a couple of Brazilian turnovers and technical faults in a row and combined with the goalkeeping prowess of Natalia Filonczuk for Poland, the Europeans went ahead 12:10. In the very next attack Filonczuk saved from Cinthya Pires but Kinga Jakubowska failed to put her side up by four. After Brazil eventually equalised they let Poland in again, but Jakubowska again could not capitalise, whistled for a technical fault with her feet on the sand after she had jumped to shoot.
Right at the end of the opening period, with Brazil 14:12 they turned over the ball, but with it out of play and just two seconds remaining, Poland did not even have time to retrieve it and their moment was gone.
After winning the ball at the start of the second period, Brazil never looked back, going 4:0 – and a player – up after just 50 seconds when Poland's Katarzyna Maslowska was shown red for a foul on Camila Ramos. A series of great defensive play, coupled with a fully-focussed Brazil then saw an interception and the South Americans already 6:0 up with four minutes played.
The lead stretched to 10:2 when Patricia Scheppa, wearing the specialist vest smashed home, thanks to yet another block from her defender, and recent addition to the squad, Gabriela Nicacio Messias. Poland could only result to taking long shots and the lead became as much as 12 points (16:4) as the world championship bronze medallists booked a semi-final date.
Argentina and Vietnam was a clash of two emerging nations on the global beach handball circuit with the South Americans, perhaps, the favourites after their gold medal at the Youth Olympic Games, but the Asian runners-up had other ideas as their attack, led in attack by left wing Hang Pham Thi My meant business, not missing a chance to hit the back of the Argentina net.
An indifferent first period display from Argentina was fraught with errors – starting with them winning the ball at the beginning of the match but Vietnam scoring first and then a number of times turning over the ball for having too many players on court.
As if to highlight their lack of concentration My punched home an unguarded ball in the Argentina area after her Vietnam side had seen their previous attack fail and their opponents transition players from defence to attack. This alertness and creative thinking is a key component for Vietnam, coupled with a big defensive shift from centre back Huong Nguyen Dang Thi on specialist Ivana Eliges throughout the opening 10 minutes with the Vietnamese player defending the Argentina attack at the halfway point and making for a disappointing birthday for the South American.
But Argentina cannot be underestimated, and they came out like a wounded animal in the second period after a heavy first period loss (31:22) to take the game to a shoot-out, winning 20:16 after the lead switched sides a number of time.
The shoot-out went to the fourth round before Fiorella Corimberto shot wide (6:6) with My ensuring her side went in front (8:6) and then Thi got her chance to shine in attack, scoring the winning shot to spark wild celebrations.
European champions Denmark beat Spain 2-0 after comfortably winning the first period (23:19), but it took a golden goal strike from specialist Frederikke Laerke, off the inside of the post to ensure a second period, 22:20 victory. It had been 20:20 at the end of normal time and after a frantic fight for the ball from the restart, Laerke wasted no time in sinking home.
World champions Greece were knocked out by Hungary in a quarter-final which saw Hungary, welcoming back key player Fruzsina Kretz after an ankle/foot injury, win the first period by one point (15:14), but in comfortable circumstances having led 15:12 after taking a time out with 29 seconds left.
The second period was much closer with Greece fighting for their tournament lives and they led 6:2 after three minutes and then 8:4. But Hungary came back to equalise, and the game stayed locked until 14:14 at which point the Hungarians took a time out with 23 seconds left and scored through Luca Vajda (16:14). Greece had one last attack after coach Maria Karantoni took a time out with 10 seconds left, but the vastly-experienced Vasiliki Skara overthrew her pass to Eleni Kerlidi, on rushing on the right wing, the ball went out and Hungary celebrated.
China get first win, Australia and Tunisia to play for 11/12 place
In the first round of matches in the Placement Round 9-12 both the USA and China had 2-0, comfortable victories over Australia and Tunisia respectively.
Results: Women's Competition - Monday 14 October
Quarter-Finals
Brazil vs Poland 2-0 (14:12, 20:8)
Argentina vs Vietnam 1-2 (22:31, 20:16, SO 8:9)
Denmark vs Spain 2-0 (23:19, 22:20)
Hungary vs Greece 2-0 (15:14, 16:14)
Placement Round 9-12
United States of America vs Australia 2-0 (22:10, 20:15)
Tunisia vs China 0-2 (16:21, 6:15)