14 Oct. 2019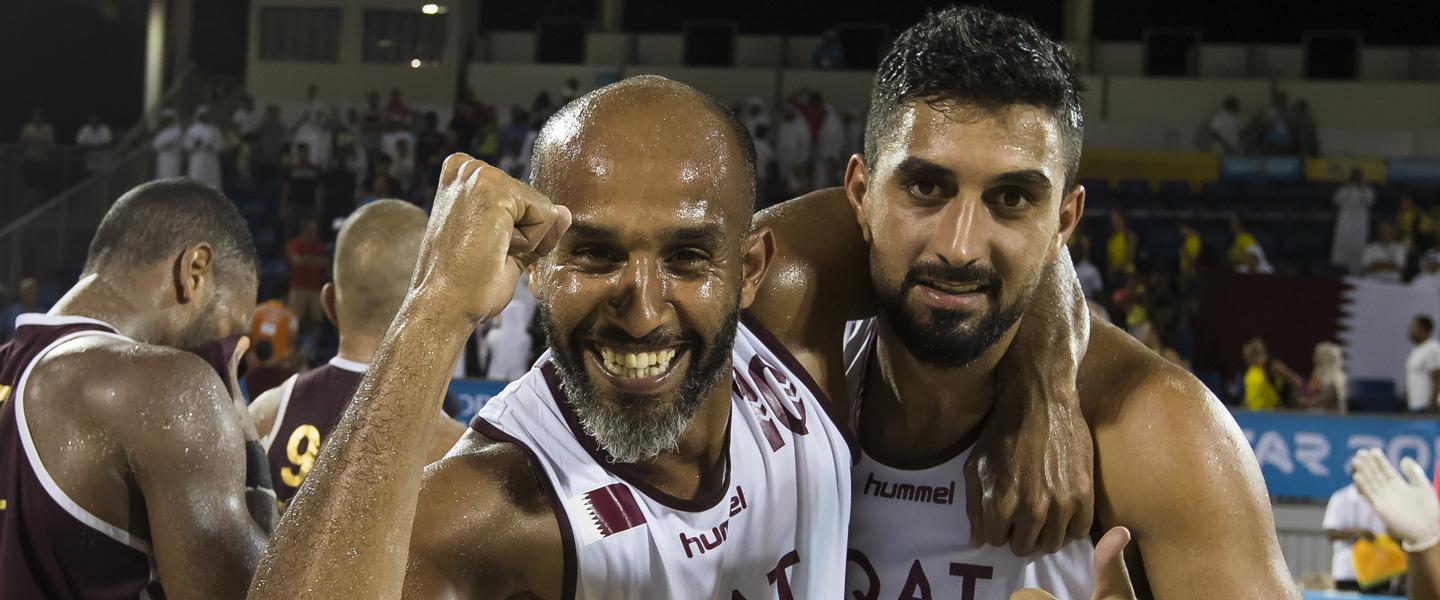 The four semi-finalists of the men's beach handball competition at the ANOC World Beach Games – Qatar 2019 are known after a day of intense rivalry took place on the sand at the Al Gharafa Beach Handball Arena in Doha.
Spain beat Denmark, Sweden defeated Hungary, Brazil took on Croatia and came out on top, while the hosts dispatched Australia. The day also saw the start of the Placement Round 9-12. 
Perfect European champions out, world and Asian champions through
The Danish side were the form team at Qatar 2019 ahead of their quarter-final against Spain, having won all five of their matches 2-0, not dropping a period, including a win against world champions Brazil.
And down the other end of the court, Spain had had an indifferent start to the tournament, easily winning their opening matches against Uruguay and Tunisia 2-0 but then losing their next three, against Hungary, Croatia and Qatar, winning just one period.
But all that changed today as Spain, who had lost to the Danes at the European championship earlier this year, dominated from start to finish, winning the first period 20:17 and then late at the end of the second, forcing Denmark to take a time out, who were 22:18 down. 
When Spain's pivot Juan Antonio Vazquez Diaz lobbed a shot home from an in-flight to make it 26:20 to his side with less than 60 seconds left, wild celebrations from the Spanish players took place on the sidelines, their place in the final four sealed.
In the second quarter-final of the day, the two teams from the last three world championship finals (2014, 2016, 2018) faced off with the might of Brazil going head-to-head with Croatia.
Brazil led by double figures in the first period a number of times and got up to 20 points scored already with just under four minutes remaining (20:10). That double-digit gap came from Brazil playing in the most 'Brazilian' way they could – completely relaxed, full of skill but hard and effective as nails being hammered into wood.
In fact, MVP of the last world championship, Brazil's diminutive specialist, Bruno Carlos de Oliveira, at one point had the clear South American swagger with one of his mesmerising series of forays through the opposing defence. 
But the second period was completely different as an early red card for Brazilian defender Diogo Silva Vieira seemed to unsettle the side with just over seven minutes remaining. However, Croatia failed to capitalise initially with the normally-dependable Ivan Juric failing to get past Cristiano Seben Rossa in the Brazilian goal from a penalty. 
After five minutes Brazil were leading by six (10:4) and could be forgiven for thinking they were through already, and maybe they did, as Croatia slowly came back to just two points down (14:12), prompting a time out from Brazil coach Antonio Guerra Peixe with just over two minutes left.
With the possibility of putting his side 18:14 up, de Oliveira was whistled for taking too many steps and Croatia equalised (16:16) with the very next play as Filip Goricanec scored.
Further drama came when Filip Hancic, in the Croatian goal, saved from the next Brazilian attack, with teammate Tomislav Laus celebrating the save wildly and their coach immediately taking a time out to prepare for a potentially-winning strike from the next play as they returned to the sand after the pause knowing they had to win.
And they made sure they did as Mateo Budci sunk home from the six metre line, to ensure the game would go to a shoot-out which Croatia, subsequently and literally, threw away. 
Firstly, Juric was called for a technical foul and then an attacking lob from Josip Leko lacked any real power or direction and was saved. Nailson Amaral then missed for Brazil with his shot hitting the crossbar and going over and it appeared the luck was going to change for the Europeans (6:4 to Brazil).
But with the fifth round of shots starting, an aggressive goalkeeping performance from Wellington De Novais Alves Esteves, he did enough to put off Filip Goricanec who second-guessed the 2,04m Brazilian, and with it, he was whistled for too many steps and Brazil could celebrate.
The third quarter-final also went to a shoot-out with Sweden eventually prevailing over Hungary after goalkeeper Johan August Elmberg saved the second and third Hungarian attempts from Bence Priczel and then Norbert Attila Gyene with Johan Hampus Oliver Dalqvist and then a solitary point strike from Jesper Knutsson sealing the win.
Hungary had won the first period after being four points ahead with just 18 seconds remaining and Andras John sealing the period victory with just three seconds left thanks to a single-point strike. But Sweden had come back in the second to win by two also (22:20).
The last quarter-final featured host nation Qatar and Australia in the final match of the day at Al Gharafa and was played in front of a fully-packed arena including President of Qatar Olympic Committee (QOC), His Excellency Sheikh Joaan bin Hamad Al Thani. With well over 2,000 noisy spectators, the atmosphere was electric under the lights as Australia opened the scoring but fell to a determined Asian champion in the first period, eventually, as a nervous Qatar coach Khaled Aly took a time out with 90 seconds left and the score 20:17 in favour of his team to ensure his side settled, and confirmed the opening period victory, which they did with two unanswered strikes.
The second period was more routine with Qatar in front for the full 10 minutes, winning by seven (21:14) to set up an evening date with Brazil tomorrow for a place in the final.
Uruguay and Tunisia get second wins

Both games in the first set of matches in the Placement Round 9-12 went to shoot-outs with Uruguay defeating the USA 7:4 and Tunisia defeating Oman 5:4. The wins were the second for both teams who will now face off for 9/10 place.
Results: Men's Competition - Monday 14 October 2019
Quarter-Finals
Denmark vs Spain 0-2 (17:20, 24:30)
Brazil vs Croatia 2-1 (30:20, 16:17, SO 6:4)
Sweden vs Hungary 2-1 (17:19, 22:20, SO 7:4)
Australia vs Qatar 0-2 (17:24, 14:21)
Placement Round 9-12
United States of America vs Uruguay 1-2 (16:21, 23:22, SO 4:7)
Oman vs Tunisia 1-2 (18:16, 20:21, SO 4:5)