12 Oct. 2019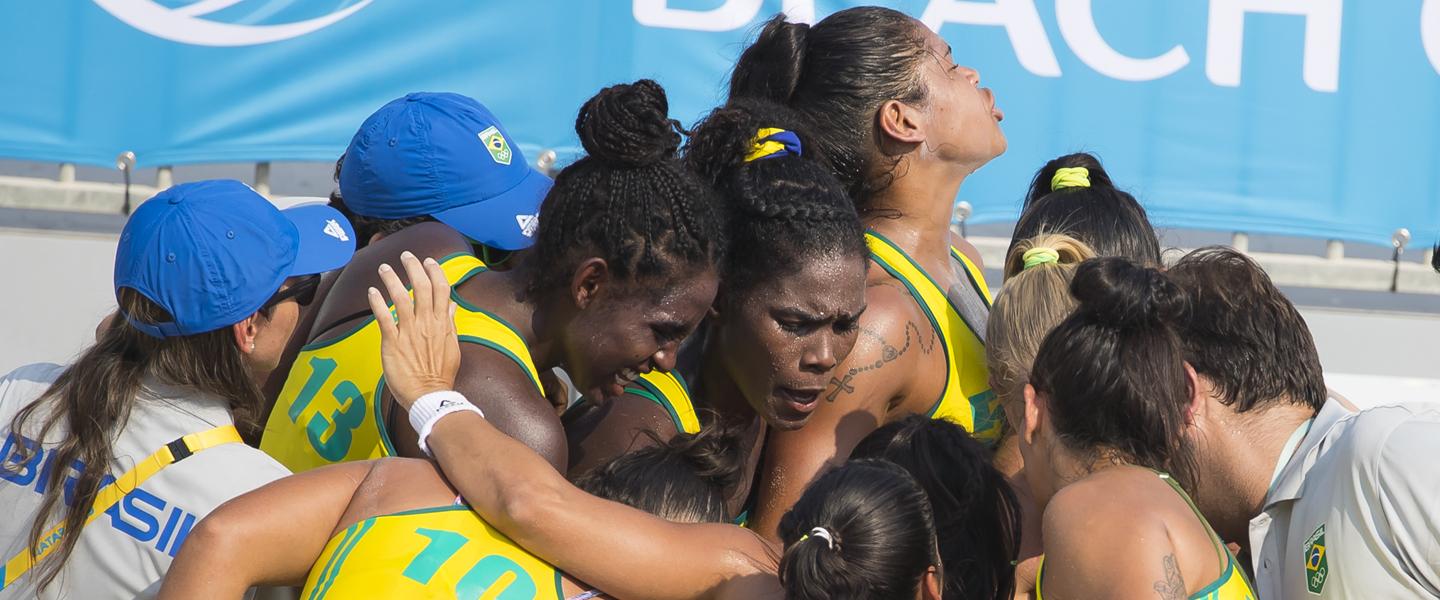 Al Gharafa Beach Handball Arena saw the second full day of women's competition at the ANOC World Beach Games – Qatar 2019, with 12 games taking place across two groups and a number of quarter-final qualification positions confirmed.
Group A: Brazil perfect, USA close but not close enough
Brazil continued their perfect record, winning their third and fourth games 2-0, against Tunisia and Hungary, to ensure they firmly cemented their pre-tournament favourites tag.
In their 2-0 afternoon victory over Hungary they led 12:0 at one point in the second period before their opponents finally got off the mark, scoring with three minutes and 43 seconds left. More concerning for the Hungarians than their lack of firepower was losing influential left wing Fruzsina Kretz to what appeared to be an ankle injury.
"We have been working a lot of time to get here and I think that we are prepared to play with all the teams," said Brazil's pivot Renata Santiago to IHF.info. "But we know it's not easy because everybody is playing very well, but we are still optimistic of winning. I always think I can be better, but I think I am playing well at the moment and I can help my team.
"The defence is the strong point in our team; they are so good and so bright, and they made the difference today." 
The USA were fighting for their lives, knowing that two wins from their remaining three games would have seen them compete for a quarter-final spot, but after an impressive first period win against Argentina, the South Americans came back, it went to a shoot-out and they lost.
At the same time that was going on in the morning session, Denmark were taken to a shoot-out by Hungary, but managed to get their third win and then they broke American hearts, defeating them 2-0 to ensure the North Americans joined Tunisia in the consolation round, who lost 2-0 against Argentina in their second match.
"I was not scared because the game went to the shoot-out," said Denmark's Frederikke Buhl Laerke. "I have trust in me and my team. Hungary is a great opponent, we faced them in the European final, but whoever has the better nerves will win."
Group B: Vietnam gain Asian revenge on China, Poland hanging on
Australia lost to China 2-0 and then Spain to end their hopes of a quarter-final place while the Chinese still have hopes of making it through to the last eight when they play Poland tomorrow in a winner-takes-all match.
China lost their continental-clash against Vietnam in the afternoon game clearly, with the Vietnamese gaining some small revenge for their defeat against the Chinese at the 2019 AHF Women's Asian Beach Handball Championship earlier this year.
Poland will be disappointed that they could not seal their quarter-final place before the final game tomorrow, having taken the last two world champions to a shoot-out in their matches today. First, against 2016 winners Spain, where they lost 7:6, and then against 2018 winners Greece, 9:5, who won their second match of the day after they did enough to beat a determined Vietnam in the morning game.
46 points were scored in a frantic first period, but Vietnam had chances to win both periods, hitting the post at the end of the first which they lost 24:22 and then, when they were 15:14 up in the second, taking a time out, missing and allowing Greece to come from behind to win.
All of this without the influence of pivot Anh Phan Van who could only watch her side from the seats after injuring her left knee, an injury which will see her sit out the rest of the competition.
"We stay unbeaten and we want to finish first in our group," said Greece's Ntafina Dimitri. "We are happy with the results we got. We came to Doha without thinking of medals, so we need to continue with the same method: game by game. 
"Brazil are very strong and so are Spain, and Argentina are the surprise package of this tournament."
RESULTS
Women's Competition: Saturday 12 October 2019
Group A: Brazil (BRA), Denmark (DEN), Hungary (HUN), Argentina (ARG), United States of America (USA), Tunisia (TUN)
Group B: Greece (GRE), Spain (ESP), Poland (POL), China (CHN), Australia (AUS), Vietnam (VIE)
Group A
ARG vs USA 2-1 (18:20, 19:11, SO 9:6)
DEN vs HUN 2-1 (16:11, 14:20, SO 9:6)
BRA vs TUN 2-0 (18:3, 20:4)
HUN vs BRA 0-2 (14:15 8:20)
DEN vs USA 2-0 (21:16, 20:6)
TUN vs ARG 0-2 (8:18, 6:23)
Group B
CHN vs AUS 2-0 (15:13, 17:14)
ESP vs POL 2-1 (16:7, 12:16), SO 7:6)
GRE vs VIE 2-0 (24:22, 16:15)
POL vs GRE 1-2 (21:20, 14:18, SO 5:9)
ESP vs AUS 2-0 (16:11, 22:6)
VIE vs CHN 2-0 (23:16, 26:15)