12 Oct. 2019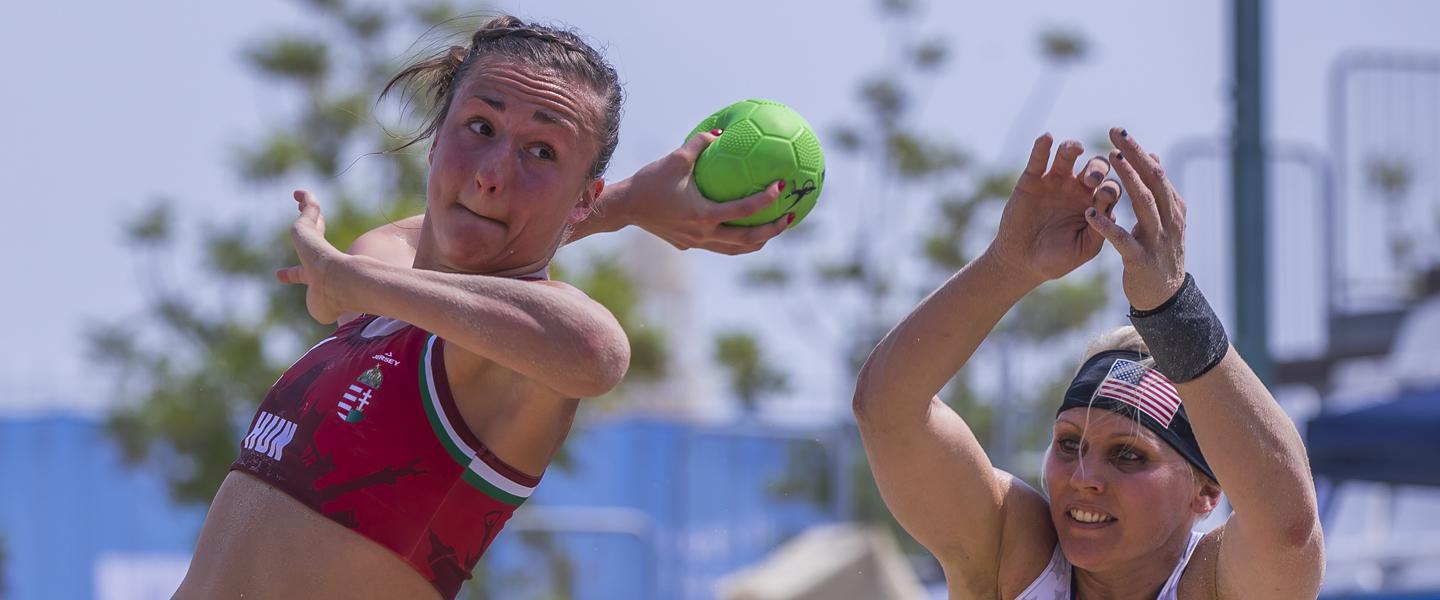 With only the top four in each preliminary group progressing through to the quarter-finals, the second matchday of the women's beach handball competition at the ANOC World Beach Games – Qatar 2019 will provide answers as to who will be moving on to the next stage of fighting for a medal.
With 12 games across the day, a number of nations will find out their fate, after the conclusion of the final games which throw-off at 1540hrs (local time). 
Featured Match: Group A – Brazil vs Hungary (1400hrs)
"I feel fantastic; the first win is the most important in a tournament, so I am happy, but I want a medal," said Hungary's goalkeeper Agnes Gyori, clearing stating her objectives in Qatar after her side defeated the USA in their first match with their free-flowing and relaxed performance going some way to confirming their status as one of the pre-tournament favourites for a podium place thanks to a clear win in each period.
Another straightforward win, against Tunisia, followed, but with both the North Africans and USA ending the day bottom of the group after they both lost their two matches, Hungary will face bigger tests.

Their opponents Brazil faced an early test on the opening day, against another podium contender, Argentina, which left their coach reassessing his preparation routine despite a 2-0 victory.
"Argentina played in a way they have never played against us; they were changing their attack every time, so we were not prepared for that," he said. "We didn't practice playing a team that would change during their attacks, but my players know what to do in one formation and another. 
"They are very good players, but they just needed a start to get their rhythm."
Rhythm is a word traditionally associated with Brazil and if Magliano's side can find it, after they ended the day with four points, thanks to a 2-0 victory over the USA themselves, then Hungary will face their hardest test yet.

But the Europeans have their own rhythm themselves thanks to a mix between youth and experience. Gyori herself was a coach of the Hungarian side at the Youth Olympic Games in Argentina last year – a team which has provided players for the senior team of whom she now plays alongside in Qatar.
Group B wide open for quarter-final qualification

The remaining 11 games will see a number of interesting clashes with a repeat of the Asian women's beach handball final from earlier this year, when China and Vietnam take on each other, but Vietnam have been the most impressive of the two in Qatar to date. 
China's earlier game will see them take on Australia with one of the teams getting their first points of the tournament, while Poland will look to defeat the last two world champions in their two games, 2016 winners Spain in the morning and title-holders (2018) Greece in the afternoon.
Follow the ANOC World Beach Games – Qatar 2019 HERE.
Match Schedule: Women's Competition – Saturday 12 October 2019
Morning Session
Group A
0900    ARG vs USA
0900    DEN vs HUN
0900    BRA vs TUN
Group B
1040    CHN vs AUS
1040    ESP vs POL
1040    GRE vs VIE
Afternoon Session
Group A
1400    HUN vs BRA
1400    DEN vs USA
1400    TUN vs ARG
Group B
1540    POL vs GRE
1540    ESP vs AUS
1540    VIE vs CHN