12 Oct. 2019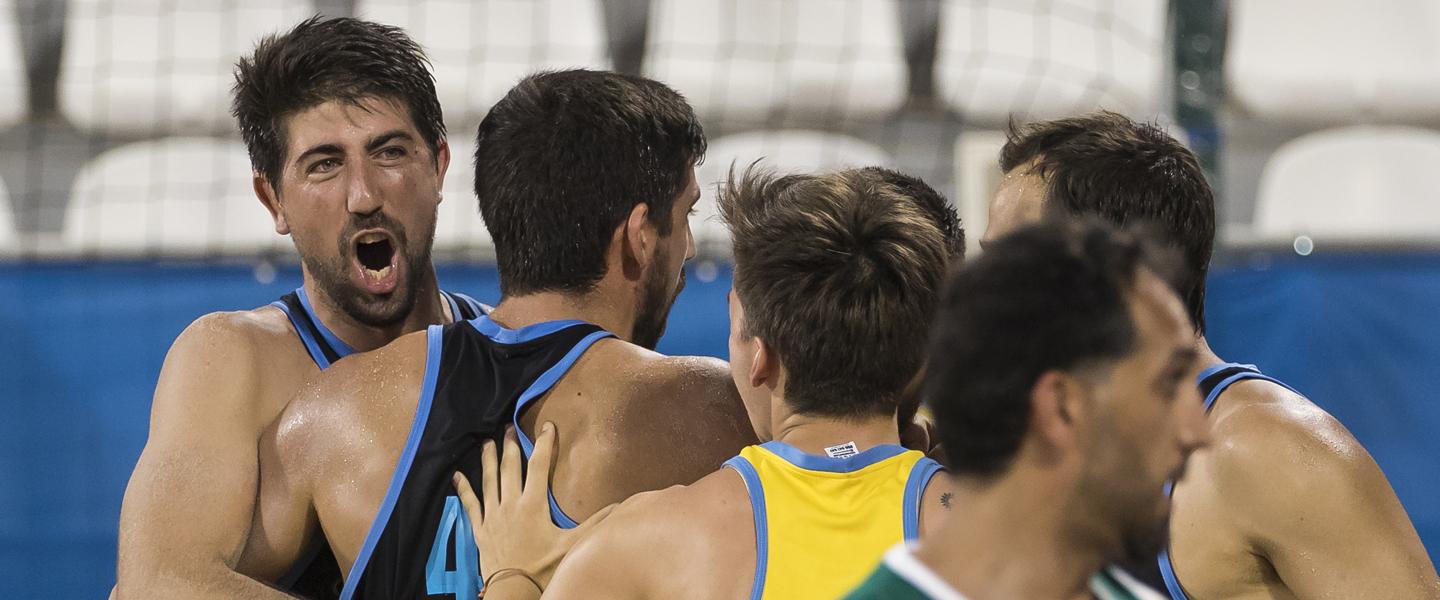 Al Gharafa Beach Handball Arena saw the second full day of men's competition at the ANOC World Beach Games – Qatar 2019, with 12 games taking place across two groups and a number of quarter-final qualification positions confirmed.
Group A: European champions beat world champions, first wins for Australia and USA as Oman crash out
Both the United States of America and Australia picked up their first wins of Qatar 2019, defeating Oman on the second matchday of group A, giving them both a chance to play-off tomorrow for a quarter-finals spot and in the process, consigning the Asian runners-up to the consolation round.
While the USA 2-0 win was convincing, the Oceania champions Australia had to go to a second round in the shoot-out after they had put the game into the third period after a second period, 20:14 win had followed a tight 19:18 loss in the first. 
The hero for Australia was their goalkeeper/specialist Lucas Turecek, who had been the villain at the beginning of the shoot-out, deciding to shoot direct from the start into a well-guarded goal but when Oman's right wing Hani Al Dughaishi hit the crossbar with his attempted lob at 4:4, Australia sensed a chance of victory, but were thwarted in their thoughts when goalkeeper Abdullah Al Balushi saved Daniel Fogarty's attempt.
This set up Asad Al Hasani with the next ball to win the game. But an adrenaline-filled Turecek pulled off a wonder save, and the shoot-out went to a second round. Turecek then did enough to put off Usama Al Kasbi from hitting the target, before the Australian goalkeeper, standing at 1,98m tall, took the pass from Christopher Pinder to score the winning points and sunk to the sand in pure emotion at the 2-1 victory.
Denmark made it four wins out of four, defeating Sweden and then Brazil, 2-0. The clash against Brazil saw the European Champions taking on the World Champions and the Danes repeated their feat from last year at the 2018 IHF Men's Beach Handball World Championship, where they had beaten them 2-1.
The game's first points came immediately from the start with Gil Pires winning the ball from his jump and in one move, shooting into an empty net, but Denmark came back and were the better side against a Brazil team who made several mistakes, punished by the Europeans.

At one point Frederik Jensen sprinted on to court to intercept a goalkeeper pass out to put his side 8:2 up and more mishandling saw Denmark ensured Denmark kept their lead, but Brazil came back, took a time out and sealed the first period, prompting an animated half-time team talk from Brazil coach Antonio Guerra Peixe.
Despite the pause, Denmark came back even stronger to confirm their status as one of the key favourites for goal.

"It feels great to be able to compete at such a high level," said Denmark's Martin Andersen who scored the winning point against Brazil at Kazan 2018, to IHF.info. "We played a great match against an opponent we have huge respect for, but to beat our rivals from Sweden and the world champions Brazil both 2-0 is big. We showed some character today."

In the other matches of the day, Brazil defeated Australia 2-0 and Sweden saw off a spirited second period from USA, winning it with a golden goal to win 2-0.
Group B: Hosts 100%, Uruguay keep hopes alive, stunning Hungary
Qatar made it four wins out of four so far on home sand with two 2-0 wins today against Uruguay and Tunisia, who also lost 2-0 to Croatia.

"We did not expect to stay unbeaten," said Qatar's defender Mutasem Mohamed. "We thought that we could drop one or two games as we went up against Hungary and Croatia, who are two well-known teams. It's not easy. This has become a big challenge for us.

"We are more relaxed for sure," he added about winning all four games so far. "We have one more game on Sunday and then we shall see what's next. This is a big push for the quarter-finals. We have a lot of new guys in the team. They learn something new every day and this performance takes the stress off."

But the big story from group B came in the last game of the day as Uruguay got off of the mark, defeating Hungary in a shoot-out 7:6 after an extremely tight match decided by a point in each period.
The key player was Uruguay's goalkeeper Richard Daniel Bica de Dominicis, who stood tall in the South American net, preventing Hungary from confirming their place in the quarter-finals.
Hungary had dispatched Spain in the morning session 2-0, while the Spanish ended a disappointing day with their second loss, against Croatia via shoot-out at the same time, and next to the court, where Uruguay were underway in their eventual victory against Hungary. 
The first period had seen 59 points scored in some fast-paced action and when their match was over, both sets of players from Spain and Croatia watched the Uruguayan drama unfold.
RESULTS
Men's Competition: Saturday 12 October 2019
Group A: Brazil (BRA), Sweden (SWE), Denmark (DEN), Oman (OMA), United States of America (USA), Australia (AUS)
Group B: Croatia (CRO), Hungary (HUN), Spain (ESP), Qatar (QAT), Uruguay (URU), Tunisia (TUN)
Group A
OMA vs USA 0-2 (15:20, 12:16)
SWE vs DEN 0-2 (20:25, 12:19)
BRA vs AUS 2-0 (27:9, 20:12)
SWE vs USA 2-0 (23:18, 19:18)
DEN vs BRA 2-0 (23:21, 19:16)
AUS vs OMA 2-1 (18:19, 20:14, SO 7:6)
Group B
QAT vs URU 2-0 (19:18, 22:18)
HUN vs ESP 2-0 (21:20, 19:16)
CRO vs TUN 2-0 (22:18, 16:14)
TUN vs QAT 0-2 (12:18, 14:18)
ESP vs CRO 1-2 (31:28, 18:20, SO 8:9)
HUN vs URU 1-2 (19:20, 15:14, SO 6:7)