12 Oct. 2019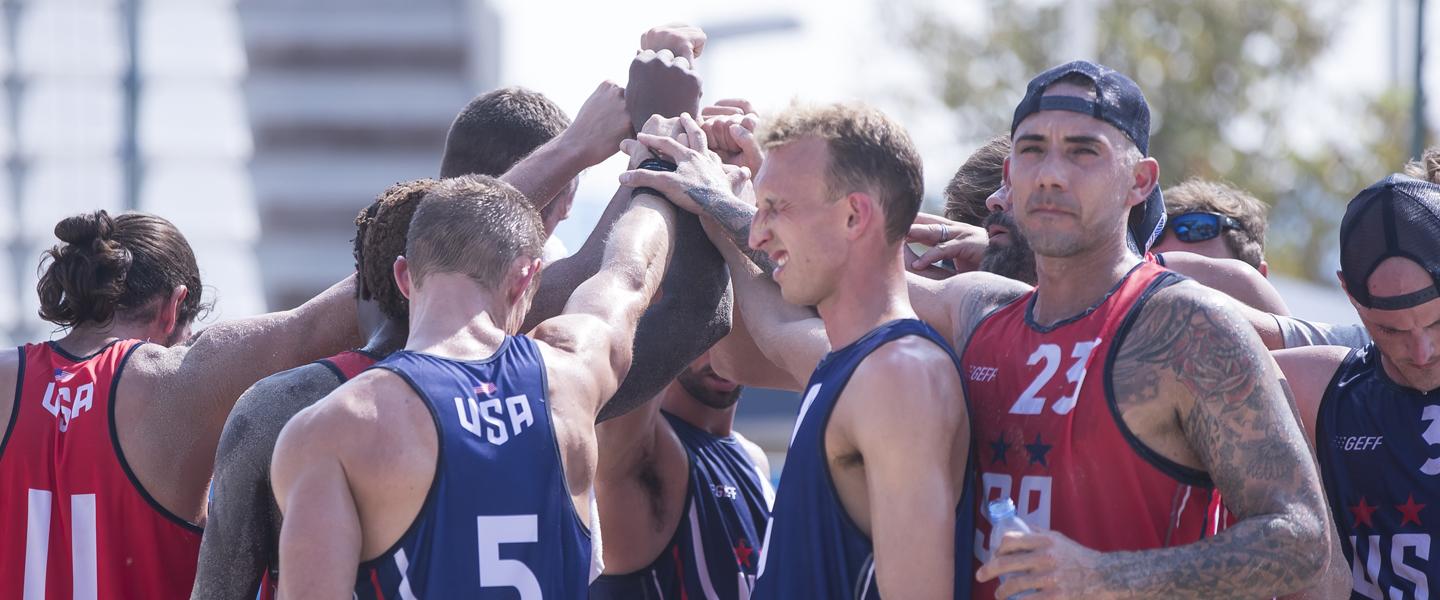 With only the top four in each preliminary group progressing through to the quarter-finals, the second matchday of the men's beach handball competition at the ANOC World Beach Games – Qatar 2019 will provide answers as to who will be moving on to the next stage of fighting for a medal.
With 12 games across the day, a number of nations will find out their fate, after the conclusion of the final games which throw-off at 1630hrs (local time). 
Featured Match: Group A – Oman vs United States of America (0950hrs)
The third match in for both the USA and Oman could already be a 4/5 placement match in group A as, along with Australia, these two sides lost both their matches on the first matchday. Oman faced two of three strongest teams in their two 2-0 losses against world champions Brazil and fourth-placed world championship side Sweden.
The US were in touch with both of their opponents, Brazil and European champions Denmark but were eventually beaten comfortably by both in all four periods.
"We knew Denmark were going to come out strong," said USA's pivot Drew Donlin to IHF.info. "They are coming off of winning the EURO championship and they have a lot of strong players, so we were expecting a tough game.
"Any time you come into a big competition like this, in the first game you always have a few cobwebs no matter how good your training was. We felt we came in prepared, but I think it was a combination of things [that we lost]. We've just got to tighten up, but I think those are easy things to improve."
Donlin was also quick to point out that his side are a real threat, especially in attack. "We've got a lot of talented guys in Ebiye (Udo-Udoma), Jacobo (Garcia), Alex (Browne) and Charlie (White) on offence especially," he said. "When one guy does well it opens up other things for other guys and we definitely feed off of each other.
"We're still relatively young, but we've got a lot of talented guys," he added. "We're grateful to be here but we just don't want to 'be' here, we want to win too. We're just going to take this experience today and hopefully build off of it."
Scandinavian clash could decide group winners, hosts look to make it four wins out of four

The remaining 11 clashes of the day feature a number of intriguing contests with the unbeaten Sweden and Denmark taking on each other in the early morning game in group A, while the European and world champions will play each other away from the central court in the mid-afternoon when Denmark and Brazil face off.
Follow the ANOC World Beach Games – Qatar 2019 HERE.
Match Schedule: Men's Competition – Saturday 12 October 2019
Morning Session
Group A
0950    OMA vs USA
0950    SWE vs DEN
0950    BRA vs AUS
Group B
1130    QAT vs URU
1130    HUN vs ESP
1130    CRO vs TUN
Afternoon Session
Group A
1450    SWE vs USA
1450    DEN vs BRA
1450    AUS vs OMA
Group B
1630    TUN vs QAT
1630    ESP vs CRO
1630    HUN vs URU