11 Oct. 2019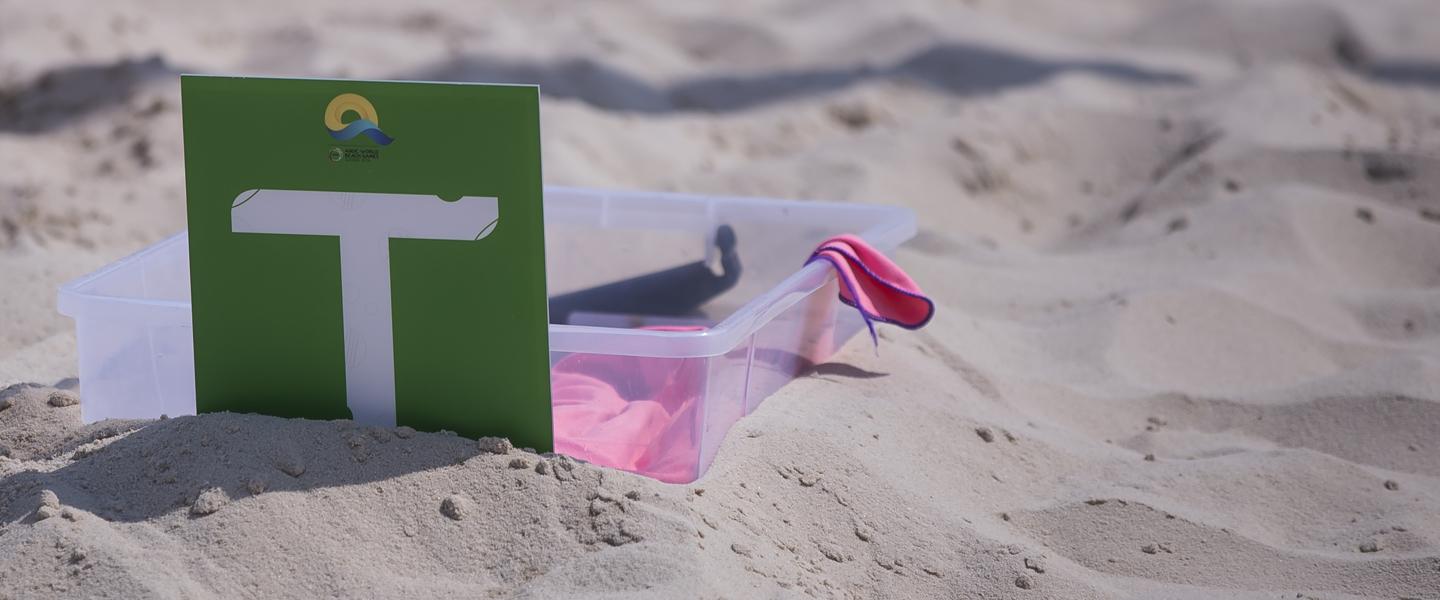 Throughout each matchday at the ANOC World Beach Games – Qatar 2019, IHF.info will bring you quotes from all of those involved in the men's and women's beach handball competitions.
USA men's pivot Andrew Donlin after losing 2-0 against European champions Denmark in their opening game:
"We knew Denmark were going to come out strong; they are coming off of winning the EURO championship and they have a lot of strong players, so we were expecting a tough game.
"Any time you come into a big competition like this, in the first game you always have a few cobwebs no matter how good your training was. We felt we came in prepared, but I think it was a combination of things [that we lost]. We've just got to tighten up, but I think those are easy things to improve.
"It's our first time as a team here and we're still relatively young, but we've got a lot of talented guys. We're grateful to be here but we just don't want to 'be' here, we want to win too. We're just going to take this experience and hopefully build off of it.
"We've got a lot of talented guys in Ebiye, Jacob, Alex and Charlie on offence especially; when one guy does well it opens up other things for other guys and we definitely feed off of each other.
"In the past couple of years we've had a lot of big competitions, so we know a lot of the guys and it's kind of like a family reunion. Beach handball is a small community, so we know everybody, it's definitely an honour and a blessing to be here."
Brazil men's pivot Gil Pires after beating Oman 2-0 in their opening game:
"It's really, really hot where we have been training in Brazil but it's not humid like here, however, when we put the first ball in the goal and see how we are playing and what we can do we just did it.
"We studied Oman a lot, looking at how we can break their plays on the court. Our defence was amazing, and we have one specialist in attack - Bruno - and we put him in the best position to finish.
"When I saw the Olympic atmosphere last year at the beach handball at the Youth Olympic Games in Buenos Aires, for me, it was a dream achieved and now we have been working a lot to be part of this World Beach Games.
"We think that this is the first step to getting the sport in the Olympics and are focussed to win it. We have seen all the other countries here and talking with the other sports. To talk with the other sports to feel this is really good, it's like the Olympics. We taste a little bit of this in the World Games and now here, but with an Olympic feel.
"We came to win and have been training a lot; three times a day for 20 days straight before coming and we are ready to do our best here. We came with our best players, the best mentality to win, but we know that this is going to be the hardest competition we play for because here you just have the best teams of the world, so we have hard work, but we came here focussed to win again."
Greece women's coach Maria Karantoni after her side beat China 2-0 in their opening game…
"It is very important for us to start with a win because we know in this temperature we cannot play at a high level because it's impossible, but it's very good that we won our first game and we found our cooperation.
"China are good, they are really good and really fast, and we must be careful, but you have to be careful of every team because this is a high-level event.
"Our players today learnt they need to run a lot, even if the circumstances are not good and the weather is like this. I want more from them; they can play at a higher level.
"We need to be honest; Magda Kepesidou is a very big miss for us, but we will try to find solutions here to cover – a more aggressive defence. We also practised with our two new goalkeepers very much and I think we will be OK
"Our first goal is to pass into the first four so we can go to the final eight, it's the knockout match and everything can happen. Everyone wants to beat us as we are world champions and we feel that responsibility."
Hungary women's goalkeeper Agnes Gyori after their 2-0 victory over the USA in their opening game…
"I feel fantastic; the first win is the most important in a tournament and we won, so I am happy, but I want a medal. This is a good atmosphere here, there are a lot of people here and a lot of countries."
Denmark's goalkeeper Maria-Teresa Gronning Faurhoj after her side defeated Tunisia 2-0 in their first game...
"It feels really good as this was our first match. We had some good training matches for the past two days since we arrived and are feeling good, we have four new players in the team who have already got into the game.
"Tunisia also got tired in the heat, but we stayed focused throughout the game, did what we were good at it, and stuck to our assignments.
"You always feel proud to represent your country and continent and I don't know if we really feel much pressure as we are the European champions, but everybody wants to be everybody, it's only good teams that are here, so of course, everybody wants to beat us.
"You do definitely an Olympic Village spirit here. We were some of the first people to come at the beginning, so it was a bit quiet, but more people have come now, and we have already met some of the other Danish athletes, so it's nice to look at what those guys are playing and getting to know other sports."
Brazil women's coach Marcio Magliano on the difficulties they faced early on against Argentina before winning 2-0…
"In the first game anxiety is usual but they played really well. The first moments of competition are always tense, but, eventually, we played 'like Brazil'. For us, the start of a tournament is always the maximum moment for us; it's what we love to do, and we are all excited.
"Argentina played in a way they have never played against us; they were changing their attack every time, so we were not prepared for that. We didn't practice playing a team that would change during their attacks, but my players know what to do in one formation and another. I just told them [in the early time out] to take a moment, to read and make their movements, and they started to respond.
"They are very good players, but they just needed a start to get their rhythm. Anyone that works with sport must value their achievements, so when we won bronze at the world championships last year, it is something to be remembered, although we didn't have as good preparation there as we had here, I was happy because we were in the photo – we were on the podium and that is something you've got to celebrate."