15 Oct. 2019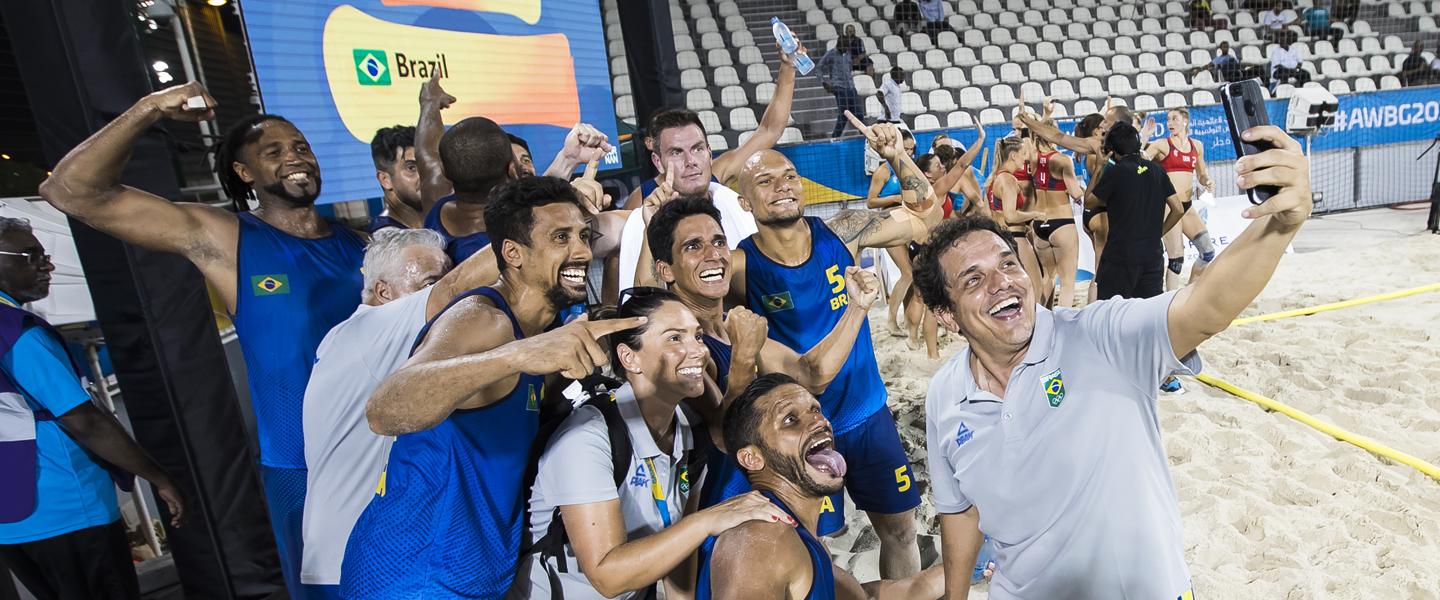 Brazil's men are on their way to another potential podium finish at a global championship, with a semi-final spot at the ANOC World Beach Games – Qatar 2019 achieved last night with a victory over Croatia.
In the second quarter-final of the day, the two teams from the last three world championship finals (2014, 2016, 2018) faced off and it went to a shoot-out eventually won by Brazil after two Croatian attempts were whistled as foul play for too many steps.
MVP of the last world championship, Brazil's diminutive specialist, Bruno Carlos de Oliveira, spoke with IHF.info after the victory.
IHF.info: How hard did you have to work for that victory?
Bruno Carlos de Oliveira: It is always hard against Croatia because they are a very, very strong team and never give up. We played a good first period but in the second period Croatia were braver and in the last seconds they scored that one point to take it to a shoot-out.
IHF.info: Did they come back in the second period because they played better, or did you play worse?
Bruno Carlos de Oliveira: A little of both. Our levels were down, but Croatia were braver than the first period and our team made the wrong shots. The goalkeeper from Croatia got stronger and any final shoot-out against Croatia will always be difficult.
IHF.info: Ivan Juric and Filip Goricanec both got whistled for too many steps in the shoot-out, is it better to win with your goalkeeper making saves rather than the other team making technical faults?
Bruno Carlos de Oliveira: It's sad for a team to lose through this way because the philosophy of beach handball is fair play and when you win for traveling it's not so good. I agree with you, because when our goalkeeper saves the ball it is better, but this is beach handball and I'm happy to be in the semi-finals of course.
IHF.info: Are you surprised at Denmark losing their quarter-final?
Bruno Carlos de Oliveira: This is beach handball. Croatia beat Denmark, we beat Croatia and Denmark beat us, but lost against Spain. Beach handball is beautiful because of this – you never know who will win and that is the best thing.
IHF.info: How important is your goalkeeper Cristiano Seben Rossa, who made a number of saves in the game?
Bruno Carlos de Oliveira: Rossa is a big, big guy and very, very fast and strong. He has fast hands to go up and down and when he sees the block it is a very powerful tool and helps us a lot, this is beach handball.