14 Oct. 2019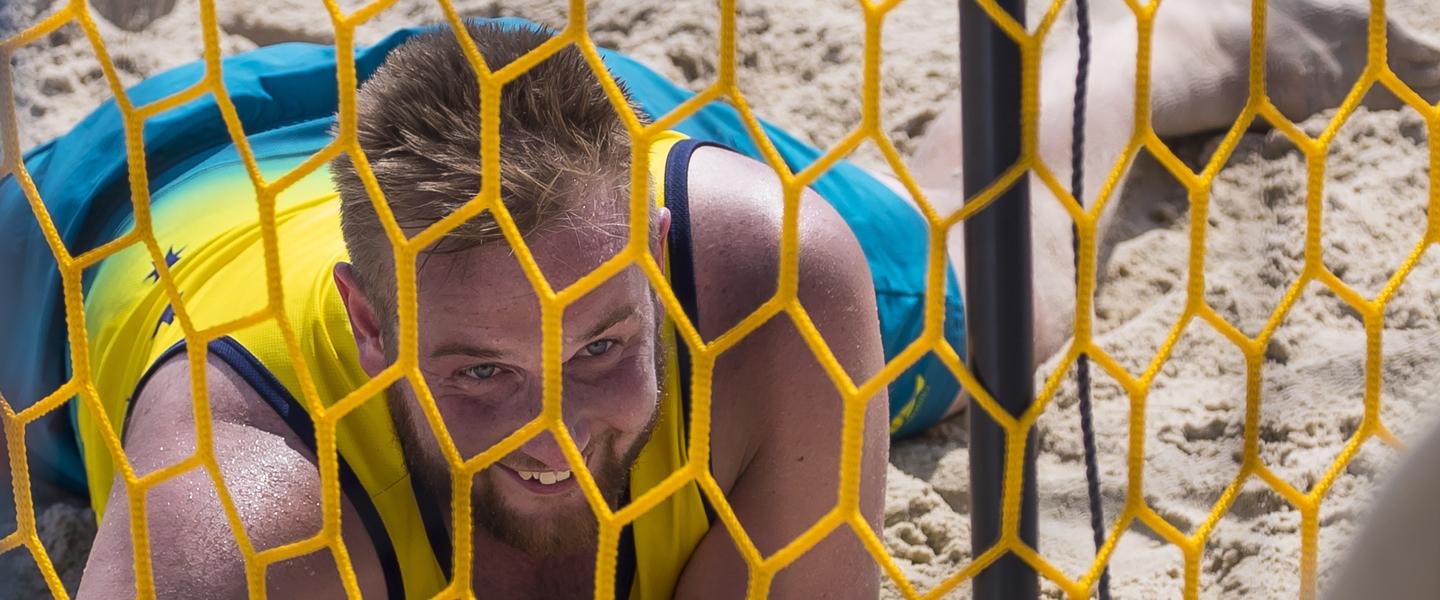 Oceania champions Australia are preparing to play one of the most important games in their history this evening (2050hrs) as they face host nation, five-time Asian champions and double world championship bronze medallists Qatar in a quarter-final clash under the lights at the Al Gharafa Beach Handball Arena.
In a match which will be broadcast live on national television and around the world, the last game of day four of the men's and women's beach handball competitions at the 2019 ANOC World Beach Games is sure to be full of emotion and energy as the Australians look to cause one of the biggest shocks on the Doha sand so far.
A large part of getting them to this stage is their specialist/goalkeeper, the 1,98m tall Lucas Turecek. His performances in shoot-out wins in their last two games against Oman, and then the United States of America yesterday, ensured the team picked up two wins and four points to seal the fourth and final qualification spot through to the last eight from preliminary group A.
Against Oman on Saturday (12 October), Australia appeared to be out of contention for a win as Asad Al Hasani had the chance to win the match at the end of the shoot-out but Turecek pulled off a wonder save and then put off Usama Al Kasbi with the first attempt in the second round to set himself up with the Australian's next shot to seal the 2-1 win.
"I took the [single point] shot just because I can't spin properly, that's all I can do," said a laughing Turecek to IHF.info about his goal ensuring the Oman win. "It was just the whole team working together though, standing behind each other, as brothers, on court and off court.
"We feed off of each other and that's where the energy comes from, we never give up, never drop back and keep moving forward."
Turecek had earlier decided in the shoot-out to try to score directly, but threw over a well-guarded Omani net, giving them an early advantage and he reflected at how luck can turn around so quickly in the sport.
"I felt really upset with myself because that shouldn't have happened," he said. "My teammates believe in me and told me to get with it and go get it. It has happened a couple of times in previous years and I just got really excited and just wanted to get the big guy, but it's just a case of 'get back on the horse' and go again, it was 6-6 and I had to just bring the intensity again, not drop back and forget about it and move on."
Move on he did, with his saves ensuring the victory and he sunk into the sand in pure emotion at the final whistle, however, even more emotion was to come the following day against American in the do-or-die battle for the final quarter-final spot from group A.
With 56 points scored in a first period won (30:26) by Australia, it was by no means a game for fans of defence, but the United States started the second period strongly and ended it with a comfortable eight-point win (28:16) to take the game to a shoot-out, eventually won 9:8 by the side from Down Under.
Turecek narrowly missed a save from the USA's Charlie White but then saved the following effort from the 2,03m USA pivot Andrew Donlin to ensure Australia had the chance to seal a victory which they did to set up that last eight clash with the might of the home nation.
"I got a little bit tired in the second period, but the boys knew what to do and we kept powering through," said Turecek to IHF.info about the USA match. 
"We just knew we would win in the shoot-out. I tried to put Charlie off his shot with a big spread, but I got back up to see his reaction and he just did a really good shot [to score]. I will take the positives out of the game into the match against Qatar, but I won't forget this feeling.
"I am bloody excited to take on Qatar and it's going to be awesome," he continued. "They are a really good team and we just need to keep our composure like we did in the first period [against the USA].
"We are a huge-hearted team, but we've just got to go for it - Qatar at home on centre court, on TV and in front of my girlfriend, and everyone else's girlfriends, fiancés and families? It's going to be awesome."