12 Jul. 2020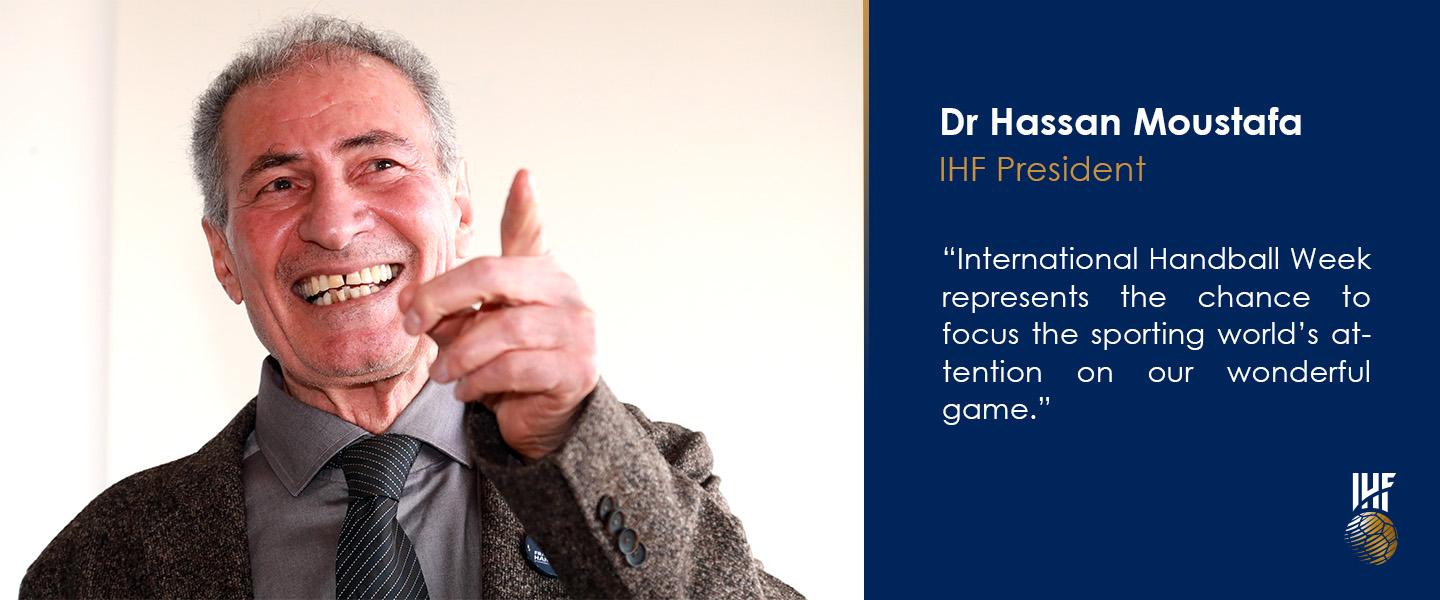 Dear Handball Friends,
I warmly welcome the handball family around the world to the first-ever International Handball Week.
Wherever you may be, regardless of the unprecedented global circumstance we find ourselves in, one thing unites us all: our love and passion for the sport of handball.
Before International Handball Week was created, our sport did not have its own dedicated day of celebration.
This was something the International Handball Federation (IHF) wanted to change and our initial thoughts were to create a single 'International Handball Day', but with our members doing so much good around the world, 24 hours was not enough to showcase all of their work.
So International Handball Week was born, according to the decision of the XXXVII Ordinary IHF Congress, and it will be seven days which celebrate our sport across the world not only with courses, classic match replays and much more but also with a new logo, and a new branding, which will be gradually implemented. On Thursday, 16 July I, myself, will welcome all National Federations in an online meeting to celebrate this special week. 
International Handball Week commences on a very special day – the 12th of July. This was the day when the IHF was founded, back in 1946, at the Palace Hotel in Copenhagen, Denmark, which was hosting the Founding Congress of the IHF.
Our birth recognised the growth in popularity and global spread of the sport and ever since, the IHF has continued to maintain that growth. Today, the IHF consists of 209 Member Federations spread across six Continental Confederations with hundreds of thousands of people involved with the sport through playing, coaching, administration or other associated roles. 
2020, however, has seen the busy work of the federations come to a halt as the entire world has been facing unprecedented and challenging times. With the COVID-19 outbreak affecting everyone, the entire handball family has suffered this year.
Despite the huge disappointment this has caused for us all on many levels and with the health and safety of everyone the absolute priority, it could be said that organising special activities for International Handball Week might have been far from peoples' minds.
But now, perhaps more than ever, is the time for everyone to show how much of a positive influence our sport is. It is the time to show how we, as a global handball community can show strength in unity and bring us all together to feel connected in a time where some may feel disconnected.
International Handball Week represents the chance to focus the sporting world's attention on our wonderful game and the response of our members has been as expected – full of positivity and creativity.
From Pakistan to Austria, Bahrain to Argentina, Slovenia to Nepal, Brazil to Zimbabwe, countries all across the world are getting involved in the week which will culminate with the announcement of those who have risen to the very pinnacle of our sport as the 2019 Men's and Women's World Players and Coaches of the Year are revealed.
On behalf of the entire IHF, I would like to say we appreciate all of your efforts to promote our sport and we are all very excited to see and hear about your activities.
I would like to end by reiterating my words from earlier this year when I say handball is always in our hearts and minds.
Yours in sport,
Dr Hassan Moustafa
President of the International Handball Federation