27 Jan. 2021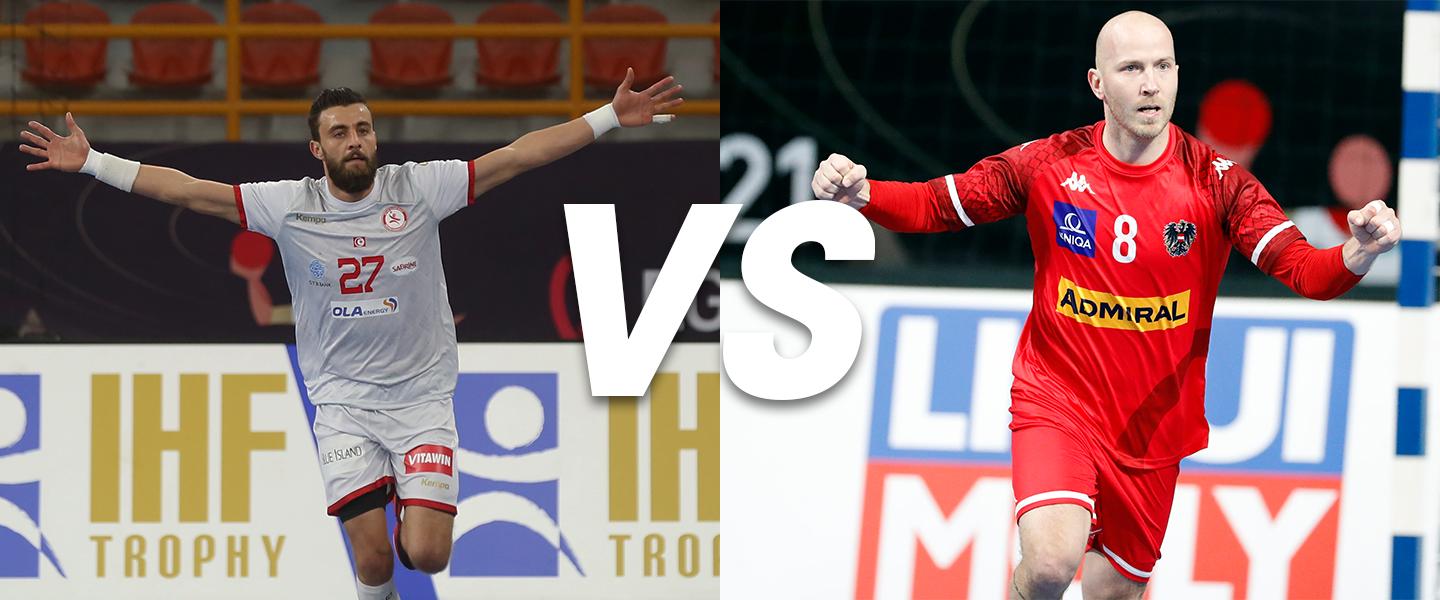 Austria and Tunisia can win their first-ever President's Cup, as they face off in the final at New Capital Sports Hall, after sweeping their opponents in their respective groups.
In the other game at New Capital Sports Hall, Chile and DR Congo play in the 27/28 placement match, while Angola face Morocco in the 29/30 placement match in Dr Hassan Moustafa Sports Hall.
DR Congo vs Chile 16:00 CAT
It has been a rollercoaster tournament for DR Congo at Egypt 2021 - their maiden IHF Men's World Championship.

And just being present was not enough as they recorded their first-ever IHF Men's World Championship at any level against fellow African side Angola in their opening President's Cup match, and were then awarded a 10:0 victory in the absence of Cape Verde, who had to withdraw from the championship.
The African team have been one of the feel-good stories of the tournament, with their eagerness to prove themselves and their attacking style drawing plaudits, despite losing captain and key player Aurelien Tchitombi due to serious injury in that Angolan victory with the playing returning to his club in France for an operation which will see him out for six months.

"We lost the participation of a very important and effective player," said DR Congo's right back Adam Ngando Ouedraogo to ihf.info after their Tunisia loss last time out.

"We are sending him a message from all the team: we are thinking of you, we miss you and we are all praying for you."

Like all teams in their final championship game, DR Congo will be keen to end on a win, but will face an unknown prospect in Chile, something the team have been working on hard in the break between matches.

"We observe the games, and we watch a lot of the game videos," said the 34-year-old. "We are trying. We are trying all the time, but now, every game is really difficult."

But facing Chile will be tough, as the more seasoned Chilean players can prove to be one of the toughest challenges yet for Congo.
Losses against North Macedonia and Austria derailed Chile's plans for their best-ever IHF Men's World Championship result, but Mateo Garralda's side can still tie their record for wins at one edition of the competition, three, set at France 2017.
"We want to end the tournament on a high and that means winning the game against DR Congo. We also want to boost our morale for the Olympic Qualifying Tournament in March, so a win would be exciting for us," said Esteban Salinas, the hummel Player of the Match in the 28:17 win against Morocco, where he scored seven times.
A three-day rest will surely buoy a veteran Chilean side, as the Congolese defence will have their hands full with backs Erwin Feuchtmann and Rogerio Salinas, the fourth and the seventh best scorers at Egypt 2021.
Feuchtmann and Salinas have combined for 79 goals, the best pair in the competition for one side, ahead of Qatar's Frankis Marzo and Ahmad Madadi (78 goals) and Norway's backs Sander Sagosen and Harald Reinkind (72 goals).

With thanks to Ebtessam Osman for the DR Congo quotes.
Angola vs Morocco 18:30 CAT
Angola were unlucky to lose their final preliminary group game narrowly to Japan (29:30) meaning that they missed out on a chance to qualify through to the main round, instead dropping into the President's Cup, following their earlier losses against Qatar and Croatia.
The President's Cup experience has been an all-African experience for the Angolans, who lost their opener to DR Congo (31:32) and have not played since, with a 10:0 automatic victory given to them against the withdrawn Cape Verde.
Despite the lack of a competitive victory so far, Angola's 35-year-old goalkeeper Custodio Gouveia highlighted the importance of playing at the top level for his team. "'The average age of our players is good," he said. "We have four or five young players who have now participated for the first time in a world championship and have definitely gained a lot of experience."
"Morocco is a really important match for us, we don't want to leave Egypt without any victory," added Angola coach Jose Pereira. "We will enter the match with the same preparation, like we had against Tunisia. It's important for us to respect Morocco, but it's important for us to win the game."
Just 144 goals have been scored in Angola's five games, with Edvaldo Ferreira leading on 22 goals, while for Morocco, they have registered 137 strikes in their six games – against Portugal, Iceland, Austria, Republic of Korea and Chile, with their opening day 23:24 loss against Algeria causing them to miss out on a main round place by one goal too, like Angola.
But they have the slight edge going into this, having beaten the Koreans in their first President's Cup match, 32:25. With 5 hours and 21 minutes played, Yassine Idrissi in goal is one of the highlights of the Moroccan team and coach Noureddine Bouhadioui's most-used player.
Amine Harchaoui sits joint 11th with Denmark's Mathias Gidsel in the goals and assists charts with 47, which includes 27 strikes.
Tunisia vs Austria 18:30 CAT
Since its introduction at the IHF Men's World Championship in 2007, the President's Cup has been won by European teams four times, with Austria eyeing to become the fifth.
Austria's plans to reach the main round were dealt a blow after consecutive losses against Switzerland, Norway and France in the main round, but Ales Pajovic's side has since quietly built a three-game winning streak and can now finish the tournament on a high.
Their form in attack has been nothing short of superb, with one of the best attacks at Egypt 2021, with 187 goals in six games, the fifth-best in the competition.
Wings Robert Weber and Sebastian Frimmel have combined for 53 goals in the tournament, underlining Austria's immense potential on fast breaks against complacent defences.
But Tunisia are no pushovers, despite that this will be their worst IHF Men's World Championship finish, after the 20th place at Sweden 2011.
"Austria are a great team, with players from the German Bundesliga, but we will work hard to try and win this game, as we did in the group phase of the President's Cup," said Tunisia's coach, Sami Saidi.    
On the other side, Austria are nurturing a new generation, headlined by left back Lukas Hutecek.
"Of course we would have liked to advance to the main round, but we failed to do that and now we must focus on this final and win the President's Cup, we are more than able to do so," said Hutecek.
The two sides also met in the preliminary round at Qatar 2015, in a hard-fought game that ended in a draw, 25:25. Weber, Austria's top goal scorer at Egypt 2021, was also the top Austria player in the game, with nine goals, while Tunisia's powerful back, Mosbah Sanai, scored five.