10 Jan. 2019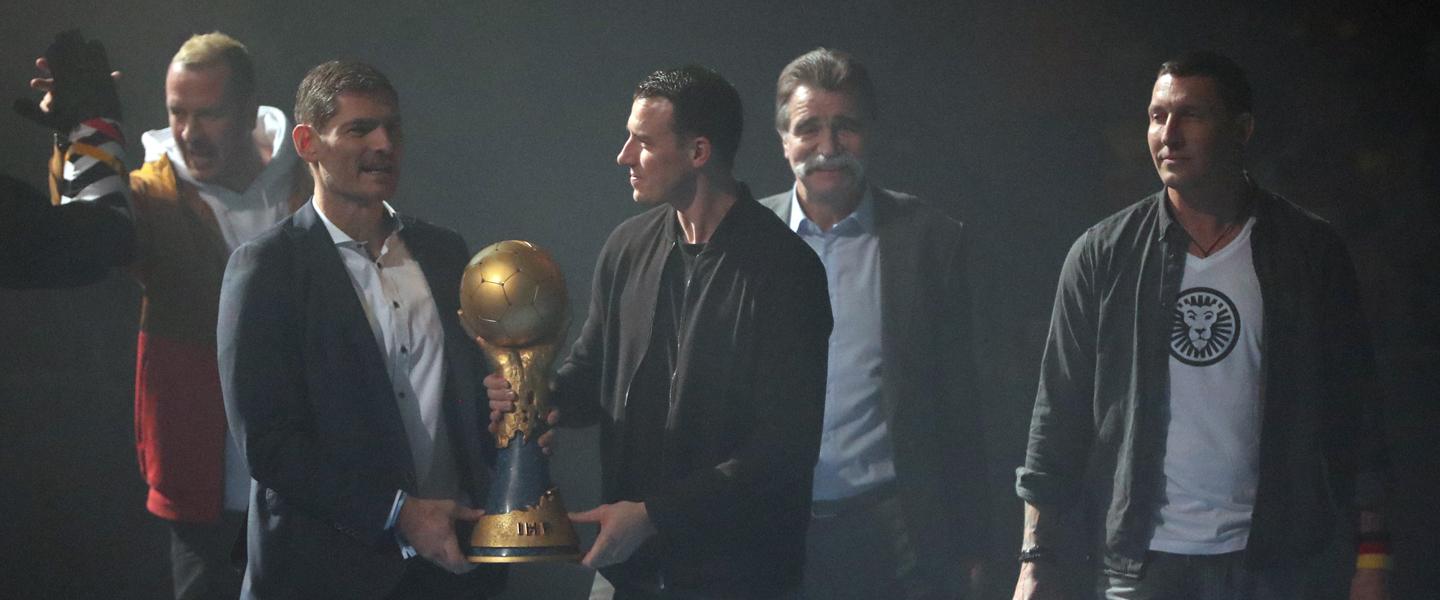 A spectacular opening ceremony in Germany, combined with a Royal welcome in Denmark threw-off the 26th IHF Men's World Championship, which started today and finishes in just over two weeks on Sunday 27 January.
Both capital cities saw a number of VIPs in attendance at the opening games with the German Minister of Interior Horst Seehofer, Minster of Foreign Affairs Heiko Maas, Egyptian Prime Minister H.E. Mostafa Madbouly, Egyptian Minister of Youth and Sports H.E. Ashraf Sobhy, IOC President Dr Thomas Bach, Korea's National Olympic Committee Kee Heung Lee, Korean Handball Federation President Tae Won Chey and Presidents of World Taekwondo, World Archery, International Modern Pentathlon Union, World Rowing and Badminton World all in attendance.
The sold-out 14,800-capacity Mercedes-Benz Arena in Berlin, Germany, was full well before the historic match of the unified team of Korea and co-hosts Germany as an impressive laser show commenced an opening ceremony which saw the 'Dancefloor Destruction Crew' show of their acrobatic dancing skills which have won them global attention and numerous awards.
Kentin Mahe (France), Mads Hansen (Denmark) and Nedeljko Hocanović (Serbia) the made a championship oath in the name of all athletes, referees and technical officials respectively:

"We will comply with the rules of the game, play fair and with respect and keep our sport clean from doping. We will play for the glory of handball and to honour our countries and teams."

The German-Danish duo of singer Dominik Klein and DJ Kongsted then performed the championship song 'Stand Out' live before championship mascot Stan then presented all 24 nations' flags.
And what followed was a special treat, particularly for German handball fans as the 2007 IHF Men's World Championship winners Pascal Hens, Henning Fritz, Dominik Klein and their coach Heiner Brand brought the IHF Men's World Championship trophy into the arena and on court, along with Stefan Kretzschmar, who made over 200 appearances for the national team and won silver at the 2003 IHF Men's World Championship.
IHF President Dr Hassan Moustafa then addressed the crowd in German and English. "I want to give a warm welcome to handball fans and guests from all over the world," he said. "Following the initiative of IOC President Dr Thomas Bach to unify the Koreas at the 2018 Winter Olympic Games, the IHF launched the same initiative in handball.
"We strongly believe that sport is far more than just a game. Sport provides a platform for people to support a country and be unified under one flag and one nation. Sport has an impact on all levels: society, economy, health and most important of all - peace and humanity.
"I would like to give my sincere gratitude in the name of the International Handball Federation and in the name of both Koreas for accepting to compete as a unified team under one flag at the 26th IHF Men's World Championship here in Germany.
"I would like to congratulate all 22 teams as well as Germany and Denmark on their qualification and I want to say thanks to the continental federations for their organisation of their continental qualification tournaments."
"Today's opening of the championship is taking place in Berlin – a special city for me and one with a long tradition of handball – in 1936 the handball final between Germany and Austria took place here in front of 100,000 people.
"Germany and Denmark have a long experience as tournament organisers, so therefore we await an excellently-organised championship – and together we want to make this championship one of the best-ever. I wish the best to the Danish and German handball federations, both organising committees and the various host cities. I wish all the volunteers' fun and enjoyment in all of their tasks and I hope for an exciting and interesting world championship under the motto of fair play - may the best team win."

Dr Moustafa then passed over to German President Dr Frank-Walter Steinmeier to open the championship officially.
"I welcome handball friends and guests from all over the world to the opening match of the 2019 Handball World Championship, and welcome to Berlin," he said. "For the first time, a handball world championship is hosted by two countries and their handball federations.
"We are very pleased that we have been given the opportunity, together with our friends and neighbours from Denmark, to host this event. Everything is ready, so all that is left to say is: we are looking forward to an exciting championship and fair matches, may the best team win, and I hereby declare the 26th Handball World Championship open."
Following the completion of the Korea vs Germany opening match, attention then switched to Copenhagen, Denmark, as His Royal Highness Crown Prince Frederik of Denmark took centre stage to welcome fans to the Danish capital ahead of the Denmark vs Chile opening match in front of a sold-out 12,500-capacity Royal Arena including Danish Minister for Culture, Mette Bock, and the famous Danish actor Lars Mikkelsen.