14 Aug. 2019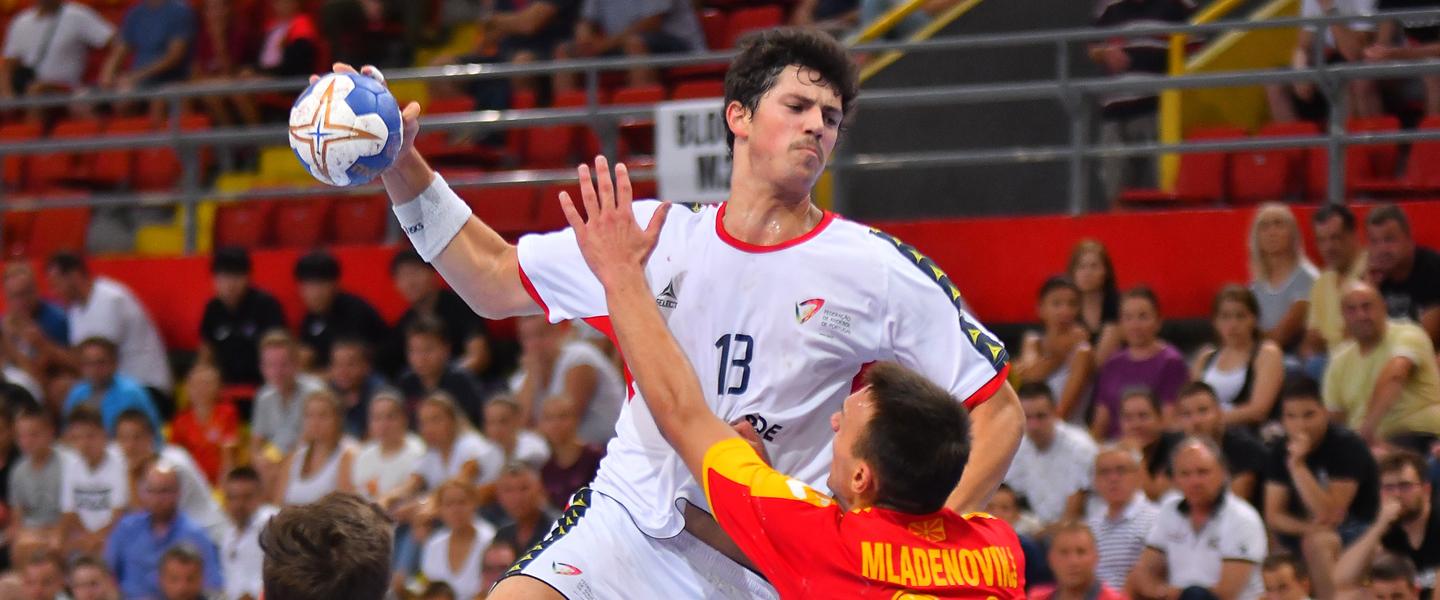 The clash between the two teams who qualified for 2019 IHF Men's Youth World Championship in very different ways saw Portugal eventually come out top in a match which was not decided until the final minute. A steal opened the game in the most positive of ways for the home side, but another steal ended the game for them effectively.
Portugal qualified as a replacement nation for the Oceania continent and faced the directly-qualified as hosts, North Macedonia, in a raucous atmosphere inside the Boris Trajkovski Arena in Skopje.
After their victory, Portugal are rewarded with a quarter-final match-up against title-holders France tomorrow.
EIGHTH-FINAL
Portugal vs North Macedonia 29:25 (15:12)
Boris Trajkovski Arena, Skopje
Despite their path to Skopje, Portugal entered this match as the big favourites against a North Macedonia who underwhelmed in their last preliminary group match, a big loss against Japan.
But with a pumped-up home crowd and players, it would have been tough for anyone to guess which team had won all five of their games in the preliminary round and which had only managed two wins.
The game started at an electric pace for the Macedonians with Marko Bozhinovski stealing the ball on Portugal's first attack and promptly going down the other end to blow the roof off of the Boris Trajkovski Arena when he opened the scoring. In the very next attack from Portugal, his adrenaline still pumping, he was warned for his aggressive defending.
The scene was set, but the first half became a clear battle between both first-choice goalkeepers and how accurate the teams could be when they had a shooting chance.
First, it was Portugal's Alexandre Magalhaes, with two saves, keeping his side in touch as the match went back and forth and the Macedonians failed to capitalise on the work of their own goalkeepers, with Andrej Petkovski coming in and saving a crucial seven metre on 14 minutes with his side 6:5 up.
His team would then miss the next attack, but Marko Kizikj did his job in the Macedonian goa, saving from Portugal captain Filipe Morais and the home side finally went two up (7:5) on the 15-minute mark. 
Home fans started thinking what if? But they could just not pull away and find that third goal and in a scrappy period, Portugal came back equal at 8:8 (21st minute) following a time out. Up to the time out, the lack of sharpness in the final shot from the Macedonians was evident – they had tried 17 times to score but registered just eight strikes into the net and 15 in total at the goalkeeper, with Magalhaes saving seven.
With key man Salvador Salvador probing the Macedonian attack, Portugal were hungry to get in front and with the host nation unable to take advantage with the Portuguese a man down thanks to a two-minute, Daniel Neves came on and helped spur his side on to their first lead since the third minute when they went 10:9 up in the 25th minute.
A frantic end to the half saw both Macedonian left and right backs Mihajlo Mladenovic and Martin Serafimov out of breath, handed on their knees, defending their goal as coach Danilo Brestovac took a time out following his side going down a player again (12:11).
Morais opened up a two-goal lead with a strike into an open goal as Martin Karapalevski turned the ball over and it stayed that way until six seconds left of the half Andre Jose grabbed a quick goal just before the break.
The second half got off to the worst possible start for the home side as Brestovac was given a two-minute for his protestations during the game, but he watched his side gradually claw back the three-goal deficit to come equal again after their second time out (18:18, 43rd minute).
Even though Portugal went ahead by two again through the unstoppable Morais (22:20), the Macedonians came back again as Kristijan Simonoski lightly lobbed the ball into the Portugal net (23:22 down) and then, following a fast-break, the animated Darko Kondev smashed home, asked the goalkeeper if he was OK after colliding with him following the strike and proceeded to implore the crowd to chant and sing even more, which they did, especially when, moments later the reliable Serafimov put his side back in front (24:23, 54th minute).
Now it was close to being a real upset but Macedonia again failed in front of goal, seeing their next two attacks fail to hit the net as Portugal went up two again, but Serafimov was working wonders, and his delightful play led to another seven metre strike – and two-minute for Portugal.
At this point, Magalhaes was on 15 saves from 38 shots and Kizikj on 15/39 and the game was nearly as equal (26:25 to Portugal, 58th minute).
Martim Costa then scored a key breakthrough (27:25) and when Karapalevski tried a pass to the deadly Serafimov, it was read easily by Morais, who punished the host nation and killed the game.

Best player of the match: Joel Ribeiro (POR)

Photo: WCH 2019 / Filip Viranovski