15 Aug. 2019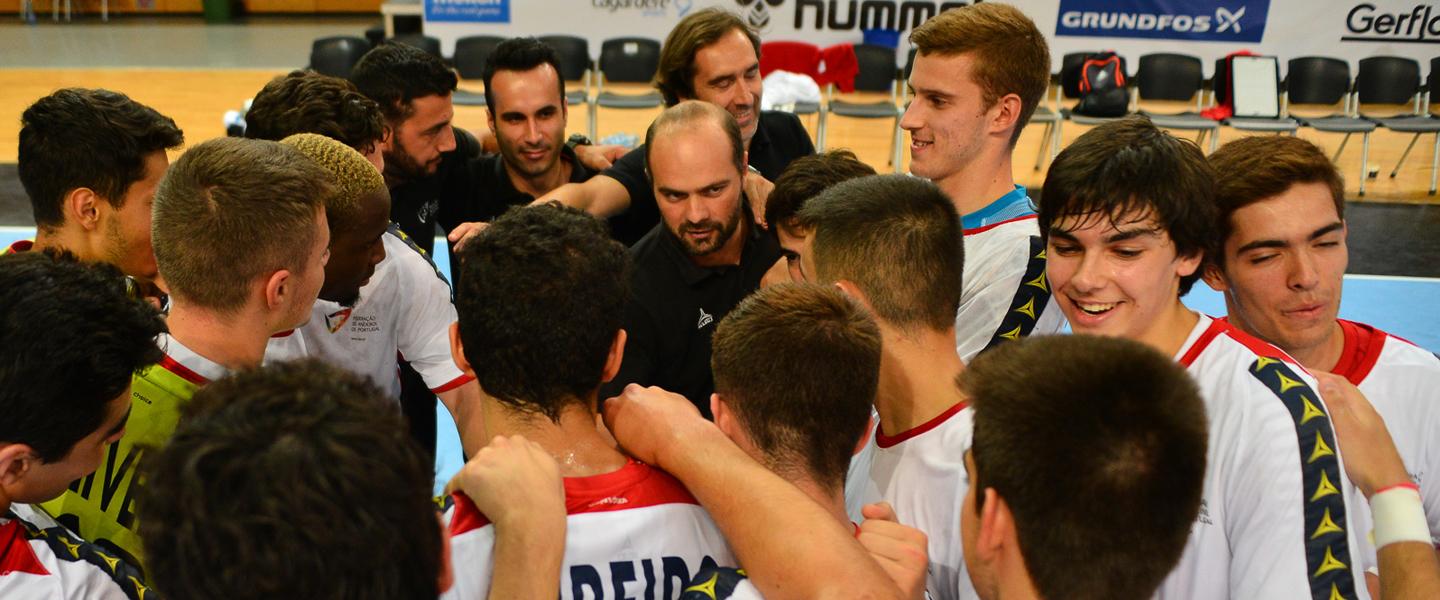 After overseeing a 29:25 eighth-finals victory over hosts North Macedonia last night, Portugal now find themselves in the quarter-finals of the 2019 IHF Men's Youth World Championship.
Coached by Carlos Martingo, Portugal are only appearing in the tournament as a replacement nation for the Oceania continent but have now won six games in a row and face France in the last eight later today.
Martingo spoke to IHF.info about defeating the hosts, his side and Portuguese handball.
IHF.info: North Macedonia led early on and came back into the game late on, how did you see the game?
Carlos Martingo: It was a very tough game for us because we were playing against a lot of people who were watching the game. For these young guys I think they felt a little bit of pressure, but in the end they showed what a good team they are and had a really good performance. I think we deserved the win because for only the first few minutes of the game we were not in control.
IHF.info: It was a unique game in some ways with two teams having qualified in very different ways, as hosts, and as a continental replacement. Despite this though, your side went into the game as favourites after your preliminary round campaign. Did you feel this pressure?
Carlos Martingo: We didn't feel like favourites because Macedonia were playing at home and they must be the favourites. Of course, we had a fantastic first phase with five wins in a row, now six, and, maybe, the players feel some pressure to win but when we start to play without pressure maybe we drop our play because the pressure is a part of the game. 
I cannot play without pressure and my players must know to play with pressure, and they had a great response to that.
IHF.info: When the Macedonians came back into the game in the second half we saw you putting your fingers to your head, telling your players to 'think'. What was concerning you then?
Carlos Martingo: Our plan is to not open our defence and play close to each other, but sometimes we are open with our defence, so I was telling them to remember not to be open. 
We know that, of course, the Macedonians could score shots from nine metres, but they are really dangerous from six metres, not nine metres, and that's why I made the gesture to my players to remind them to calm down and stay under control not only in the defence, but in the game.
IHF.info: What pleased you the most about the win? Was it tactical, physical or mental?
Carlos Martingo: For me, the key of the game was maybe the physical side because we can play with a lot of players and in the previous games I have given some rest to the other players. Also, on the mental side, I think this team have never lost control of any of the games here - they can control games.
Even though the Macedonian match might not have been the best quality, technique and tactics for us, we won with hearts and our heads.
IHF.info: The host nation has now been knocked out, what are your overall thoughts on them?
Carlos Martingo: They are really tough because they never gave up, they gave everything on the court. They have some great players, but we were just better than them.
A word for everybody here though; we feel at home here in Skopje, all the conditions are perfect with the Macedonian guys, everybody is treating us really well and we are really happy with everything. 
IHF.info: You now have France in the quarter-finals. What are your thoughts on them?
Carlos Martingo: France is France. Every generation of France has great players and they have a tough defence, 5:1. We had the pleasure of having a training camp with them before coming here. We had three matches, we lost two and we won one. But it's a quarter-final and anything can happen. We believe we can beat them.
IHF.info: At the U21 world championship last month, Portugal finished fourth, your senior team beat France and have qualified for the EHF EURO and your clubs are doing well in European competitions. What's the secret?
Carlos Martingo: I cannot say exactly what happened, but I think its various factors because we have very good players, although we need more. We have a lot of quality, but we need more quality players because in this national team we have three players from 2002 and we are trying to find new players. 
The best way we can find players is to make things good on court – the senior team will go to the EHF EURO in January, the U21 finished fourth in the world championship and fourth in the European championship last year and now this generation is starting to make it really good. 
A lot of kids can see this back home too and it inspires them, and we are really happy about that.

Photo: WCH 2019 / Filip Viranovski