05 Dec. 2019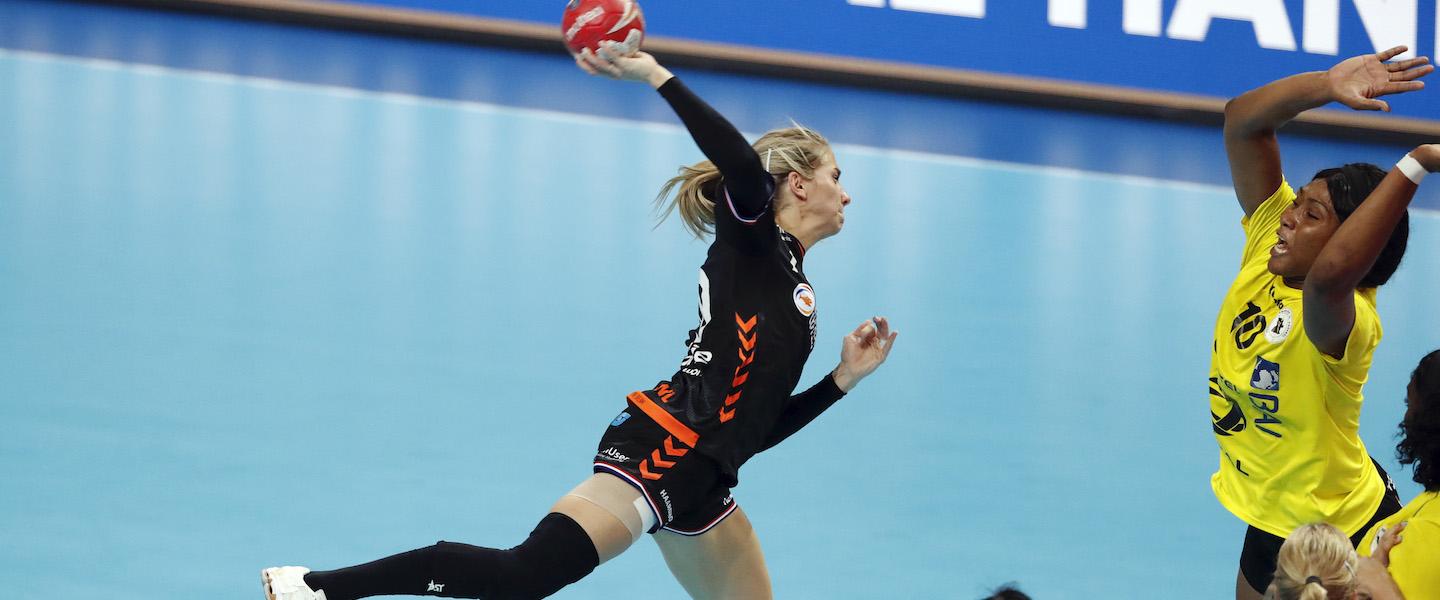 It was four years ago that the Netherlands not only qualified for the semi-finals at a major international event for the first time in history, but won a medal – silver, after being defeated by Norway in the final. 
Since then, they have become the most successful national team in this regard, being the only side to reach the penultimate stage at every championship since – the 2016 Olympic Games, the 2017 World Championship, and the 2016 and 2018 European championships. 
The Netherlands therefore arrived at the 24th IHF Women's World Championship as one of the favoured teams, but suffered a surprise defeat in their campaign opener, losing 26:32 to Slovenia. The first victory came in round 2 – 28:35 against Angola. 
"We started really bad and then of course you get a little bit insecure as a team. I think we showed today that we can step up," said back Estavana Polman, who has been a key part of all the Netherlands' major successes, following the win versus the African champions. "Of course, it was not always good, but it's difficult to play against Angola – they play different handball than we're used to, and it's really hard, so I think we have to be really happy for these two points."
The Netherlands backed up that win with a huge victory over Cuba, 51:23, where they speed and prowess in attack were on full display. In 2015, the speed at which the Netherlands played their counter attacks and restarts was something of a shock to the other sides at the World Championship. Now, they are well-known for it, and Polman still highlights that as their main weapon despite the fact that other teams, such as their now familiar rivals Norway, have developed their own games in an attempt to match the Netherlands' pace. 
"Our speed is important for us. I think we are really good at running. We have some really good, fast wings. I think we have to focus on what we are good at and not on what the other teams are good at," said Polman. "We keep by ourselves, and I think as long as we can take the best of what we are good at, we can go far." 
The rocky start to the World Championship campaign is not an unfamiliar situation for the Netherlands, who were also defeated in round 1 at the 2017 edition in Germany – 22:24 to Republic of Korea. Playing in Group D in Leipzig, the Netherlands also had one draw in the preliminary round, versus Serbia in round 3. Does the knowledge that they have made their way to a medal following a tough preliminary round help the side's mentality now? 
"I think if you've played some tournaments like that you know that you shouldn't keep hanging your head, and you just have to be together, focus together, talk about what goes wrong, and do what you can do better in the next game," said Polman. "We showed we can do better than in the first game, but of course, against Serbia, it's going to be really important."
The Netherlands will meet Serbia in round 4 at Japan 2019, with both sides currently level on four points behind group leaders Norway on six. It is therefore a critical battle. 
Regarding the final matches in the group – first Serbia and then Norway – Polman is focused on one step at a time: "It's a cliché I know, but we take one match at a time," says the back. "Serbia, it's for us really important and I think we have to prepare ourselves well. 
"For us, it's game by game, and see where we come and see what kinds of points we get." 
The round 5 clash against Norway is a familiar one for the Netherlands. Since playing the record European champions in the Denmark 2015 final, they have met at every event – the bronze-medal match at Rio 2016, the EHF EURO 2016 final, the 2017 World Championship semi-final and the EHF EURO 2018 main round. And every match has ended with a victory for Norway. 
"When I heard it, I thought 'here we go again.' It's always the same!" laughs Polman. 
Can the Netherlands finally overthrow Norway? And will they manage the two points against Serbia? The only thing certain is that two critical and exciting encounters are coming up.