19 Mar. 2020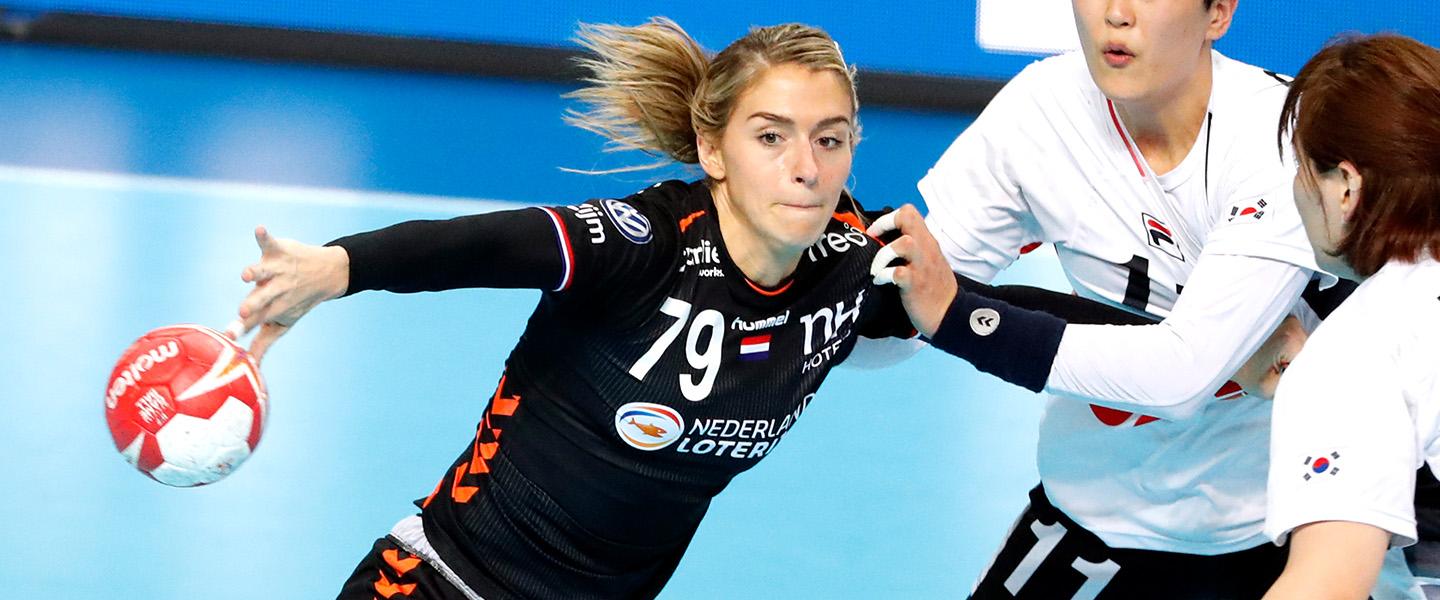 Throughout Gender Equality Month in March, the IHF celebrates women in various roles in handball in a special series. Part four focuses on the MVP and winner of the most recent Women's World Championship, Dutch back Estavana Polman. 
It seems almost impossible that just four years ago, the Netherlands women's national team had yet to earn a berth at the Olympic Games. When the team rose to prominence at the 2015 World Championship in Denmark, winning their first international medal and making their debut semi-final appearance at a major event, they were known for the motto 'One team, one dream.' 
The motto referred to the Netherlands' team goal of reaching the 2016 Olympic Games, which they went on to do. Since Denmark 2015, the Netherlands have not missed one semi-final, and have taken medals at every event aside from Rio 2016, where they finished fourth. Last December, they ended the wait for a title when they claimed the World Championship trophy in Japan. 
Within a five-year span, the Netherlands went from dreaming of Olympic participation to one of the most prominent women's teams in the world – and naturally, as current world champions, the team to beat in 2020. With the World Championship win came automatic qualification for the 2020 Olympic Games, which, considering their goals when coming into the spotlight, is something of a fitting end to the circle. 
For the Most Valuable Player at Japan 2019, Estavana Polman, the World Championship win still seems unreal. 
"Still when you say it, it's unrealistic for me. It's crazy. Wow, yeah, we became world champion! It's kind of a strange thing – of course you dream about it and suddenly now you're world champ," says Polman. "Then you're already qualified for the Olympics. My God, that's a big present."
"It's really beautiful what we're doing, and we have to enjoy it" 
Polman has been part of all the successes with the Netherlands, now counting five medals won in the span of four years. During that time she also gave birth to her daughter, born in June 2017. 
All of the women featured in this Gender Equality Month series have more than handball in their lives, and those on court are no exception. For Polman, her life outside her profession as an athlete is the prime focus and helps to keep perspective on the court. 
"Handball is great, really, and I love the game, really. But that's not everything for me – my family is number one. So long as they are happy and so long as I can coordinate handball with my family, I will do it," says the 27-year-old. "I have a beautiful daughter, a man, and I have a beautiful stepson of 13 years. They're everything for me, and that's the most important – so long as they are happy, I'm happy." 

Naturally, having children has some impact on perspective in life generally. For Polman, it has helped make handball even more enjoyable. Being able to come home to her family and young daughter has also made losing matches much more bearable – even though she admits she is "a really bad loser." 
"I think also you are standing differently in your shoes. It's not everything, handball, and that makes it also that I can enjoy much more. Before I had my daughter, it's like you go to the hotel again, you do your job again. Now I really enjoy it and I'm proud to play for the national team. Sometimes it was getting a bit normal, even though it's not normal – don't understand me wrong." says Polman. 
"After I had my daughter, you realise, my God, it's really beautiful what we're doing, and we have to enjoy it also, every time. That's for me a really big thing."
"If you see little girls with your name on the back, that's great"
Having a daughter surely has some impact on how Polman views herself as well. The back player is keenly aware that little girls are watching when she is on court, and that she has the chance to be a role model for them, showing that playing sport is a great thing for girls and women to do. 
"I think we have to show our best, to show also little girls that sport is really great and to do something after school, not just hanging at home playing PlayStation – that sport is pretty cool to play and handball is a great sport to do. Of course you want to show the best out of it, and sometimes you also have to think 'oh some young kids are looking,'" says Polman, commenting that she catches herself in moments where she might be frustrated on court because she is aware of the responsibility of playing in front of children.  
Polman sees sport as extremely important for young people, and thinks athletes can play a key role in encouraging children to be active.  
"You just want to promote your sport as good as possible. I think in Holland now we did a great job with our medals. If you see little girls with your name on the back, that's great, and you think 'we did a great job with the national team.' 
"I hope my daughter will like sport too – if not, also fine. If she wants to be a dancer or wants to do something else, I don't care. I'll go with her everywhere. But of course you want to give the best example that can be, and that sport is really important. What kind of sport doesn't really matter, but I think sport is really important for the youth now. 
"They don't [play] sport as much as we did when we were younger. We were playing football in the street and those things. Now it's a lot with iPads and laptops and PlayStations. I'm happy if at least one little girl gets excited with what we do." 
Hoping Dutch men's handball can use the women's team's success
For some, there is a difference between men and women's sport. One key theme emerging from this Gender Equality Month series is the fact that women in handball do not see any difference in the abilities, attitudes and presence regarding women in sport – any views of difference are from elsewhere. 
While one of the missions outlined on the International Women's Day digital hub was regarding equal treatment and pay for female athletes, Polman does not feel inequality – surely an important step in teaching others to erase any barriers that do exist. 
For that reason, Polman does not believe in comparing men's and women's sport.  
"I think you can never compare women with men. You shouldn't and you don't want that. It's totally different. I think men have their own things and women have their own things. For example, in Holland the men are coming up now – they played their first European championship. I hope, of course for Holland, that the men are coming where we are," says Polman. 
"It's a different project. In Holland, handball for men is not so big yet. I think you cannot compare men with women, and in all the countries you cannot compare it, and I don't think you should want that. I think everyone has their charms and at the moment we just do really good and I hope that the men can use that – that handball in Holland is coming up now and the men can use our success a little bit. That we can learn from them in one way. We can both learn from the others a little bit. I think that's important."