10 Feb. 2020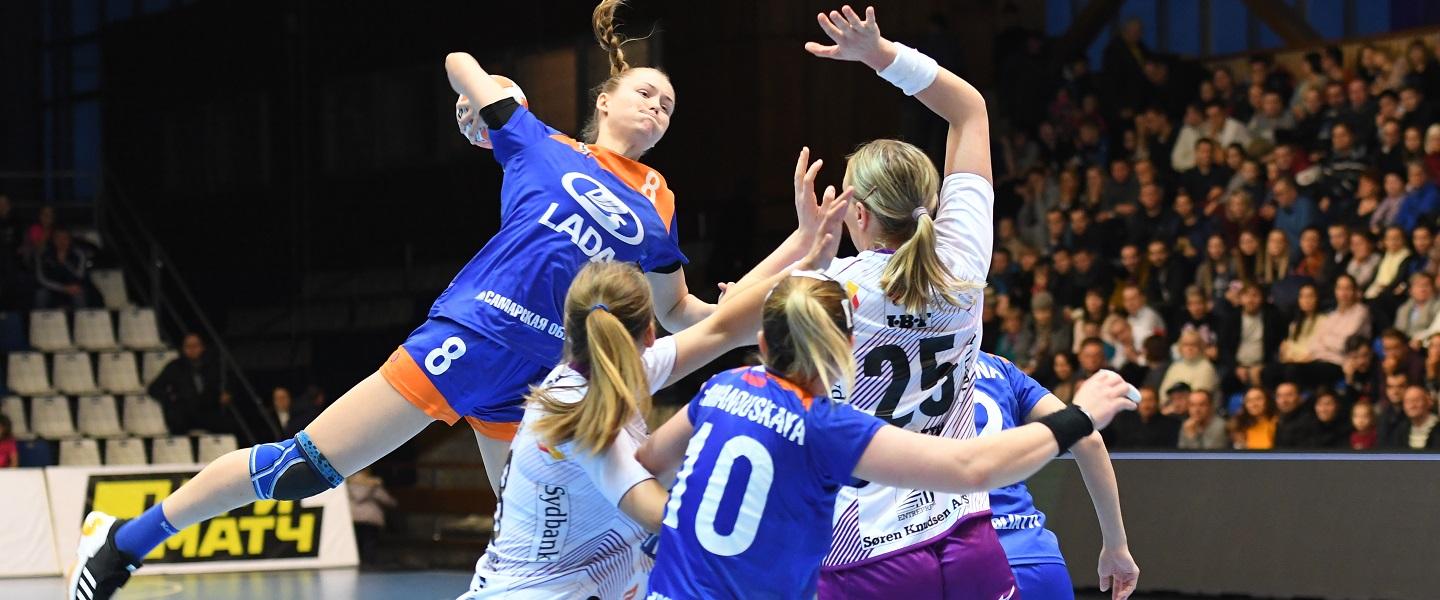 The Women's EHF Cup saw all quarter-finalists confirmed when the group phase of Europe's second most prominent women's international club competition concluded on Sunday night. 
Six rounds of matches have been played in the group phase, starting in early January 2020, following three stages of qualification that began in September 2019. Now, eight quarter-finalists representing seven countries are set for the knock-out stage to start at the end of February. 
German club Thüringer HC had seemingly little trouble reaching the quarter-final, as they won all of their matches in the group phase. They were the clear winners of Group A, and are joined by Turkish side Kastamonu Belediyesi GSK as the quarter-finalists from this group.
Like the team placed third in Group A, DVSC Schaeffler from Hungary, Kastamonu had three wins and three losses in the group phase. However, Kastamonu came out on top in the head-to-head calculation between the sides to secure the quarter-final place. Czech team DHK Banik Most, who had joined the EHF Cup group phase following their elimination at the end of the Champions League group stage, ranked fourth of the four teams in Group A after only losses. 
Two other teams who came to the competition from the first-tier Champions League did not reach the quarter-finals – MKS Lublin S.A. and SG BBM Bietigheim. Polish team Lublin ranked fourth in Group C, taking only one point thanks to a draw. German side Bietigheim managed five points, but still placed fourth in the highly competitive Group D. 
The quarter-finalists from those groups are Odense Håndbold (Denmark), CS Gloria 2018 Bistrita-Nasaud (Romania), Herning-Ikast Handbold (Denmark) and Handball Club Lada (Russia). 
Odense and Bistrita were first and second-ranked in Group C, with Odense clear on top thanks to five wins and just one loss. Bistrita's quarter-final ticket was confirmed only on the final group phase day, on Sunday, when they took a draw versus Hungarian side ÉRD, which meant Bistrita finished with one more point than ÉRD. 
Herning-Ikast and Lada topped the most competitive group, Group D. Only two points separated the winners Herning-Ikast from fourth-ranked Bietigheim, as the Danish club had seven points collected through three wins and a draw, while Lada had six thanks to three wins and Norwegian side Storhamar Handball Elite also had six. 
Lada took the quarter-final place based on their direct record against Storhamar, and had Bietigheim to thank for defeating the Norwegian team on the final group phase day, as that secured Lada the quarter-final ticket. 
The only group where a team that began their campaign after joining from the Champions League ended up reaching the EHF Cup quarter-finals was Group B, where Croatian club HC Podravka Vegeta placed second. The group was won by Hungarian side Siófok KC Hungary, who did not lose any matches. Danish team Kobenhavn Handball finished third in the group, ahead of Romanian team Magura Cisnadie. 
The top scorer of the Women's EHF Cup 2019/20 so far is Lada's Elena Mikhaylichenko, the MVP of the 2018 Women's Youth World Championship in Poland, with 67 goals. 
More information on the Women's EHF Cup can be found on the official competition website.
PHOTO: LADA TOGLIATTI