15 Oct. 2019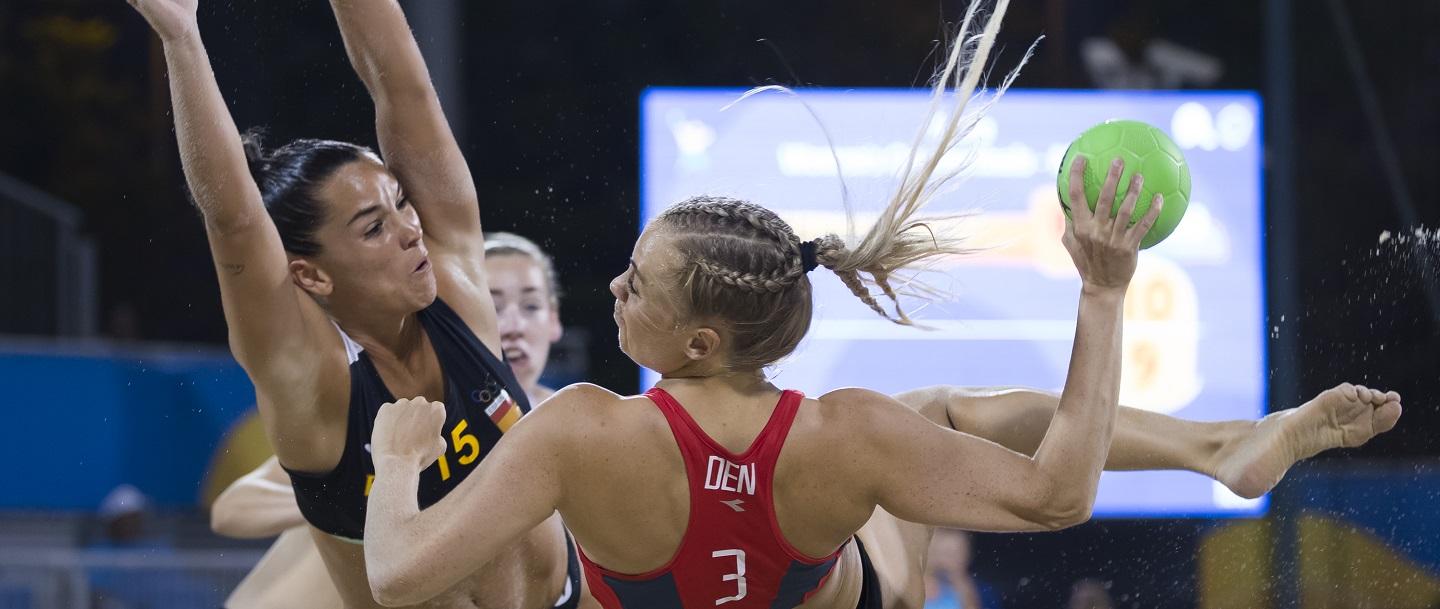 IHF.info spoke with the players, coaches and federations involved in the ANOC World Beach Games – Qatar 2019 to see what they are feeling about appearing at the debut edition of the global event on the Doha sand.
What does it mean for you and for beach handball to be at the first-ever ANOC World Beach Games?
Renata Santiago – Player, BRA (Women)
It is very important to have beach handball at the ANOC World Beach Games because it's part of the Olympic movement. Being able to participate in the first edition of a competition of this level is very important to us.
Filip Dominik Hancic – Player, CRO (Men)
It is always a pleasure and honour to be part of something big, like this tournament, for the first time. For beach handball this is a big step into the future, and I hope that it is now one step closer to the Olympic Games which all players dream about.
 
Camilla Fangel – Player, DEN (Women)
For beach handball to be at the World Beach Games is crucial, especially when it is trying to become an Olympic discipline. We want to show the world that beach handball is a very friendly spectator sport, which draws much attention at large-scale events and have it grow even more. So I hope Qatar is ready for us.

Ashley Van Ryn – Player, USA (Women)
It's a privilege and honour to be at Qatar 2019 as part of Team USA, not only to help showcase the exciting sport of beach handball, but also to support other athletes in various sports. I love how sport is a platform that can bring so many different countries and cultures together in competition, building respect and friendships across the world.
Elisavet Mastaka – Player, GRE (Women)
Beach handball is a new sport for many and is promising for the future. It is a sport hoping to join the Olympic Games and I believe that as time goes on it will attract more and more athletes and spectators. It has already caught the eye of many factors and others, and gives a lot of ground to the future of the sport.
Jaime Osborne – Coach, ESP (Men)
The ANOC World Beach Games are a very important way to consolidate our sport. If we are here it is because it's considered, and has been proven, that this is a sport with interest for the spectators, and with many players behind it who wish to practice it or already do.
Marcio Magliano – Coach, BRA (Women)
For us, it is of great importance to be at Qatar 2019, especially given the involvement of the Olympic committees and the possibility of the sport joining the Olympic Games in the future. I believe beach sports are very attractive and are a great opportunity for multisport events. I see this event as a gateway for the world to understand this importance and all beach sports reach another level of professionalism.
August Elmberg – Player, SWE (Men)
We believe that it is a great acknowledgment for beach handball to be at Qatar 2019 and hopefully another step towards it becoming an Olympic sport in the near future.
Juliano de Oliveira – Coach, USA (Women)
It is incredibly important for us to be part of the first edition of the World Beach Games as it is a history-making moment for beach handball. We can show the world that this is a sport worth watching, supporting, playing, and Olympic-worthy.  
Ha Hanh – Player, VIE (Women)
It is important for beach handball to be at such a large-scale as it will help develop the sport, make it become more popular, and help it to be included in the Olympic competition system.
Santy Rodriguez – Player, URU (Men)
Our participation in this edition of the World Beach Games is very important because the competitiveness that these tournaments give are those that eventually make you fight with the best teams in the world, who will be here. It is a very important step for beach handball in order to achieve the dream of what every beach player regardless of their country wants; that beach handball becomes an Olympic sport.
Jihen Ben Hrouz – Player, TUN (Women)
Competing in Qatar will be a new experience for our team, and it will help us learn the high-level of beach handball as well as providing a very important opportunity to promote the sport to new athletes.
Ebiye Jeremy – Player, USA (Men)
Most, if not all, of us want to see beach handball climb up the Olympic ladder and be exposed to a progressively broader audience. After two editions as a formal World Games event, followed by a successful showing at the Youth Olympic Games in Argentina, beach handball in the World Beach Games is just the next step in the discipline's journey to the summer Olympic programme alongside indoor handball.  
The 2019 ANOC World Beach Games can be followed on Instagram, Twitter and the competition website.