15 Dec. 2021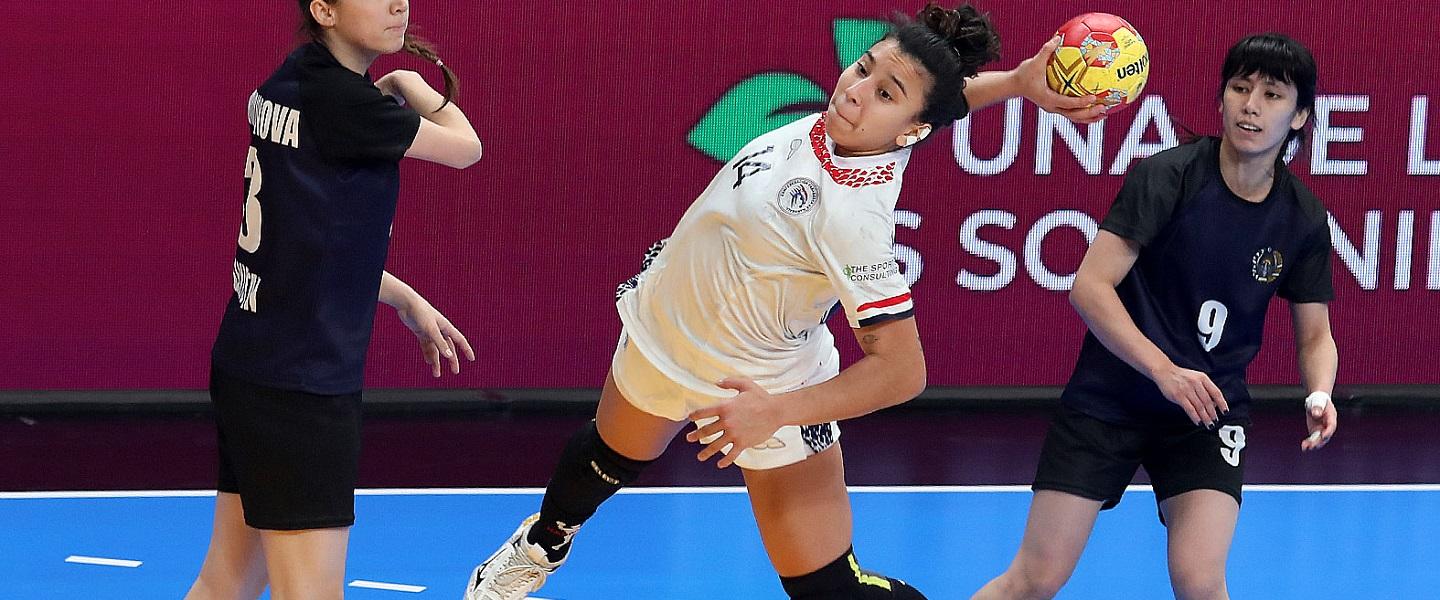 25-year-old Sabrina Fiore led the way for Paraguay in their final match of Spain 2021 scoring 10 goals to see off a determined Uzbekistan side in Llíria in a match which featured 72 goals.
The line player, who plays her club handball in Brazil with A. A. UnC/Concordia made it to double figures as her South American side finally broke away midway through the second half.
29/30 PLACEMENT MATCH
Uzbekistan vs Paraguay 33:39 (19:19)
Paraguay leave Spain 2021 with two wins as they withstood a battling Uzbekistan side in Llíria. The match was significant for the South American side with their centre back Marizza Faria playing in her 200th match for the side she has represented for 20 years throughout all four of their IHF Women's World Championship appearances - she later revealed it would be her last IHF Women's World Championship appearance.
Uzbekistan, also chasing their second win of Spain 2021, did not get on the scoresheet until the fourth minute and they were already behind by three (1:4), but they gradually came back level after a 4:0 run (12th-14th minute) which included two from the lethal 21-year-old Uzbekistan left back, Oyazimkhon Abdumannonova.
A time out promptly came and went from Paraguay, but Abdumannonova was having fun, scoring her sixth goal of the match (11:11) which pushed her teammates further and they went ahead for the first time (12:11) in the 19th minute, extending it to 14:11 in the 20 minute mark.
But Paraguay came back to draw level (19-19) at the break and it was another 4:0 run – this time from them – which finally broke the deadlock as they went from 25:25 in the 39th minute to 29:25 in the 45th.
With five minutes remaining Paraguay were 35:30 up and as Uzbekistan tired, they extended their lead to as much as seven.
"It was a very interesting game," said Uzbekistan coach Zafar Azimov after the match. "We lost because we don't have enough physical conditions. It's been a very good experience for our very young team and we must work harder."
Fiore was not top-scorer in the game though, that went to Abdumannonova who dominated the rocket shots throughout but left the court, in tears, just before the end with a shoulder injury after a fall, although coach Zafar Azimov later confirmed it was not a serious one.
Following Fiore – who played in the 2019 IHF Women's Super Globe – being awarded the best player of the match, Faria was then presented with a special award for her double century of goals from Paraguay Handball Confederation President Nadyr Figueredo and a bouquet of flowers from Secretary General Martín Duarte Leite, who is also the Head of Delegation for his country at Spain 2021.
"We are very happy," said Paraguay coach Nery Vera. "We are really good when we want to play, when we are focused and when we play as a team. They used all the space on court (today) and the offence was good. 
"Overall, it was a very good experience in this championship," he added. "We had the opportunity to play with teams of a very high level and that is the reflection of what we want to do: we want to be at that level. We want to fight; we want to go up and we want to achieve our goals as a team."
hummel Player of the Match: Sabrina Fiore, Paraguay
Photo: RFEBM / J. Navarro