02 Aug. 2019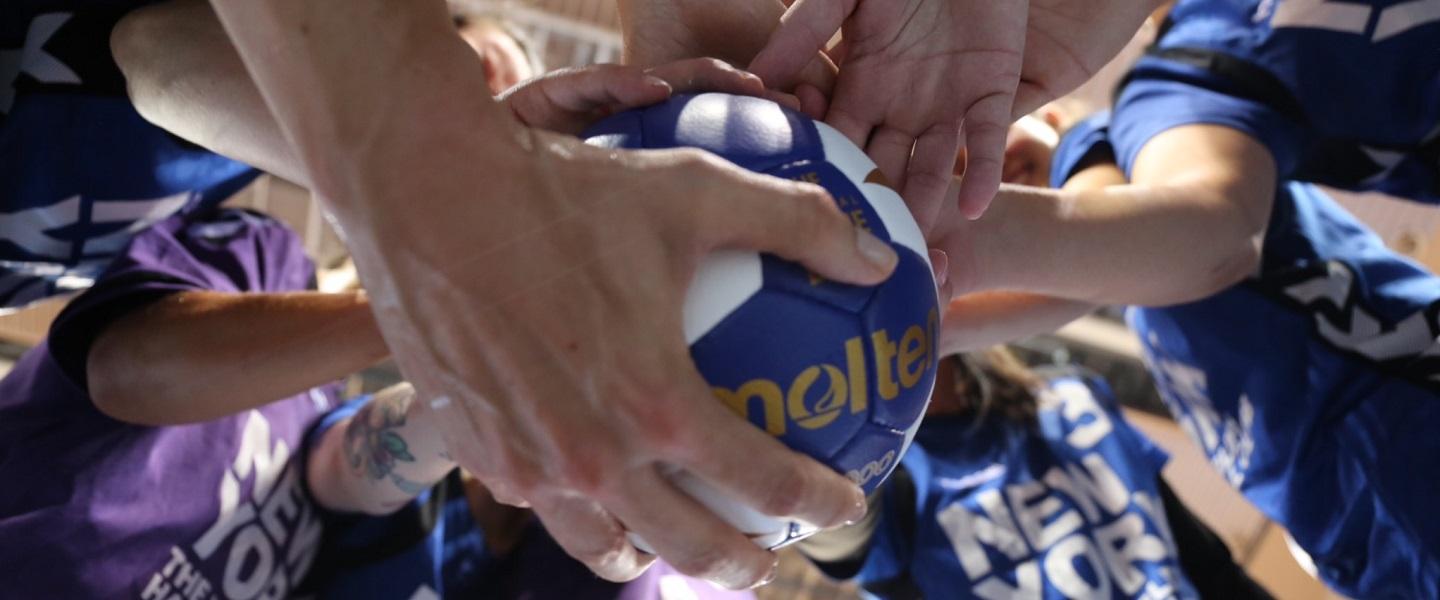 New York City Team Handball Club is perhaps the most international at the first IHF Women's Super Globe in Wuxi, P.R. of China. The only team that can rival the number of different nationalities represented is the University of Queensland – another club that thrives on a mixture of players from its own region and abroad. 
NYC started their campaign at the 2019 IHF Women's Super Globe with a hard-fought match against Japanese side OMRON, which ultimately ended in favour of the Asian team, 28:22. It was nevertheless a positive showing from NYC, and the outcome was only decided clearly in the final minutes after the American team were within reach at a five-goal deficit 11 minutes from full-time. 
ihf.info spoke with coach Pierre-Yves Coudrette following the opening game on Thursday 1 August. 
ihf.info: First game is done. What did you think? 
Pierre-Yves Coudrette: We could do much better. We lost a lot of balls, and I think that's where we started to lose our mind – a lot of fast breaks. It wasn't a hard game actually – if we were focused enough at the beginning of the game I think we would play a better game. Unfortunately, we don't have the chance to play against a team like that in the US, so we don't have this experience, but I believe in the next game we'll do much better. 
ihf.info: One of the challenges at a tournament like this is often playing against the different continental styles. What did you think of this aspect? 
Pierre-Yves Coudrette: We expected this style. We knew they would play quick, fast, you know, so we trained and tried to stop their plays. But it's handball – everything is about the defence and being patient in attack. In defence, when you look, they just scored 29 goals. For a team that I think trains two, three, four times a week – we train like one time a week! So, 29 goals against us and we scored 24…we showed the world that we can play handball. 
ihf.info: What does it mean for your club to be here at the Super Globe?
Pierre-Yves Coudrette: It's exciting. I'm so grateful to be the coach of this team. We've been US champions together. I think it's a chance we have to represent America and hopefully if we do well in this tournament, more young people will play handball in America. So that's a pretty good thing that we've been invited to this tournament, to represent America. 
ihf.info: Can you tell us about how the domestic competition in the US works? 
Pierre-Yves Coudrette: It's divided into sections. So, we have the north-east league – that's our league. It's the most active league in the US actually, and we've been champion of that league also. You have the California league, you have the Midwest league, and I believe that in Texas they also have some kind of tournaments that they do every year. They do some tournaments in Chicago, tournament in San Francisco, tournament in West Point in New York. We play maybe, between 12 and 16 games a year. It's not a lot, but that's the format. After, we have nationals – it's like a play-off. So, for three days we play against all the teams in America, so that's how handball is in the US. 
ihf.info: The NYC Team Handball Club has been really active in promotion over recent years, with a big presence on social media. What can you tell us about this effort? 
Pierre-Yves Coudrette: I think that the chance we have is that we have players coming from Europe. New York is a big city. We have the chance to have players from Germany, from France, from Brazil, from all over the world. Our name is 'the world's handball club', so it's easy to bring people from all over the world to follow us on Facebook, Instagram…I mean, it looks easy, but it's not easy. Our president, Bini [Shkumbin Mustafa], is doing so, so much for the club, to get everything in order. And also on social media, he is really promoting the club. 
Photo: New York City Team Handball