17 Mar. 2021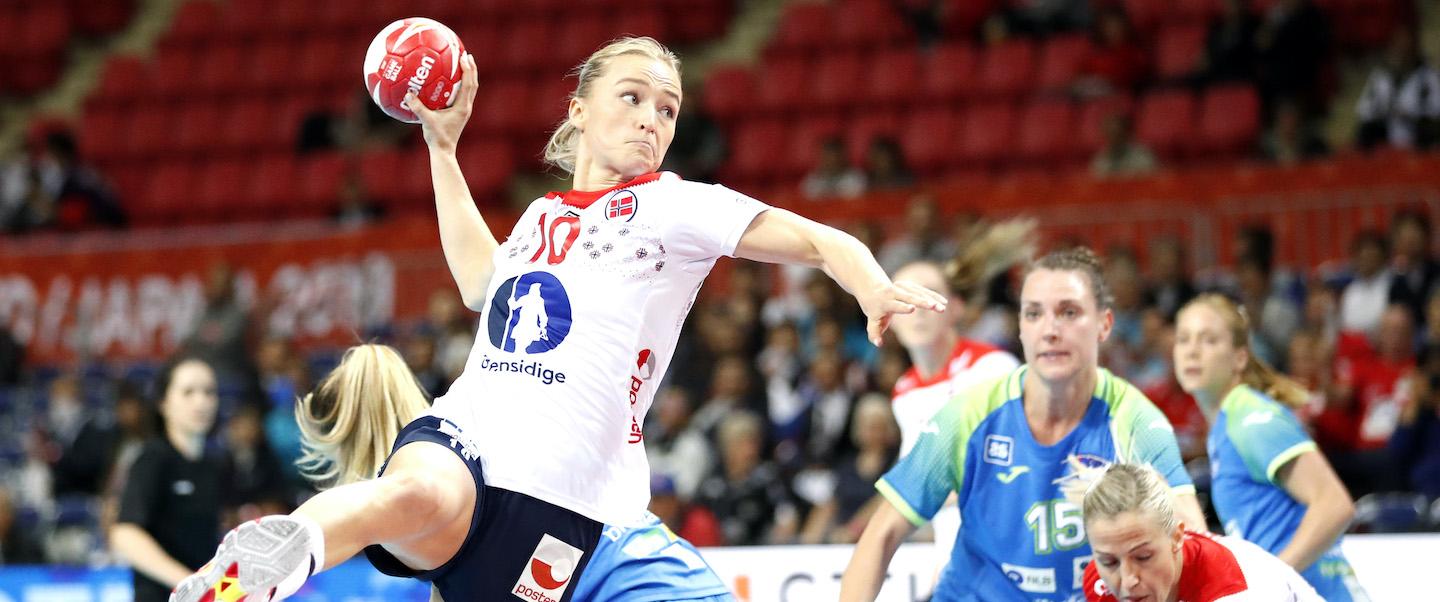 With their six Olympic Games medals, equal to Republic of Korea, Norway are one of the most successful teams ever, and qualification through to Tokyo 2020 would set them up in their attempt to equal Denmark's record of three Olympic golds (1996, 2000, 2004) and with it, sit as the undisputed Queens of Olympic handball.
Their appearance in Podgorica, at the Tokyo Handball Qualification 2020 – Women's Tournament 3, where they will face hosts Montenegro and Romania only, due to the Asian Handball Federation being unable to allocate a team, is the first time the Norwegians find themselves in an Olympic Qualification Tournament.
This follows one of their worst-ever pair of consecutive finishes at a European and World Championship – fourth at the 2019 IHF Women's World Championship in Japan and fifth at the Women's EHF EURO 2018 in France, a tournament where they missed out on a semi-final spot on goal difference.
Both events were Tokyo 2020 qualification opportunities and were a shock for Norway who had only once failed to medal in the European Championship since it started back in 1994 (6th, 2000), plus the first time they did not stand on the World Championship podium since 2013.
In fact, six of their seven previous Olympic Games appearances came through the qualification pathway of the previous World Championship, while their 2006 European Championship title saw them secure a ticket to Beijing 2008.
The irony for Norway in 2021 is due to the postponement of Tokyo 2020 by one year, they are now reigning European champions, having beaten the 2018 champions France – whose title secured qualification through to Tokyo 2020 – in the 2020 final last December. 
For coach Thorir Hergeirsson, he is hoping the positive experience from December will translate to the tournament in Montenegro.
 
"We enjoyed a good EURO 2020, where most of the things turned out the way we wanted and it was a good experience for us," he said to ihf.info. "That said, we are aware that the Olympic qualification tournament is a new task; it's a new competition, nothing will come to us for free, so we need to recreate our performance [from Denmark]."
Hergeirsson, who has collected more than 10 medals with his Norwegian team including London 2012 gold and Rio 2016 bronze, has chosen a strong squad of 20 for Podgorica, 17 of whom played at the EURO 2020 with Viborg's Moa Hogdahl, Esbjerg's Vilde Mortensen Ingstad and Herning-Ikast's Ingvild Bakkerud the three in the squad who did not appear in Denmark.
And despite a squad littered with global superstars, including EHF EURO 2020 All-star Team members, Herrem and centre back Stine Oftedal (2019 IHF Female World Player of the Year), as well as goalkeepers Silje Solberg and Katrine Lunde and many more, all eyes will be on influential right back Nora Mork.
Mork, who played all eight games at the EHF EURO 2020 for Norway, scoring 52 goals to end as top scorer and member of the All-star Team, had only just returned to action a few months previously following a lengthy knee injury, but last month she went down again in the final minutes for her Vipers Kristiansand side in their Rostov-Don Champions League match and the worst was feared.
However, tests showed there was no significant injury, and the player would not be adding to her 10 previous knee surgeries. Despite that, her name on Hergeirsson's squad comes with an * next to it, with the text stating '*any participation for Nora Mork has to be cleared with the national and club health teams'.
"I cannot afford to gamble with my knees," explained Mork to TV2 Norway, "…we'll see if the Olympic qualifiers can be done, but I do not take any chances. The most important thing is to be completely healthy and ready for what happens at the end of the season and for the summer."
With or without Mork, Norway have the statistics on their side going into Montenegro. They have played Romania 67 times, according to the Norwegian Handball Federation website, dating back to 1971, winning 38 and losing 22, while they have faced Montenegro six times, winning five, most recently a 34:28 Golden League win last October which was the 250th international match for wing Camilla Herrem and 200th for line player Marit Malm Frafjord.
"Montenegro are a strong team and for many years they have been in the top 6-8 of all the championships," explained Hergeirsson. "Tactically, they are good team, with a fighting spirit, always competitive and always with a good attitude. They have experienced players within their group, but the same goes for Romania.
"They have some key players among Europe's finest – Cristina Neagu and Crina Pintea – amongst others. A strong squad, with quite a few players as well as the coach plying their trade at CSM Bucuresti, which gives them a togetherness as a team. A very strong opponent. We have had a lot of good fights with them through the years.
"The Olympic Games are possibly the greatest event any coach or player could experience. Our ambition has always been to qualify for Tokyo 2020, that hasn't changed, so we need to overcome these strong opponents."
Key players: Kari Brattset Dale (line player), Stine Bredal Oftedal (centre back), Nora Mork (right back), Henny Reistad (centre back), Camilla Herrem (left wing), Silje Solberg (goalkeeper)
Qualification for Tokyo Handball Qualification 2020: 2019 IHF Women's World Championship – 4th place
 
History in Olympic Games: 1988: 2nd, 1992: 2nd, 1996: 4th, 2000: 3rd, 2008: 1st, 2012: 1st, 2016: 3rd
  
Tokyo Handball Qualification 2020 – Tournament 3: Romania (ROU), Montenegro (MNE), Norway (NOR)