23 Jan. 2023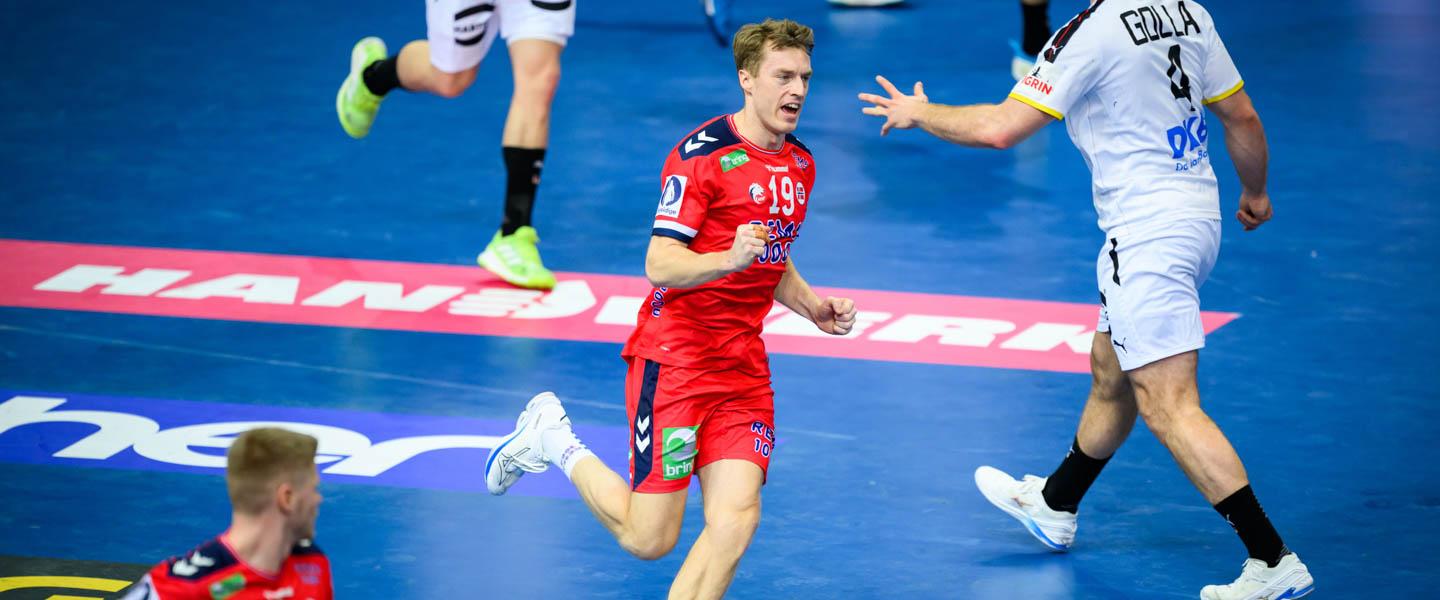 A monster half from goalkeeper Torbjørn Bergerud helped Norway seal their sixth win in a row at the 2023 IHF Men's World Championship (28:26) against Germany, as the Scandinavian side also clinched first place in Group III of the main round, setting up a crunch quarter-final against Spain.
Main Round Group III
Germany vs Norway 26:28 (16:18)
Five wins in five matches. A true decider, a battle between two European powerhouses for the bragging rights of winning Group III. Katowice was bidding farewell to the 2023 IHF Men's World Championship after 13 consecutive days of action in the preliminary and main rounds. But what better way to say goodbye than with a fiery clash between Germany and Norway?
The two sides have displayed excellent attacking prowess so far. They took control in defence when needed and both had experienced goalkeepers, making it a recipe for a very even game which could have gone either way. Like coaches always like to say, the difference was going to be made by small details.
One rather big detail, however, was the form of Juri Knorr. Germany's left back has been a breath of fresh air for the team as the 22-year-old stalwart was the driving force for the most efficient attack in the competition, which had previously converted 73% of their shots.
And indeed, Knorr took over Germany's attack from the first minutes, scoring four times and dishing two assists in only 11 minutes, with Norway's defence failing to stop him, no matter how hard they tried. Yet Jonas Wille's side did not target Knorr with a man-to-man marking, knowing perfectly well how good Germany can be in attack, even with Knorr's role being reduced.
What Norway did, though, was display a very efficient attack which put up impressive numbers, gravitating around 75-80%, which helped the Scandinavian side to enjoy a very strong start with a 13:10 lead after 20 minutes. In fact, Germany had never taken the lead in the first half, which set off some alarms for coach Alfreð Gíslason.
Nevertheless, after goalkeeper Andreas Wolff had saved five shots, including two penalties, Germany tied the match close to the end of the first half, only for Norway to finish the first 30 minutes of the match with a 2:0 run to enter the break with a two-goal advantage (18:16).
The rhythm in the first half was truly hectic and it was impossible for the two sides to keep throwing punches at each other at that speed for another 30 minutes. Indeed, while the first half had 34 goals scored, the second had only 20 goals.
So who blinked first? At first glance, it looked to be Norway, who were down one goal with only 10 minutes to go, as Knorr's output dwindled in terms of goals scored – he had only eight – but he was still influential with six assists.
But as soon as Germany boasted that 25:24 lead, Norway soon bounced back. It was thanks to their amazing goalkeeper Torbjørn Bergerud, who was named the "hummel Player of the Match" for the second match in a row, and also to some efficient attacking play.
A 4:0 run, definitely spurred by Bergerud's saves – 12 in the second half for a 55% saving efficiency – was the building block for Norway's win, with Germany scoring a single goal through Christoph Steinert in the last eight minutes and 18 seconds, when it was already too late, in the last second of the match.
Dominating his opponents mentally, Bergerud shined in this match, with Norway sealing a 28:26 win, enough to end the first part of the championship unblemished, as Germany were lamenting the missed chances at the end of the match.
For the first time in history, Norway started an edition of the IHF Men's World Championship with six wins in a row, qualifying from the first place in Group III of the main round after some impressive display in the first major competition for coach Jonas Wille on the team's bench. 
The Scandinavian side will meet Spain in the quarter-final in Gdansk on Wednesday. At the same time, Germany, who lost their first match after a five-match winning streak, have an even tougher proposition, facing France in a mouthwatering match.
hummel Player of the Match: Torbjørn Bergerud (Norway)