17 Jan. 2023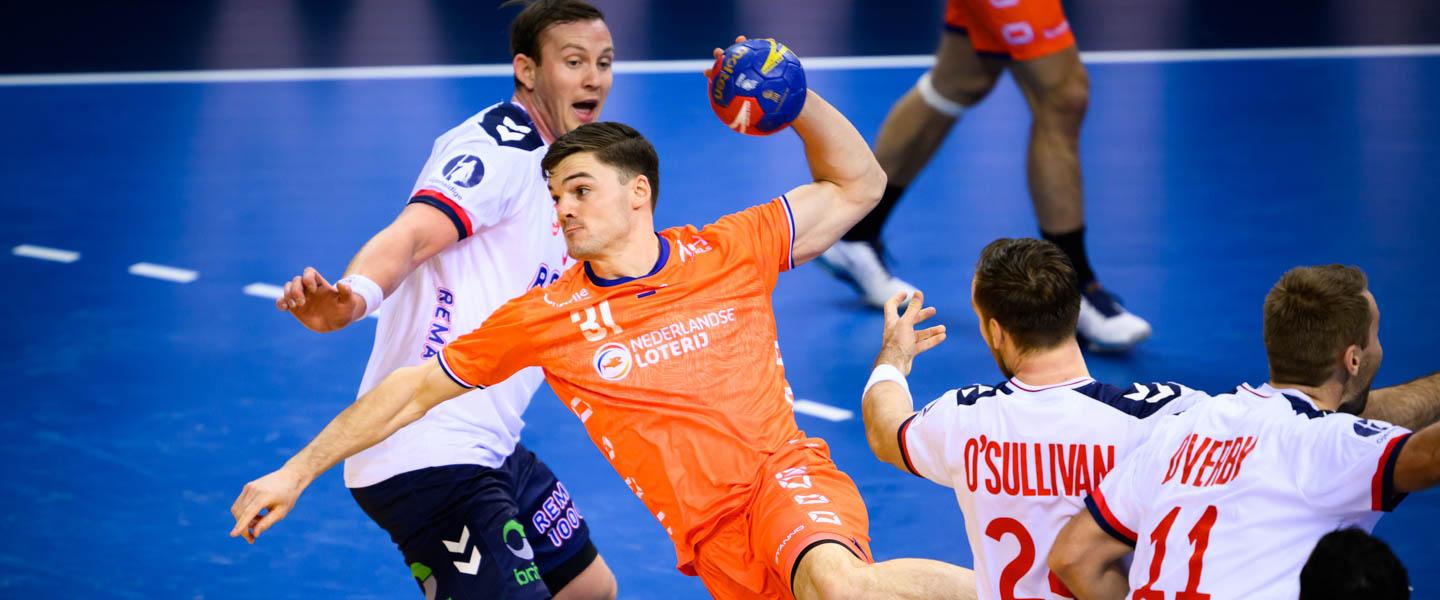 Fans at the Tauron Arena were treated to a high-quality handball spectacle as the 2023 IHF Men's World Championship preliminary group stage concluded in Krakow.
It was a real game of two halves, with the Netherlands putting all their power into the first, taking the first 30 minutes 17:13. 
But the 2017 and 2019 silver medallists – and any team featuring Sander Sagosen – should never be discounted.
The Norwegians outscored their opponents 10:4 during a blistering 15-minute opening period in the second to take the second half 14:9 and the match 27:26.
Group F
Netherlands vs Norway 26:27 (17:13)
It was maybe an unlikely hero – Magnus Abelvik Rød – whose 59th-minute strike proved to be the winner for Norway, but it was a team effort from Jonas Wille's side which ensured they take four points and not three (or even two) through to the main round.
If you had spoken to Wille in the 24th minute and offered him a one-goal nail-biting win, he would have taken it.
By that time, he was already on his second time out as his side could not get going. Of course, Luc Steins and Kay Smits were doing the business for the Dutch, but their goalkeeper Bart Ravensbergen is becoming an invaluable resource between the posts. 
He ended the match on 14 saves, but these were not any old saves – this is the Norwegian shooting gallery at work.
At half-time he had seven stops (35%), with Steins and Smits responsible for nearly half of their team's goals (eight out of 17).
It was Steins, who had put his side ahead by three (8:5, 12th minute) and then Smits by five (12:7, 19th) as the Norwegians could not find their rhythm.
But handball is a 60-minute game, and with four goals at the break, Sagosen was waiting in the wings.
Wille had told ihf.info before the championship that he had wanted Sagosen to divide his goalscoring and playmaking as one of the leaders of his squad, and tonight was evidence of that – seven goals and four assists in total.
That opening 10:4 period turned the game on its head and Netherlands coach Staffan Olsson took his second time out of the match during this time.
As the match entered the last eight minutes all square (23:23), having been preceded by mistakes made due to the frenetic action on the court, Norway's Sebastian Barthold took the opportunity to slow down the latest Norway attack, calm his side, allow for the exchange of players and look to take the lead again.
Sagosen obliged from distance and then, after a few more errors from both sides, Rod stepped up. His first of two late goals put his side in the lead again (25:24, 57th), followed up by a Barthold fast-break (26:24, 58th).
The two-goal lead stayed (27:25) as Olsson took his third time out (58:48 on the clock), but just when they needed that goal, Steins' lay-off on the edge of the area did not connect.
Wille then took his final time out with just over 40 seconds remaining and watched his side calmly try to kill the game, but they failed.
As the Netherlands tried to score quickly but could not bring it back quickly enough, Smits' final goal came after a video-proof decision – apt, considering that not a second of this match was without high performance.
hummel Player of the Match: Luc Steins (Netherlands)