02 Aug. 2021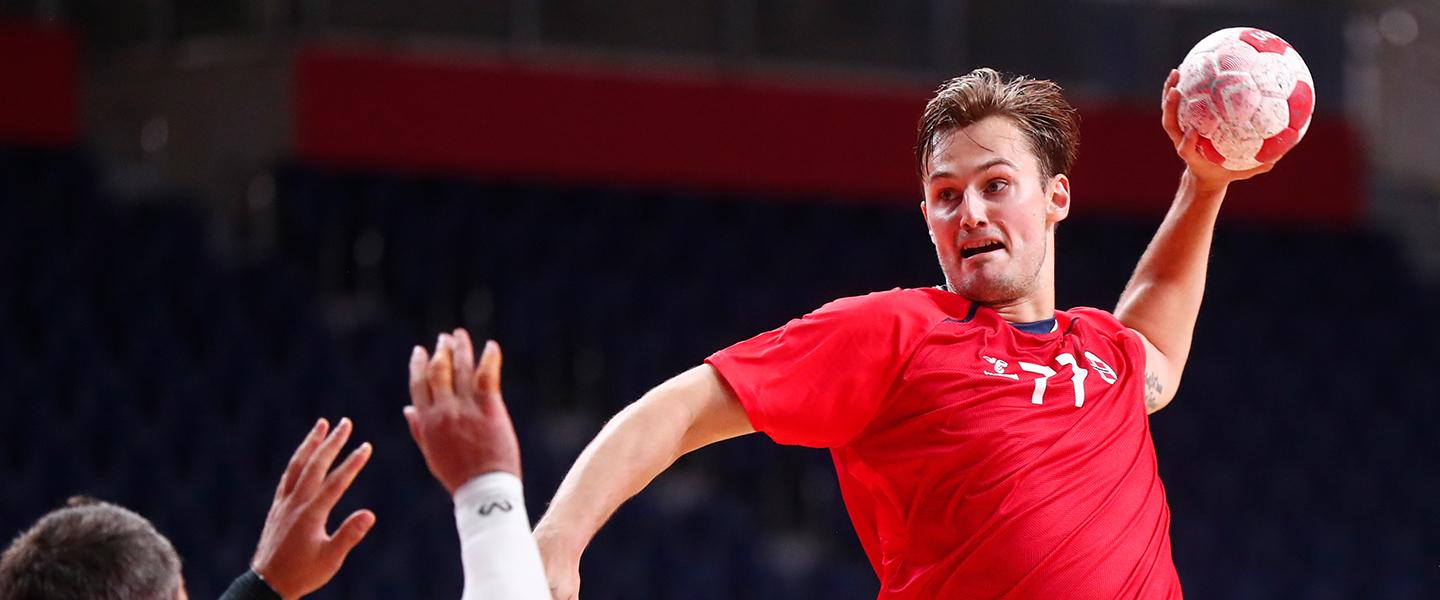 Two and a half years ago, Denmark and Norway met in the final of the 2019 Men's World Championship, with Denmark clinching the title on home ground in a packed Jyske Bank Boxen in Herning. On Tuesday, the Scandinavian powerhouses will meet for their first official match since that final in the battle to reach the Tokyo 2020 medal round. 
Norway have never beaten Denmark in a World Championship or Olympic match but will be aiming to end that record as they vie for their first Olympic semi-final. As defending champions, Denmark target a return to the stage after reaching it for the second time in 2016. The previous semi-final appearance for the Denmark men's side was in 1984, when they placed fourth, making Rio 2016 not only their first Olympic title but first medal at the Games. 
As two well-established handball nations, Denmark and Norway's history against each other stretches back a long way. The first match was played outdoors in the days of field handball, on 19 June 1949 in Norway. The nations have met a total of 140 times in official games, with 92 wins for Denmark, 37 for Norway and 11 draws. 
Although the history between them is rich, Norway are far more recent newcomers to the top of global rankings than Denmark, who made it to the semi-finals at the debut editions of both the World and European Championships. 
Norway had their breakthrough tournament at the Men's EHF EURO 2016, when they went from 14th in 2014 to fourth. The team missed a place at Rio 2016, but in January 2017, they made it to their first World Championship final, where they were defeated by France in Paris. The EHF EURO 2018 saw a seventh-place finish before the silver medal at the 2019 World Championship. In January 2020, Norway clinched their first European medal when they took bronze. 
 
10 wins in 10 matches. Denmark's 🇩🇰 perfect run through #handball19 came to a dream end on Sunday night, as they won their first world title versus Norway in front of more than 15,000 spectators in Herning. Enjoy the highlights of the @dhf_haandbold' historic night! 🙌 pic.twitter.com/eQIeKmgEgU

— International Handball Federation (@ihf_info) January 27, 2019

Across all those championships in which both teams participated, Denmark only outranked Norway at the EHF EURO 2018 (fourth) and the title-winning World Championship. In 2021, Denmark reclaimed the world trophy in Egypt while Norway were knocked out in the quarter-finals by Spain. 
Norway and Denmark have clearly been two of the most powerful sides in men's handball over recent years, yet they have not faced each other often, and now there can be only one winner that earns the right to fight for the Tokyo 2020 medals. 
The two teams also count some of the biggest stars in handball, with 2019 World Player of the Year Niklas Landin and three-time World Player of the Year Mikkel Hansen sure to play a key role for Denmark in the quarter-final, alongside the biggest breakthrough star of 2021, Mathias Gidsel. For Norway, 2020 Champions League winner and record holder for most goals scored in a European championship, Sander Sagosen, will be critical for Norway's success – and key for Denmark to stop. 
If Denmark make it to the semi-final, they will have the chance to repeat France's feat of two Olympic titles in a row. If Norway are the team to reach the penultimate stage, they will have the opportunity to round out a highly successful five-year period of first medals won at major international championships. 
"We had the chance to win and get through, so I am extremely proud of the team. Now everything is possible," said Sagosen following Norway's quarter-final qualification with a win over France.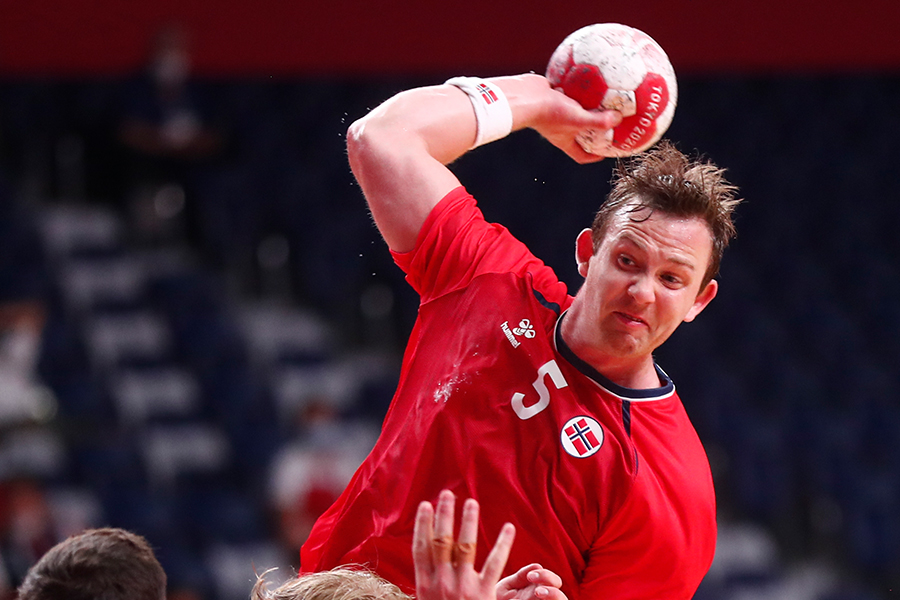 Olympic debutants face titans to open quarter-final day
The first of the quarter-finals on Tuesday will see two-time Olympic champions France playing Bahrain, who are contesting their first Games and are the only side to have represented the small Asian nation at the Olympics. Although France are undoubtedly the favourites, with Bahrain's best record at the World Championship a 20th place finish in 2019 and the European team the record winners in that competition, Bahrain have been a surprise for many at Tokyo 2020. 
The Asian team opened their campaign with a one-goal loss to World Championship runners-up Sweden, with the result coming down to a penalty after the buzzer saved by 2021 World Championship All-star Team keeper Andreas Palicka. They also lost by just one goal to Portugal. A two-goal win over Japan ended up being enough to take Bahrain through to the knock-out stage in a close race for fourth position in Group B, and they join a small group of Olympic debutants to have reached the quarter-finals with the result. 
France and Bahrain have met just once before, at the 2011 World Championship when the squads were very different from now. France took a decisive victory on that occasion. 
The next quarter-final pits 2021 World Championship silver medallists Sweden against European champions Spain. In a total of 12 mutual games across World Championships and Olympics, Sweden have won eight while Spain earned victories the other four times – but those matches were many years ago, with the most recent in 2011. 
Towards the end of the 1990s Sweden and Spain were two of the biggest teams in handball. They met in the semi-finals of two consecutive Olympic Games, in 1996 and 2000, with Sweden winning both games before being defeated in the finals. Although the Scandinavian team played the Olympic final four times, they never took the gold medal. 
Following Denmark versus Norway in the third quarter-final, the last semi-final place will be decided between Germany and Egypt. It has been 21 years since Egypt beat Germany in an official match, with the African side's two wins in a total of 11 matches recorded at the Olympics in 2000 and 1996 – but Egypt have emerged as a strong global contender in 2021 after several years threatening to break into the top. 
At the home World Championship in January, Egypt were eliminated in the quarter-finals after an extra time battle then penalty shoot-out against Denmark and were the closest to overthrowing the Scandinavian team at that event. At the World Championship, Germany, who won the bronze medal at the 2016 Games, missed out on the quarter-finals. 
While Germany have won multiple medals at every major event stretching through their long history as a competitive men's handball nation, Egypt have mainly enjoyed success within their continent. Globally, they have reached a semi-final only once, at the World Championship in 2001. Egypt's best Olympic ranking was sixth in 1996. 
Full schedule Tuesday 3 August 
All times local
09:30 France vs Bahrain
13:15 Sweden vs Spain
17:00 Denmark vs Norway 
20:45 Germany vs Egypt
Find information on where to watch here.