31 Jul. 2022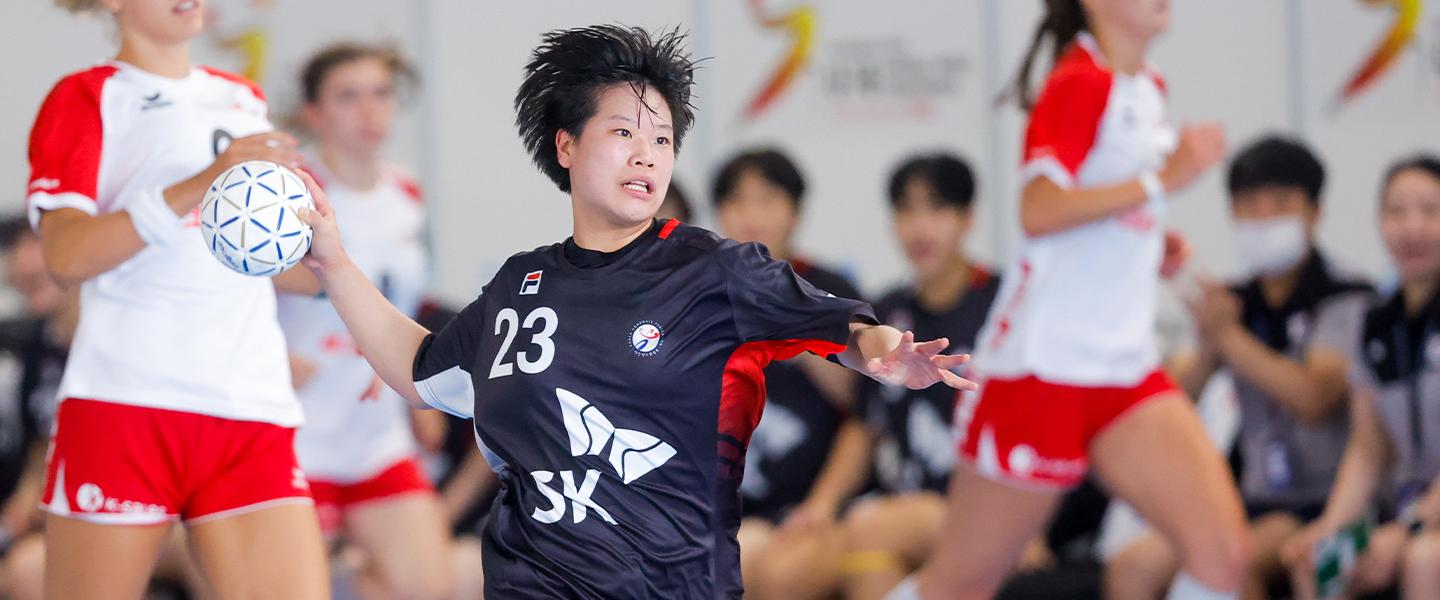 Five teams have already progressed to the main round at the 2022 IHF Women's Youth (U18) World Championship after the second day of competition as North Macedonia, the Islamic Republic of Iran, Denmark, Portugal and Egypt sealed their berths after winning two games in the preliminary round.
Monday could see no less than seven teams progressing to the next phase of the competition, as the day is highlighted by two interesting ties: Germany facing the Republic of Korea in Group F, while Hungary playing against Spain in Group H.
Group E
Netherlands vs Guinea (14:00 CEST, Jane Sandanski Sports Centre, Skopje)
Slovenia vs Romania (20:30 CEST, Jane Sandanski Sports Centre, Skopje)
The two favourites of the group, Romania and the Netherlands, can progress to the main round, provided they both win their matches on Monday. After a 39:27 win against Guinea, where they scored the largest amount of goals in the competition since a 42-goal outing against Uzbekistan in 2014, Romania face Slovenia, where they will be favoured after their counterparts conceded a tough 17:31 loss against the Netherlands on Saturday.
On the other hand, the Dutch side aim to extend their five-tournament streak with a top 10 finish at the IHF Women's Youth World Championship, as the first step is building a two-game winning streak against Guinea. The African side made their debut on Saturday and displayed some impressive attacking prowess, but the lack of experience and miscues in defence, where they conceded the fifth-largest number of goals in the tournament, was their undoing. Featuring players like Jalisha Loy, Bianca Schanssema, Lois van Vliet or Judith van der Helm, who also featured at the IHF Women's Junior (U20) World Championship last month, the Netherlands side hav the experience needed to secure a great finish in the competition.
Group F
Republic of Korea vs Germany (16:10 CEST, Jane Sandanski Sports Centre, Skopje)
Switzerland vs Slovakia (18:20 CEST, Jane Sandanski Sports Centre, Skopje)
The two heavyweights of the group, Germany and the Republic of Korea face off in a crunch game, which will likely decide the first team to progress to the main round. While Germany had their share of trouble in the first 15 minutes against Slovakia but went on to secure a clear 39:18 win, the second-largest on the first day of competition. The Republic of Korea clinched a 32:28 win against Switzerland, with two players – Minseo Kim and Seojin Kim – combining for 23 goals, as they will surely pose some questions to Germany.
In the other game, Switzerland and Slovakia, the two teams who lost their respective first match, face-off, as the loser will virtually be out of contention for a main round berth. Switzerland had a strong outing against Korea in their maiden game in the competition, while Slovakia's heavy loss will definitely put a dent in their morale as they approach the decider on Monday. 
Group G
Uruguay vs Norway (14:00 CEST, Boris Trajkovski Sports Centre, Skopje)
Czech Republic vs Brazil (16:10 CEST, Boris Trajkovski Sports Centre, Skopje) 
After the opening round of matches, European teams dominate this group, as Norway and Czech Republic are level on two points. If both teams also win their second games on Monday, they will seal their main round berths with one group match to go.
Norway, who entered the competition hoping to go far, had no problems in their opening game against Brazil, winning 31:19. Now they will face another South American team, Uruguay, who proved to be a hard nut to crack for Czech Republic. The Czechs ultimately won by one goal, 24:23, but the outcome might have been quite different. Yet, in any case, they are determined now to claim their second straight win against Brazil. 
Group H
France vs Argentina (18:20 CEST, Boris Trajkovski Sports Centre, Skopje)
Spain vs Hungary (20:30 CEST, Boris Trajkovski Sports Centre, Skopje)
In this competitive group, both teams progressing to the main round might also be named already today. France and Hungary opened the championship with victories, and if both sides add two more points to their tally, they will go through.
France, who defeated Spain in an exciting game on Friday, will now be seen as favourites against Argentina. In turn, Hungary and Spain are expected to play a hard-fought match, and while the silver medallists from Poland 2018, Hungary, are determined to win, they can take nothing for granted.