11 May. 2021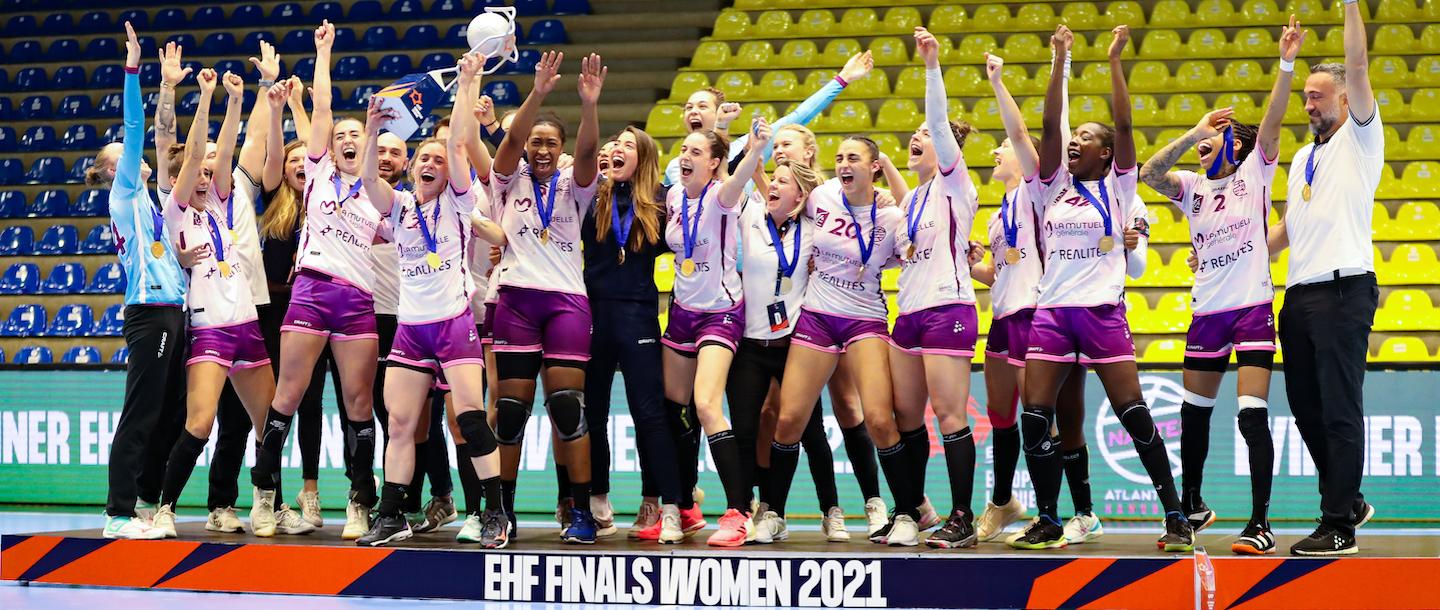 The inaugural EHF Finals Women produced four enticing, high-octane games, with Nantes Atlantique Handball securing their first-ever international trophy in emphatic fashion after two superb wins against CS Minaur Baia Mare and Siófok KC.
It was one of the biggest upsets of the European second-tier competition, as the French team took everyone by surprise with a mix of dazzling speed and creativity in attack and a fine-tuned defence when it mattered.
"I am at a loss for words. I have received more messages on Saturday and Sunday than I usually do on my birthday," said Nantes' coach Guillaume Saurina, who is in his first full season as a coach after retiring from an illustrious playing career.
The semi-finals, played on Saturday in Baia Mare, produced two entertaining games, with mirrored results. First, it was hosts CS Minaur Baia Mare who were considered favourites against Nantes, but the French side started strong and seemed to be in control after taking a comfortable 21:15 lead at the break.
Baia Mare bounced back and tied the game at 27:27, but Nantes pulled away thanks to a combined effort from right wing Nathalie Hagman, who scored 11 times, and the MVP of the EHF Finals Women, Bruna de Paula, who added eight goals.
The drama was not over yet, as Siófok KC faced Herning-Ikast Handbold in a clash of the top two attacks in the competition.
Herning-Ikast was leading for most of the game, but the lack of experience proved costly, as Siófok made their comeback late in the match. After a 31:31 draw at the end of the 60 minutes, with Hungarian back Gabriella Toth converting a penalty after the final whistle, extra time followed and there seemed to be only one team on the court.
With goalkeeper Melinda Szikora turning up at the right moments, Siófok secured a 36:34 win, that extended their unbeaten run in European competitions to 17 games.
It was not a fine tournament for Herning-Ikast, who wasted another lead in the 3/4 Placement Match against hosts Baia Mare. The Romanian side mounted another comeback in the second half, after being down by six – and this time it stuck, after left back Jovana Kovacevic scored 11 times. 
Baia Mare finished third after a compelling 33:31 win, a consolation prize for a team that eyed their first international trophy.
"We are so proud today to secure this win. We were so disappointed in ourselves after the loss against Nantes, so when we played against Herning-Ikast, we were so focused on our play to snatch this win. I am a little bit sorry because I had not experienced the arena with fans, I never experienced that this season," said Baia Mare's line player, Linn Blohm, after winning the game against Herning-Ikast.
It was all down to Nantes and Siófok – the underdogs and the 2018/19 Women's EHF Cup champions, who, coincidentally, lost their last European game in November 2019 in the Qualification Phase 3 of the Women's EHF Cup against Nantes.
And it was all Nantes from beginning to end. Led in attack by the superb MVP of the competition, Brazilian back Bruna de Paula, and perfect shooter Nathalie Hagman, who converted all 18 shots in the two matches on her way to the EHF Finals Women top scorer award, Nantes looked in control throughout the whole game.
Taking a 17:13 lead at the break was just the beginning, as the gap ballooned to eight goals at times, with Nantes taking enough time to celebrate the win, especially as Siófok were attempting to mount a late comeback.
It never materialised, though, and Nantes secured their first-ever international trophy with a convincing 36:31 win.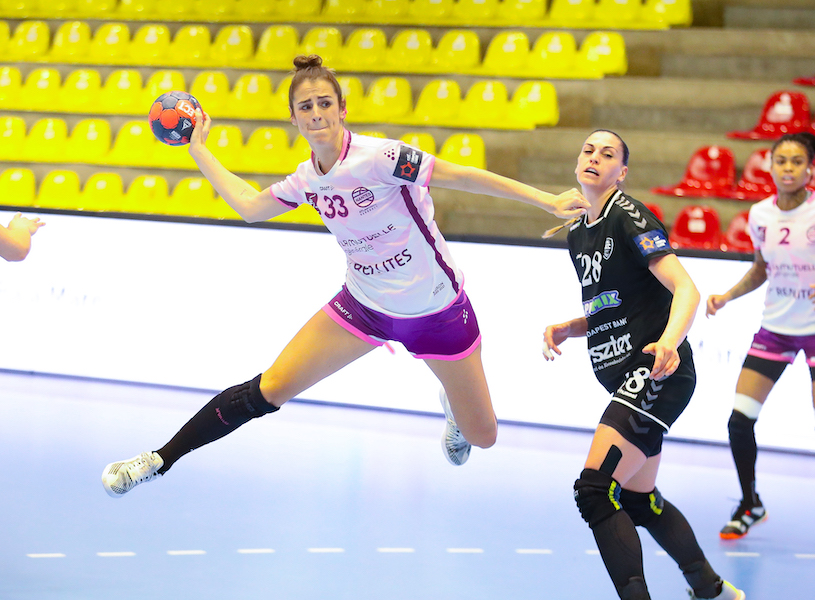 "I think Siofok spent a lot of energy yesterday in the extra-time [against Herning-Ikast], we were all in front of the TV and watched it. We managed to play good handball, with a great player [Bruna de Paula] who is standing next to me and we did it as a team. This is our strength since the beginning of the season. We were together since 2 July, we had many games in a row, the girls never gave up and always smiled when they took the court. I am a lucky man to be able to coach this team," added Saurina at the press conference that followed the final.
Scoring 60 goals in the preliminary round and the knock-out phase of the competition, Bruna de Paula was Nantes' top scorer, only one goal shy of the top scorer of the inaugural EHF European League Women, Herning's back Helene Fauske.
"It is an amazing feeling, I do not grasp it now. I thank my team, because without them, we would have never been here now. What we achieved is amazing and I believed from the start in our team. When the mood is good outside the court, things work also on the court. I was never afraid about this challenge, because I know what we can do. I am proud and happy and I am at a loss for words," concluded de Paula, who will join Metz Handball from the next season on.
As for Nantes, their party started immediately after the game and will probably stop only in the next days. Yet, Saurina remains cautious.
"I told my president that this was not a normal season, he must not have this kind of expectations all the time," the rookie coach joked.
Photos: Bertrand Delhomme / LFH