27 Jan. 2021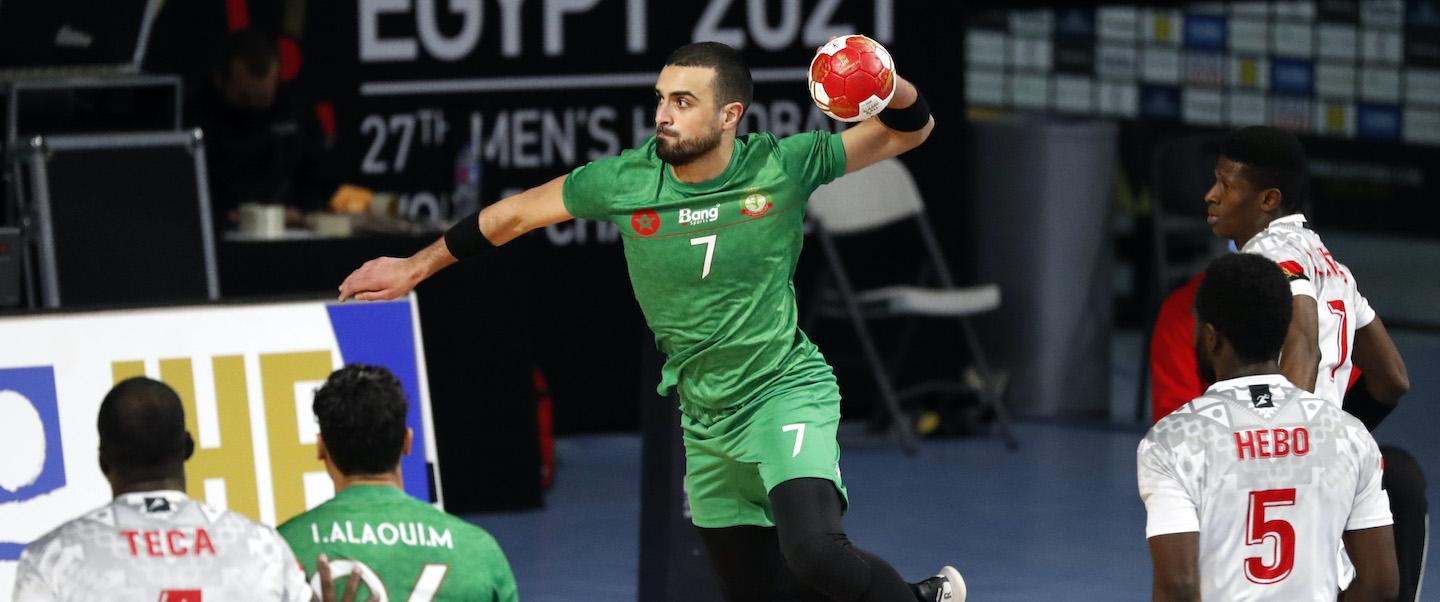 Morocco were the first team at Egypt 2021 to win on penalty shots as they took their second win of the World Championship after defeating Angola to finish in 29th place.
29/30 PLACEMENT MATCH 
Angola vs Morocco 29:30 (14:13, 27:27)
After taking an early two-goal lead (4:2) in the 10th minute through Edvaldo Ferreira, Angola maintained the lead, increasing it to three (10:7, 18th minute), but a 3:1 run from the Moroccans in the last two minutes of the half took them in just one behind (13:14).
Morocco were playing an open, 4-2 defence and eventually went ahead 10 minutes into the second period (20:19).
But Angola came back again, going through ahead (24:21) with less than eight minutes remaining. However, in a run similar to the end of the first half, Morocco ensured they had the final say, equalising with seven seconds left through hummel Player of the Match Reida Rezzouki, not allowing enough time for Angola's time out to seal a late winner. 
Rezzouki's expert scoring (6/8 first half, 12/16 total) saw him grab five goals in the last six-and-a-half minutes of the match.
The penalty shots saw Angola completely fail in their first three shots, with Manuel Nascimento hitting the post, Otiniel Pascoal shooting wide and Claudio Lopes seeing his attempt saved by Alae Laaroussi.
By this time, Morocco were ahead 2:0 after Mohamed Bentaleb beat Angola captain Giovany Muachissengue. His fellow goalkeeper, Custodio Gouveia then came in to give his side hope, saving Ryad Lakbi's shot, but with the score in hand it was down to Claudio Lopes to sink it home for the victory, their second at Egypt 2021, after they dispatched Republic of Korea earlier on in the President's Cup.
In the media conference following the game, Morocco coach Noureddine Bouhaddioui, praised his side and was keen to look to the future.
"Today's match was very special match as we haven't beaten Angola for 7 or 8 years," said the coach. "We have many players, including young ones who are appearing at their first championship and we are all looking towards the next African championship, which will be held in Morocco."
"I am very honoured to be here for Morocco in this world championship," said goalkeeper Youssef El Mouaddar, who, while not playing any minutes in the match, sat on the Morocco senior bench for the first time today. My family and friends have supported me all the time to be the best at handball I can be and today we played our best performance, especially in our preparation for the match. 
"Why can't we win against the big teams in Africa like Tunisia and Egypt in the future?" he concluded as he dreamt about his future with the men's team and his country looks forward a big continental handball celebration in 12 months. 
hummel Player of the Match: Reida Rezzouki, Morocco
With thanks to Myada Asharf Morsy for the translation