07 Dec. 2019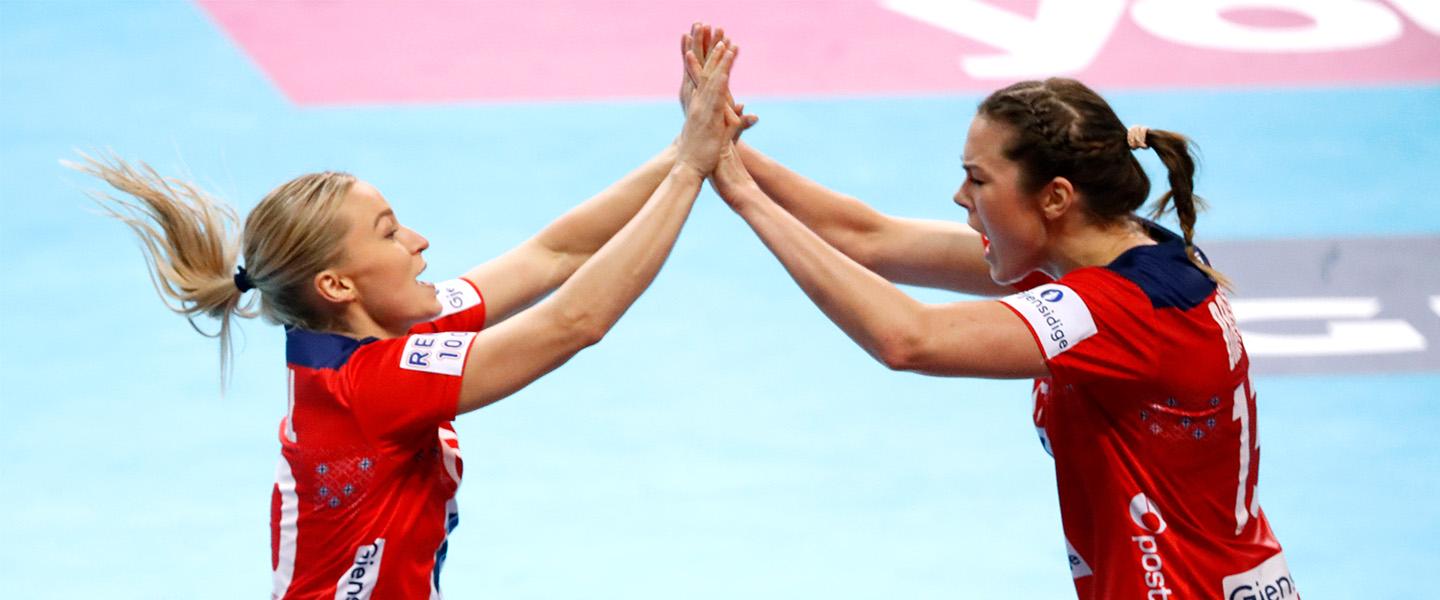 The top 12 teams at the 24th IHF Women's World Championship are set to begin their main round campaigns on Sunday 8 December in Kumamoto. In this phase, the three first teams from Groups A and B will play a series of cross-matches in Group I, while the same is the case for Groups C and D in main round Group II. At the end, the two top teams in each group will proceed to the semi-finals. 
After they were defeated in a historic win for the Netherlands in the last preliminary round match, Norway will aim to recover their previously unbeaten form when they meet Denmark in a Scandinavian derby to close the first round for Group I at 20:30 local time in Aqua Dome. 
The 2015 world champions had not lost to the Netherlands since 1999 and have won against the side no less than five times in important matches since the two met in the trophy match at the World Championship four years ago. Because of the loss to the Netherlands, Norway start their main round campaign third in Group I with two points – two behind leaders the Netherlands, one behind Germany, and level with Republic of Korea. Their two points come from a big win versus Serbia.  
Meanwhile, Denmark bring one point into the main round, following their draw against Republic of Korea in the preliminary round. They start Group I in fifth position, with the prospect of a climb to the top two places and a semi-final berth looking to be a tough task. 
The two Scandinavian sides are therefore under considerable pressure at the start of the main round. With a much stronger recent history against Denmark, Norway are the favourites to take the win – but they must watch out for Denmark goalkeeper Sandra Toft in particular. 
Toft has shown more than once that on a good day, she is capable of leading Denmark to victory no matter what happens at the other end of the court. Case in point, her team qualified for the main round on the last preliminary round match day with a low-scoring win against France, 20:18, which was not a stand-out attacking game but was clearly a huge one at the defensive end for Denmark. 
Whichever side loses the encounter will be in a very difficult position regarding progression, so the stakes are high right from the outset. 
Main Round – Group I
Aqua Dome Kumamoto
In the other Group I matches on day one of the main round, Serbia will be on the hunt for their first points when they meet Republic of Korea in the opener at 15:00 local time. While Korea brought three points thanks to a win over Germany and a draw with Denmark in Group B, Serbia start the main round with zero, as they lost to both the Netherlands and Norway – the other main round sides from Group A. 
At 18:00 local time, the two preliminary group winners in this main round section will clash. While the Netherlands have the maximum points to start the round, with four, having beaten both Norway and Serbia in Group A, Germany have three, due to a draw with Korea and a win over Denmark in Group B. With the most points on the table at this point, it is clear the winner of the encounter will already be in a strong position regarding the semi-finals.  
Main Round – Group II
Park Dome Kumamoto
With one foot already in the semi-finals, thanks to their four points carried over into the main round, both Russia and Spain will go up to six points each tomorrow should they win their matches against Romania and Sweden respectively and make it a tough ask for anyone to catch them.
First up is Russia taking on Romania, a repeat of the 2018 Women's European Championship semi-final in which Russia beat a Neagu-less Romania 28:22, thanks to a best player of the match performance from Anna Vyakhireva's 13 goals. Romania were coached by now Russia coach Ambros Martin, after agreed to end his contract with the Romanian national side just a few months ago before taking over from Evgeny Trefilov - coach of Russia in that semi-final win.
Neagu was missing after picking up a long-term injury a few days earlier and her side went on to finish fourth. They will be looking to get back down to earth after Neagu herself, having only recently returned to match action, had scored a last-second winning penalty to defeat Hungary and go through in their place, while Russia have won all five games so far, like Spain, who take on Sweden at 8:30pm.
With the Swedes on just two points they will be desperate for a win, the same as Montenegro, who face Japan, hoping for a win to keep the pressure on their fellow Europeans. But Japan are now looking at getting their best-ever ranking since they finished 10th in 1975 and their 18:00 clash with the Montenegrins will be full of emotion in a packed-out Kumamoto Park Dome,
President's Cup/13-24 Placement Round
Kumamoto Prefectural Gymnasium, Park Dome Kumamoto, Aqua Dome Kumamoto
Two continental champions, including the current world champions take on each other at 12:30 when Angola and France go head-to-head in the first round of the 13-16 placement round – effectively a semi-final for the President's Cup Final. The other 'semi-final' sees Hungary take on Argentina and for fans watching these unexpected clashes the games will make interesting viewing.
Can the world and European champions and Olympic Games silver medallists France get themselves up for a game in which they never thought they would play in or will Angola want to ensure their best finish since 2011 (8th) with a win?
The other matches see Cuba and Australia play each other and the Asian continental clash between Kazakhstan and China. The Chinese side under previous coach Jorn Uwe Lommel beat Kazakhstan 27:21 in the same venue (Kumamoto Prefectural Gymnasium) in last year's AHF Women's Asian Championship bronze medal match.
Two of those four teams will finally pick up a win tomorrow after having lost all 20 matches they have played between them.
Slovenia take on former world champions Brazil and Senegal and DR Congo share another continental rivalry in their 17-20 placement match first round games. DR Congo will want at least one win in their next two games to ensure they beat their best ever finish of 20th (2013), while Senegal are in their first senior Women's World Championship. 
The Senegalese side beat DR Congo by one goal in the 2018 CAHB Women's African Championship semi-final in December 2018. In September this year Senegal beat them again on home court at the 2019 CAHB Women's African Olympic Qualification Tournament 29:18 (11:8), helped by five goals each from Hadja Mama Cisse and Dienaba Sy.
Click here for an overview of today's matches as well as live results, streaming, news and galleries.