02 Dec. 2019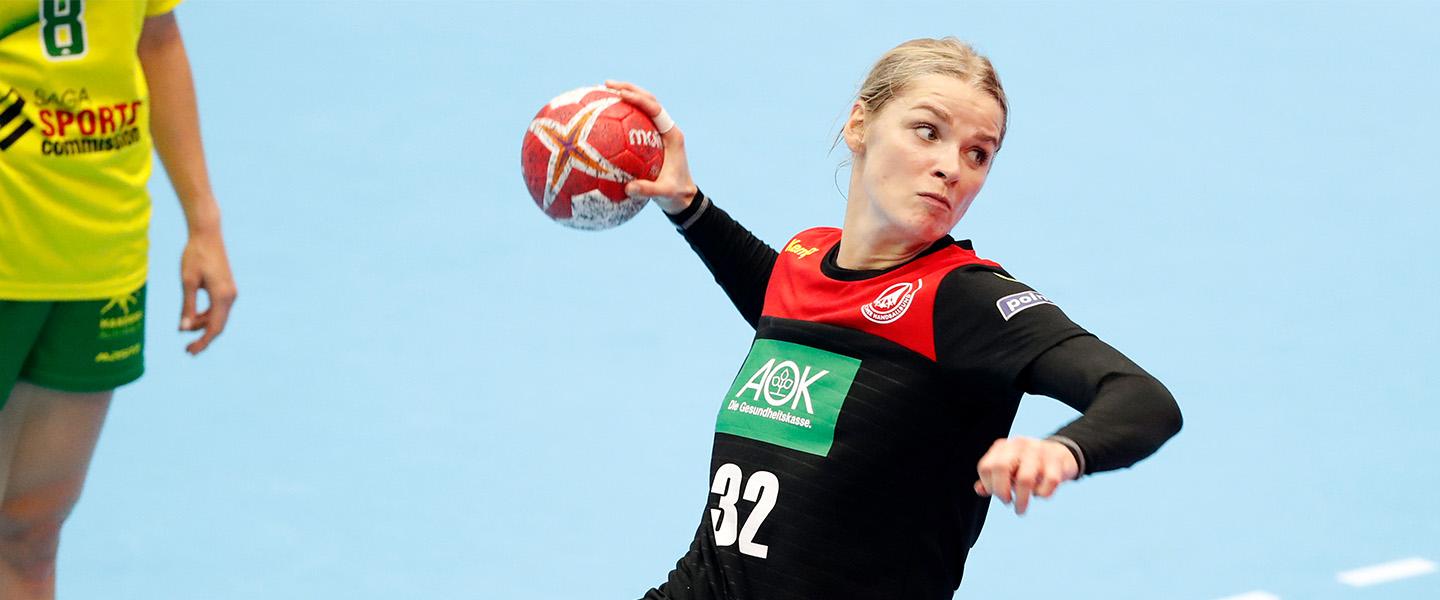 Round 3 for Group B at the 24th IHF Women's World Championship will close with a battle between two undefeated sides, as Denmark and Germany take the court in Kumamoto Prefectural Gymnasium for what will be a critical match regarding group ranking and passage to the next round. Alongside Republic of Korea, Denmark and Germany are the only two teams in the group yet to lose a game. 
The standings ahead of round 3 regarding the battle for the main round are close: Germany lead the group with four points, Denmark and Korea have three, and defending champions France and Brazil are chasing their rivals, currently with one point apiece. Australia sit at the bottom of the group after two consecutive losses.
With France looking to move up to three points in this round, as they take on Australia in the second match for the group, the losing side in the Denmark versus Germany clash will feel the current European champions a little too close for comfort. There is no room for error in this round, with only three places in the main round and what looks to be a very close competition between the first five sides in the group. 
For group leaders Germany, a win against Denmark will not only be critical regarding the chance at Japan 2019, but will end a 19-year wait to defeat the Scandinavian side. Every official match played between the teams in that time has ended in favour of Denmark, aside from one draw, in 2003. Two years ago, it was Denmark who ended Germany's hopes at their home World Championship, defeating the hosts 21:17 in the eighth-final. 
The sides have faced one of the same opponents at Japan 2019: Australia. Both took decisive wins – and the difference in score line between the two matches was just one goal. Aside from those encounters, Germany have defeated Brazil by six goals while Denmark drew with Republic of Korea in a thrilling round 2 clash. 
Therefore, there is little indication of who is in better form currently, but it seems an exciting 60 minutes reflective of the importance of the two points at stake awaits. 
3 December 
Group A
Aqua Dome Kumamoto
2017 World Championship runners-up Netherlands will meet Cuba in the first game of round 3 for Group A at 15:00 local time. Cuba have yet to collect a point, after decisive defeats to Norway and Serbia. The Netherlands took their first points in round 2, with a 35:28 win over Angola, following a loss to Slovenia in round 1. 
At 18:00 local time, Slovenia will take on Angola. Angola are in need of a win, with zero points currently in their account, after losses to the Netherlands and Serbia. Slovenia's round 1 victory versus the Netherlands earned them two points to start their campaign, before they were heavily defeated by Norway, 20:36 on Monday in round 2. 
The day in Aqua Dome will conclude at 20:30 local time with a battle between two teams with perfect runs so far at Japan 2019: Norway and Serbia. Who will drop their first points in round 3? 
Group B
Yamaga City Overall Gymnasium
Round 3 for Group B will begin at 15:00 local time with Republic of Korea meeting Brazil. While Korea are yet to lose a match, having beaten defending champions France in round 1 and drawn with Denmark in round 2, Brazil were defeated by Germany in their opener. They recovered to secure a 19:19 draw against France. 
Brazil have one point in their account and are currently fifth in the group. Korea are third with three points. 
At 19:00 local time, Australia will face the daunting task of current world and European champions France. Although France have just one point and are fourth in the group, anything other than a victory for the EHF EURO 2018 champions will be a surprise. 
Group C
Kumamoto Prefectural Gymnasium/Yatsushiro General Gymnasium
Hungary will be looking to leapfrog Montenegro into second place on four points when the two sides clash at 15:00 in the Kumamoto Prefectural Gymnasium, while at the same time group leaders Spain take on joint-bottom side Senegal at the Yatsushiro General Gymnasium.
Romania, captained by Cristina Neagu who picked up her 2018 IHF Women's World Handball Player of the Year Award at the Park Dome Kumamoto on Monday (2 December) and who is Japan 2019's second top scorer (19 goals), will expect two points against bottom side Kazakhstan in the late game (19:00).
For Montenegro it will be the first time they have met a European side after clocking up victories against Senegal and Kazakhstan, while both Hungary and Romania have both lost to the table-topping Spaniards, who appear to be cruising towards a group victory.
Group D
Park Dome Kumamoto
Russia go into match day three top of group D on goal difference, on four points alongside Sweden and Japan with the transition from their coaching legend Evgeny Trefilov to Ambros Martin seemingly not making much difference to their winning ways.
Their two wins so far have come against Argentina and China, with DR Congo, their next opponent. This is followed by Japan and then Sweden in their last match – the first time Martin's side will face a European side, and possibly the first time they will be truly tested.
"It was difficult at the beginning to get the rhythm because Argentina played a pressing defence," said Martin about the 35:22 win over the South Americans in round 2, again watched by Trefilov from the spectator seats in his new role with the Handball Federation of Russia. "The second half was much better, because we controlled the game and played long passing with good defence and we were calm."
That calmness will be needed against a DR Congo side (14:30 throw-off) who have lost both of their matches so far, but to Japan and Sweden. They pose a real threat and Russia will need to be wary.
At 17:00, bottom side China take on Argentina, with at least one team getting off the points mark as they both currently sit on zero points. In the post-match media conference following their loss to Russia, both Argentina's coach and player admitted their young side lacked experience and that was the cause of their downfall and they will both be hoping they can grab at least a point tomorrow.
The final game sees host nation Japan take on Sweden with Japan coach Ulrik Kirkely admitting the championship has gone to plan so far. "Overall, we've had two matches," he said about the victories against Argentina and DR Congo. "So two victories at the beginning of the World Championship means we are satisfied."
"We need to be good to beat Japan," said Sweden coach Henrik Signell about the clash at 20:30. "They are ball-savvy and have longer strikes than China. In addition, they have many different options in the defensive game, so it is important that we join our feet in attack as well."
Click here for an overview of today's matches as well as live results, streaming, news and galleries.