03 Dec. 2019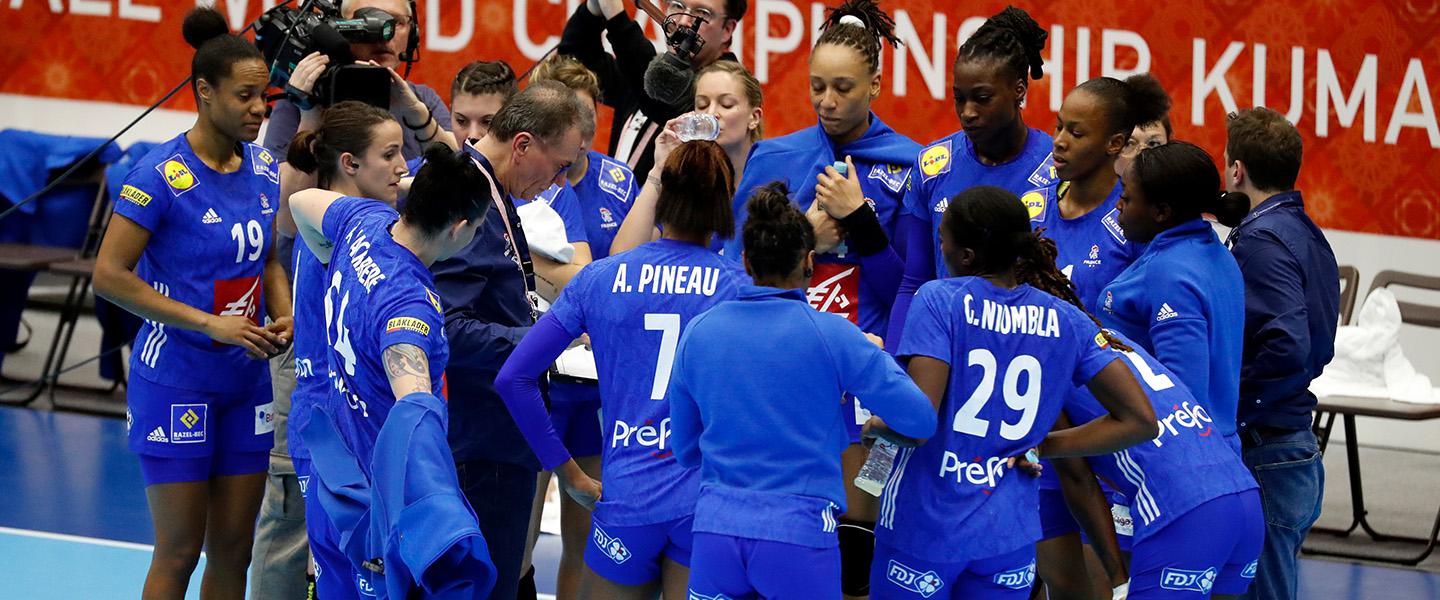 To say France have had an indifferent start to their IHF Women's World Championship defence is an understatement. A loss against Republic of Korea in their opening game was followed by a point against Brazil in a match that French coach Olivier Krumbholz told IHF.info his side could have lost in the last two minutes.
This left his team knowing their qualification through to the main round as one of the teams in what has been called a 'group of death' – featuring five former world champion teams out of the six – was becoming less certain.
However, a downbeat and dejected France side which left the court against Brazil on Sunday (1 December), were left celebrating in their third match – an expected win against Australia on Tuesday (3 December).
But the build-up to it was anything but a celebration, with even the French Handball Federation website (FFHB) having to repeat the denials from Krumbholz to the media that the overnight player replacement of the established Camille Ayglon-Saurina with Gnonsiane Niombla was for injury rather than 'sending an extra message to his players', following his sides' failure to pick up a win in their two games so far.
Ayglon-Saurina, with 266 appearances for her national side before Japan 2019, is the most experienced French player in Kumamoto, and alongside the extended squad, she spent their rest day on Monday fully-locked into group discussion, video analysis and technical meetings.
The results were clear as they dispatched Australia 46:7 – a match in which Krumbholz admitted he wanted his side to be at full concentration for the whole 60 minutes.
At the end of the game, the relief was evident for France, not least through their celebratory poses for photographs. But they will have quickly forgotten that as they looked to squeeze in their preparation for the German clash some 24 hours later – a win is wanted, but it will not be fatal if the world and European champions do succumb. 
That is a highly likely scenario as Germany have a perfect record so far and are playing with flair and without stress.
"We can go free and relaxed in this game because we have proven what we are capable of," said German captain Kim Naidzinavicius to DHB.de ahead of the game. "The French have to play their best handball to beat us."
This was echoed by her teammate Alina Grijseels. "France is under some pressure, yet we expect a strong side," she said. "But we can be confident, because what we've shown so far is just good."
"France did not start the tournament as they wanted, so they will throw everything into the match and play very aggressively," added Maren Weigel. "They will try to use their speed, but we will do everything we can – let's see what happens."
If Germany win, it will be their first victory over France in a competitive match for 14 years, since the 2005 IHF Women's World Championship in Russia when they took a 32:26 victory in the main round.
4 December
Group B
Yamaga City Overall Gymnasium/Kumamoto Prefectural Gymnasium
The early throw-off sees Australia face yet another former world champion, this time in the form of the Republic of Korea at 15:00. In the 2018 AHF Women's Asian Championship held last year in Kumamoto, Korea won gold, while Australia finished fifth, but the two teams did not meet.
The final game sees two teams fighting for their lives to qualify through to the main round as Denmark face Brazil in the late game (20:30). Brazil are yet to win at Japan 2019, but will sense a vulnerable Danish side who looked devastated after their late loss against Germany. A win for Brazil would put them equal on Denmark on three points, and a better head-to-head, but, as expected, Group B will be one for the calculators with that third main round qualification spot looking congested.
Group C
Yatsushiro General Gymnasium / Kumamoto Prefectural Gymnasium
Round 4 for Group C will see a series of critical clashes regarding final ranking on the table. The day will open with Kazakhstan meeting Spain at 15:00 local time in Yatsushiro General Gymnasium. Even with two wins in the closing preliminary rounds, Kazakhstan, on zero points now, cannot reach the main round. Spain are currently leading the table with six points and have a strong chance to top the group. 
Playing in Kumamoto Prefectural Gymnasium, Montenegro and Romania will also throw off at 15:00 local time. Romania have had a rocky Japan 2019 campaign and will hope to shake off their up and down form with a strong game versus Montenegro. Montenegro sit alongside Spain with six points in their account, while Romania are right behind with four. 
Hungary and Senegal will wrap up round 4 at 19:00 local time in Yatsushiro. Both sides are under pressure ahead of the clash. Following a strong opening win against Kazakhstan, Hungary have yet to taste victory again, and are therefore sitting on two points. Senegal currently have zero.
Click here for an overview of today's matches as well as live results, streaming, news and galleries.