14 Jan. 2021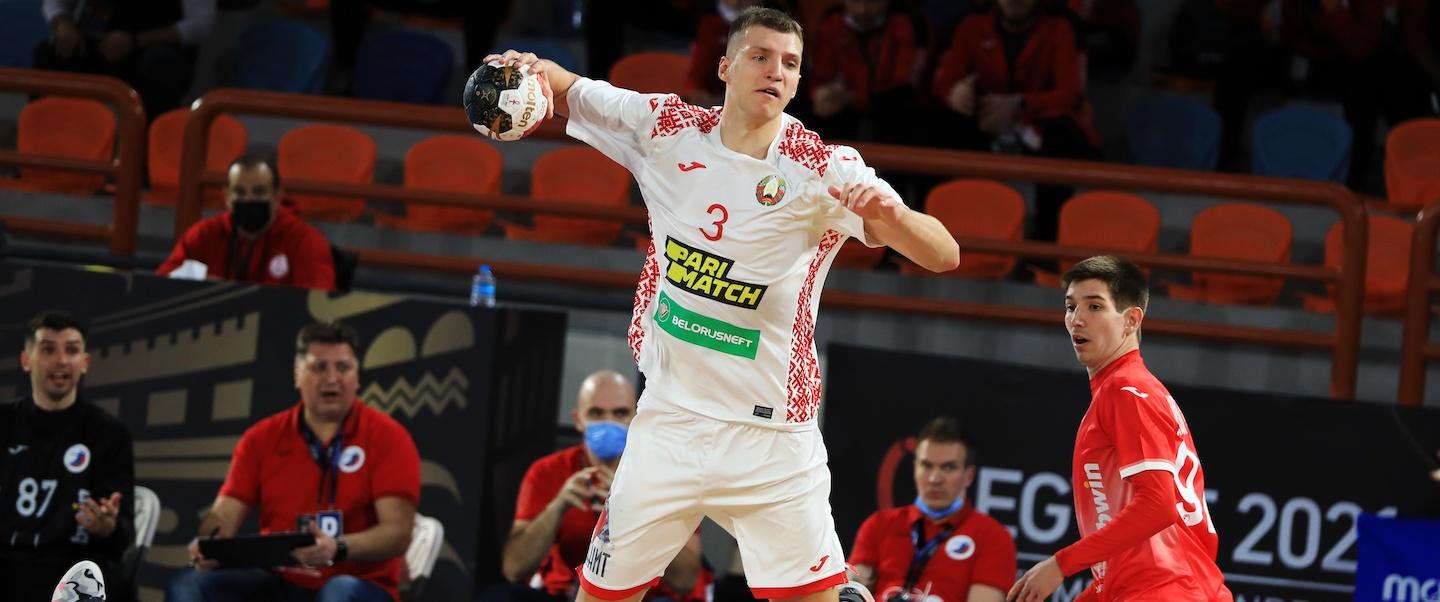 The first-ever match at Borg Al Arab Sports Hall in Alexandria saw a thrilling match between neighbours Belarus and the Russian Handball Federation end in a 32:32 draw after Belarus goalkeeper Ivan Maroz saved the last shot of the game in the final seconds.
GROUP H 
Belarus vs Russian Handball Federation 32:32 (15:15) 
It took almost two minutes before Russian Handball Federation line player Aleksandr Ermakov scored the first goal of the match. Only seconds later it was Belarus left back Uladzislau Kulesh who answered with his 200th international goal in what would be indicative of the back-and-forth match to come.
While the Russian Handball Federation took the initial lead, it was Belarus who managed to build small leads in a level first half. Both teams played patiently in attack, searching and creating the right opportunity to score. With four minutes left in the first half, Belarus had a chance to get the game's first three-goal lead when it was 15:13 but it was the Russian Handball Federation who finished the half with momentum.
Igor Soroka put his penalty shot through the goalkeeper's legs, making the score 14:15. A short time later it was Sergei Mark Kosorotov who scored an impressive last-second standing goal to tie the game 15:15 just before half.
After the break, Belarus took their lead back with two good saves from Maroz and goals from Andrei Yurynok and Artsiom Kulak to put Iouri Chevtsov's side in front again 17:15. However, a few minutes later, the Russian Handball Federation found themselves ahead thanks to two fast break goals from Dmitrii Zhitnikov and Daniil Shishkarev, respectively, to make it 24:22. 
Only five minutes later, Mikita Vailupai's penalty tied the game at 26:26 and Belarus even took the lead back with another goal from hummel Player of the Match, Kulesh.
"We had problems to get Kulesh under control. He is an excellent shooter and although he is a young player he is quite experienced and plays on a high level at his club THW Kielce," said Russian Handball Federation Coach Velimir Petkoviv on Kulesh. 
With five minutes remaining it was still anyone's game as neither Belarus nor the Russian Handball Federation were able to make the decisive move. Forty seconds before the final buzzer right wing Shishkarev put the ball into the net to make it 32:31 but Kulesh answered directly after, scoring the last goal of the match to make it 32:32 as Maroz saved the last shot afterwards. 
"At the end, I have to be happy with the result. We played good and after 60 minutes we even had the chance to win the match but were unlucky with our last opportunity to score the decisive goal. I have complimented my team a lot during the last days and they showed a great character and tough fight today," said Petkovic after the match. 
hummel Player of the Match: Udladzislau Kulesh, Belarus