20 Jan. 2023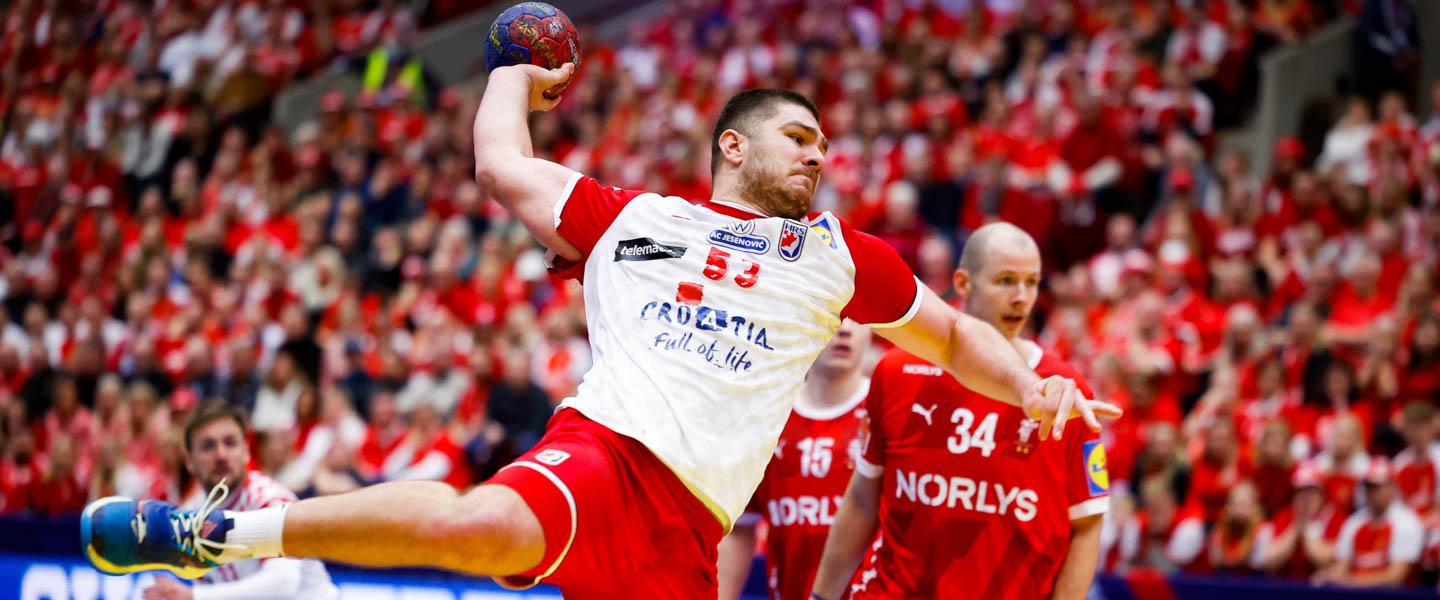 The penultimate day of matches at the Malmö Arena in the 2023 IHF Men's World Championship could see everything decided in Group IV of the main round.
In the opening match of the day, if Egypt defeat Bahrain, the North African side will move up to eight points and cannot finish lower than second in the group.
Both Denmark (against the United States of America) and Croatia (against Belgium) will be expected to win their matches – anything other than two points each for the two European heavyweights will be one of the true upsets of Poland/Sweden 2023.
If Croatia fail to win against Belgium, combined with wins for Egypt and Denmark, then the top two places will be decided. 
If the results are different, it could set up a very interesting final main round of matches in the Swedish city on Monday (21 January).
15:30 CET Bahrain vs Egypt
With the top two teams progressing through to the quarter-finals, this will mean that Roberto Parrondo will be well on the way to at least equalling the seventh-placed finish his Egyptian side gained on home soil at Egypt 2021 if they beat Bahrain early on.
"It's a team that we have played many times, so we know each other," said Parrondo. "It's another match in the World Championship; there are no bad teams here. This is the most important thing, and we must do well if we want to get the victory."
The two teams last met at the Tokyo 2020 Olympic Games, with Egypt winning their preliminary group clash (30:20) and the North African side also won their 2017 IHF Men's World Championship clash (31:29).
When Bahrain made their IHF Men's World Championship debut in 2011, they came from behind to beat Egypt 27:26 and they will be hoping for a repeat of that, despite coach Kristjánsson not being entirely impressed by their last outing.
"We are very happy about the win and having four points in the main round," said Kristjánsson after their victory against the USA on Thursday. 
"I'm not so happy about the match or the performance, but I'm very happy about the two points."
18:00 CET Croatia vs Belgium
As World Championship debutants, Belgium have never played Croatia at this level – but what Croatia they get is up for debate.
The traditional European heavyweights showed their real class and style against defending champions Denmark on Thursday (19 January), being held to a 32:32 draw in a match which they led by four at one point.
This came after a 22:31 loss against Egypt in their opening match of Poland/Sweden 2023, the near double-digit defeat coming as part of a disappointing performance overall.
But their progression through to the quarter-finals is hanging by a thread – even the Croatian Handball Federation stated that fans of the team "…should believe in miracles". 
Croatia have to win this one plus their final day clash against Bahrain on Monday, while hoping for an Egypt win against Denmark in their final main round match on Monday, assuming both win their matches on Saturday. Then it will come down to the maths.
If that does not work out, there is also the small matter of Paris 2024 Olympic Games qualification tournament places on the line, with several possibilities of spaces becoming available – depending on continental winners and world champions – outside of the winning team from Poland/Sweden 2023 going directly and those finishing 2-7 making it to those tournaments. 
These two have met recently in competitive action – Croatia taking a three-goal (30:27) victory in Belgium in the 2024 European Championship qualifiers last October. 
Yérime Sylla's Belgian side have impressed at Poland/Sweden 2023 – a 28:33 loss against Egypt in their opening main round match disappointing the coach to highlight just how far the side has come – and how far they have to go.
"We conceded 11 goals in the second half but 22 in the first, which is an unbelievable way to start a match," said Sylla after the Egyptian loss. "It is not possible at this level. I'm a bit frustrated for my players, especially because it was an occasion for some of them to show what they could do.
"Maybe we were tired, but we're going to learn a lot from this match. The frustration can sometimes push you up."
With no defeats or draws – unless you count their quarter-final penalty win against Egypt in 2021 – in their last 23 IHF Men's World Championship matches, you could say it was a surprise that the northern European side were held by Croatia last time out in Malmö.
Their 32:32 draw with the Balkan side on Thursday (19 January) could have even been a loss, with a last-second Croatian shot just sailing over the Danish goal.
The disappointment of not securing yet another win means the Danes will now have to approach this match slightly differently to ensure a secure back-up of progressing to yet another quarter-final, with Egypt to come in their final main round match on Monday.
"Fortunately, it is in our own hands and we have a good goal score with us from the matches against Bahrain and Belgium," said Denmark coach Nikolaj Jacobsen to Danish media today about qualifying through to the last eight, which, depending on the results, could come down to some mathematics involving goals scored.
"I had hoped that I would save some players [against the USA]," he added. "But it may be that in order to protect ourselves, we have to go on a goal hunt instead - to have it in the back of our hands.
"We still have great faith that we can beat Egypt and handle things ourselves. But it's very nice to have something else in the back of your hand."
Denmark are well on their way to their quest of winning another World Championship medal in Sweden after their silvers at both the 1967 and 2011 editions. 
Mathias Gidsel (30 goals) and Mikkel Hansen (26) lead the way for the Danes in the scoring charts, Gidsel sitting second in the championship in the goals and assists chart (46).
The two teams have not met each other at this level before.