18 Jan. 2023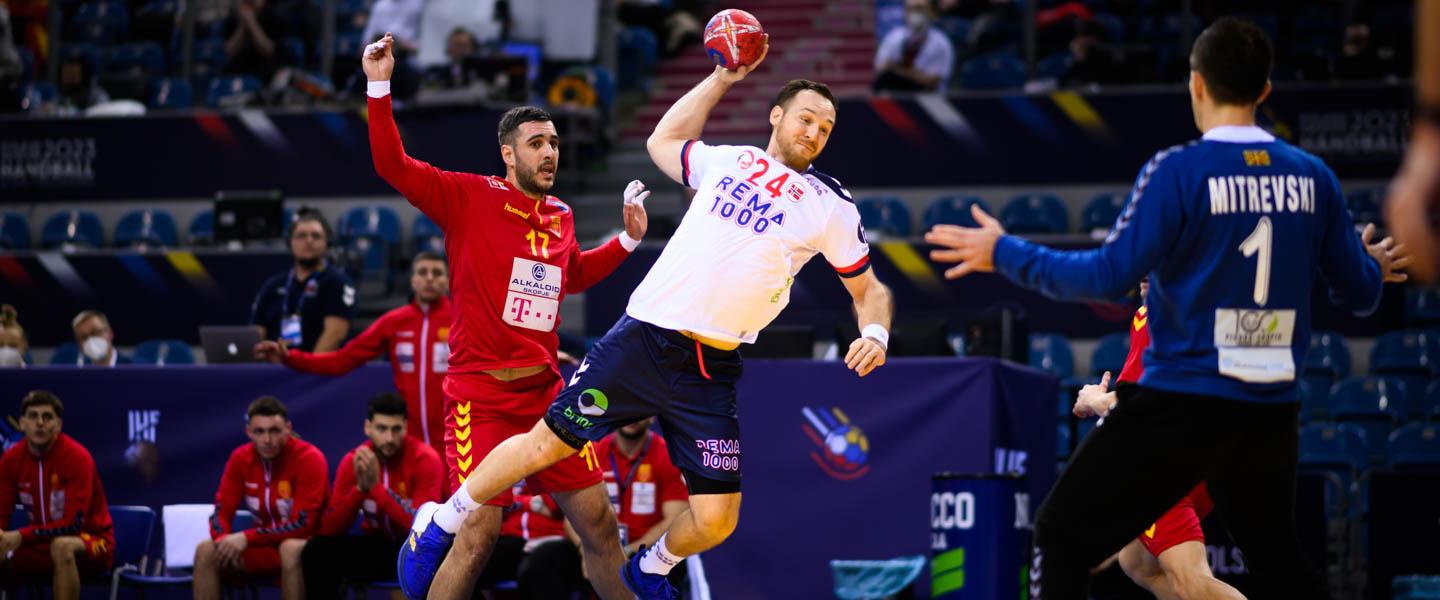 The three best teams from Groups E and F are ready to face each other in Katowice. Four European sides, one South American and one Asian team will try to secure a quarter-finals spot. Germany and Norway proved to be powerhouses in the most balanced points distribution, starting with all four. Serbia and the Netherlands slipped against the favourites in the group and will start with two points, while Qatar and Argentina begin from the bottom.
15:30 CET Qatar vs Netherlands
The Netherlands are back at the World Championship since their last appearance in 1961. They got a chance to compete at Poland/Sweden 2023 through a Wild Card and embraced the opportunity. The Dutch team welcomed their first win at the World Championship and arrived at their maiden main round berth with two points. And they don't want to stop there.
The team has progressed a lot in recent years and having Luc Steins and Kay Smits in the squad, among others, gives the Netherlands a good ground for efficient attacks and agile defence. The duo scored 12 out of Norway's 26 goals in a one-goal defeat by Norway.
Qatar started the 28th IHF World Championship on a good note, keeping up with the Germans, and not allowing the opponents to make a break, but still lost 27:31.
However, they were efficiently stopped by Serbia and now Valero Rivera's team are hoping to surprise in the main round. The Spanish coach tried to compete with strong, reliable players, not rotating much, but we will see if that changes in the main round matches.
Qatar and the Netherlands have never played against each other at a major handball event. Their only meet-up was in 2012, when the two sides played a friendly match, with the Netherlands winning 26:15.
18:00 CET Germany vs Argentina
Germany, just like Norway, start the main round journey with four points. Alfreð Gislason's team eye the quarter-final spot, and in order to achieve it, a win over Argentina is a must.
The Germans are clear favourites on paper, with stronger back court players, although Diego Simonet's and Lucas Dario Moscariello's experience on Argentina's side should not be taken for granted. If you have watched Germany, then one name clearly stands out – 22-year-old Juri Knorr, a description of the playmaker with 16 goals so far in the competition.
Argentina finished eighth at the 2021 Men's World Championships and it will be hard for them to repeat that success, if not impossible. The South American team dropped vital points in Group F and will start the main round as the last team on the table.
"They play more European style than Brazil, have a very well organised defence, but are also very spirited and sometimes hot-headed. In general, Argentina is an opponent we have dealt with very intensively in advance. We'll have to be patient and try to capitalise on their high pace and mistakes", said German assistant coach Erik Wudtke to handball.net.
Germany and Argentina have already played four times at the previous edition of the World Championship, with Germany winning all matches. Their most recent encounter was at the Olympic Games Tokyo 2021, where Argentinians were defeated by 25:33.
20:30 CET Norway vs Serbia
If Serbia want to come close to the group leaders – Germany and Norway – and secure a place in the quarter-finals, then winning against the Norwegians is the most important task in the Main Round Group III.
Antonio Gerona's team hope to continue on the same high-paced level they showed in the group phase. They were narrowly defeated by Germany only in the last minutes of the match, and their sturdy defence is one of their key links. Good news from Serbia is also the comeback of Dejan Milosavljev, who will be ready to stand between the posts for his country.
Norway aims to improve their last result, a sixth place at the 2021 Men's World Championship. After playing two straight finals at the World Championship, Norway had problems with injuries and did not deliver as expected at Egypt 2021 and the EHF EURO 2022.
The Scandinavian team are always favourites for a medal, and they will have to live up to their name. Norway won all three group phase matches, with two clear wins over Argentina and North Macedonia, but they struggled against the Netherlands. Not struggled? Sander Sagosen scored seven goals. It is expected for Norway to step up their game in the main round under the helm of their new head coach Jonas Wille.
"We all know who the Norwegians are, how they play, what is their style of handball. They are fast, they run a lot and they will not give up for the whole 60 minutes. The Norwegians are the most dangerous in the back line, but they also have great wings and a goalkeeper, so it will not be an easy job for us. In the last few years, they have not won any medals, but they have always been at the very top. I believe that only if we give our best, we can achieve victory", said Uroš Borzaš to rss.org.rs, a Serbian international who plays for Norwegian Elverum.
The path led Norway to meet with Serbia only three times at the World Championship, the last one being in 2011. Judging by the numbers, Serbia are in the lead with two wins and one defeat, but what is more interesting is that all three matches were one-goal victories for either side (25:24, 27:26, 31:32).