26 Jan. 2021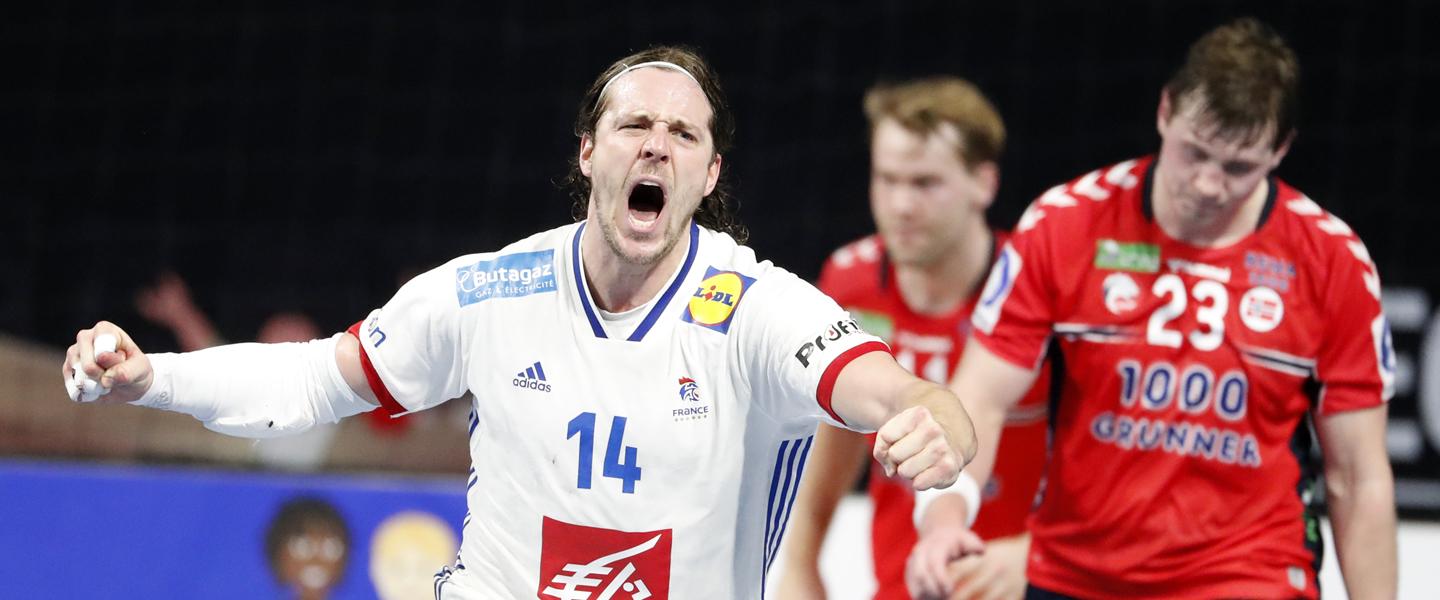 Kung-fu. Bang. Goal number 1. 
Fake out Kristian Bjornsen. Cuts in. Bang. Goal number 2.
Shouts for ball from goalkeeper Wesley Pardin. Runs length of court and glides from the nine-metre line. Bang. Goal number 3.
These were the first 153 seconds of Kentin Mahé's 2021 IHF Men's World Championship in Giza, Egypt, at the Dr Hassan Moustafa Sports Hall where he led his side to a 28:24 victory over Norway, 2017 and 2019 silver medallists. 
The French centre back was buzzing from even before throw-off, eyes looking to the ceiling during La Marseillais – the French national anthem – when all other players were staring ahead.

Mahé's body was moving, pulsating, ready to explode.

Ready to show that France's recent 2022 European Championship qualification disappointment against Serbia in the double-header a few days earlier, and at the final 2020 championship one year ago, in Trondheim, Norway, was a blip in their otherwise recent history-making record.
Such had been the fall-out from both – a 27:24 loss in Serbia, followed by a 26:26 draw in France in those qualifiers and a preliminary round exit from the 2020 European Championship with coach Didier Dinart replaced by his assistant and Mahé 's former national teammate Guillaume Gille – that many had predicted Norway as favourites in that opening Egypt 2021 Group E clash.
But France destroyed that idea within seconds as Mahé led the way, ending with nine goals from 11 attempts (82%) and, now after six unbeaten games, topping the French scoring charts on 28.
Mahé does not put down his blistering start against the Norwegians down to any particular pre-match routine, instead choosing the moment and going with it.
"When you're like this [against Norway] you're kind of in a flow, it's a good feeling. You just switch off everything and go for your game," said Mahé to ihf.info about those early minutes.
"I don't have things I always do [pre-game to motivate myself]," he added. "A few years ago, I used to be louder and more electric before a game but now I try to focus myself, to save strength and energy for when the whistle blows. 
"It doesn't always work like this, like [it did] against Norway, but you need to be at the right time at the right place, to have the ball and be successful, it's a really nice feeling."
To talk about Mahé and the French national team is to also talk about his father Pascal, who won gold at the 1995 IHF Men's World Championship in Iceland as part of the celebrated 'Les Barjots' team under the legendary coach Daniel Costantini, a name which now graces the road leading up to the new French Handball Federation 'House of Handball' headquarters in Créteil.
In late 2010, at just 19 years and five months old, Pascal had the honour of calling Kentin to tell him of his first call up and that connection is stronger than ever when he appears at IHF Men's World Championships.
20 years after his father took gold in Reykjavik, Kentin did the same in Doha, Qatar in 2015, the one thing he said he only wanted to achieve when he was starting out.
He followed it up again two years later on home soil, in 2017, and bronze in 2019.
"I used to have the picture of my father signing the national anthem after winning the world championship title and at the end of the national anthem that is what I am thinking of, it's a great feeling," said Mahé about his thoughts when lining up for France.
"France has a great tradition. We always manage to be aiming for medals and we try to stay humble, but for years we've been able to qualify for semi-finals and finals," said the 29-year-old. "It's a great achievement and we really want to pass this on to the next generation – that's what the guys did for me and that's what we are doing right now.
"Hopefully, we will succeed [in Egypt] and get to the semi-final and then anything can happen."
Blocking their path are Hungary, who they face in the quarter-final tomorrow night (Wednesday 27 January) in Giza, a team which Mahé, through his current club Veszprem, knows well.
"At the last European Championship, they were performing at a good level, but they have been improving over the last six months and they've increased a little bit more which makes them a really good team," said Mahé, who joined the club in 2018.
"Against Spain they took an option not playing with their starting seven to give these players who start some rest, and we saw it, it was obvious, so we will see. I think it will be a really good match because it's going to be a fight, a really big fight."
One key factor in that fight is MOL-Pick Szeged's line player Bence Banhidi, who Mahé's Veszprem teammate Mate Lekai telling ihf.info last week believes is one of the best in the world, something which Mahé himself agrees with from first-hand experience.
"For me, he's been at this level for a few years," said the French number 14. "He's a key point in Szeged's game and we play a lot against them so that's why I know it.
"He's also the key point also of the attack because he's the turning point; they are moving around him and trying to find him to get penalties and two-minute suspensions so we are aware of that and I hope we will be able to counter that."
Despite the rivalry on court, at the Mena House Hotel where France are staying, several teams have called it home in the shadows of the Great Pyramids of Giza, including Hungary, as well as Norway, Germany, Portugal, Algeria, Uruguay and others, with club teammates across Europe spending fleeting moments, catching up.
"We could talk," said Mahé. "I've been talking to people from my club; managers and players, we were speaking on the phone and chatting. Kent (Robin Tonnesen, Norway and Veszprem right back) and I had a coffee together but it's not always easy, we seem to have a lot of free time, but we don't really because we always have to recover and prepare for the next match. We try to stay focussed.
"Well, I was expecting this because we were going to Egypt," said Mahé about the wonder of the world he sees every day. "But it's rarely you get to see them, [only] if you're lucky. It's a really nice view, it is a bit surreal, not from this world. We are privileged people to have this view right now."
The privilege Mahé mentions is one of being able to go about doing his job in the time of COVID-19 when many are not able to even leave their own houses.
"We are getting a lot of messages [from fans]," said Mahé about the reaction he has had from playing at this time. "It's really a nice feeling to feel the people involved, and to receive these messages.

"I didn't really expect them, but they are coming day after day and every time I am a little bit surprised because some of them are really passionate, things like 'thank you for letting us dream and for giving us such emotions', so it's nice to hear and nice to see that by playing handball you can evoke some emotions to somebody.
"Sport in general on TV is like a vector for people, they have the opportunity to sit in front of TV. It's a privilege for us to be able to continue to do our passion and get paid for it. It's nice for the people at home to have something to relate to."
Another sport taking place in the current climate is American Football, or the NFL, in America with Mahé visiting London in 2019 to take in the Houston Texans @ Jacksonville Jaguars game, and Mahé finds a number of comparisons can be made with a certain key position in gridiron.

"I've been following the NFL in the past years a little bit, I don't have a particular team, but I'm admiring the QBs (quarterbacks) of course," he said. "They need to rethink the [game] strategy every play in seconds, they have this 30 second (countdown) to choose which formation they are going to have.
"It looks like a little bit what we have to do in the centre back position [in handball]. There are definite similarities."
Other sports aside, Mahé has already played in an IHF Men's World Championship in North Africa, when his French team finished ninth in Tunisia in 2009 in a squad featuring fellow Egypt 2021 squad members Wesley Pardin and Valentin Porte.
And it was Tunisia which provided the first taste of senior action for Mahé, when he lined up against them to make that debut back in 2010 in Chambery – a long way for Mahé to come after his early start in handball, with AS Monaco as a young boy.
Since then, he was won medals in Europe, Asia and South America, so could Africa be next?
"I didn't consider it like this," said Mahé when asked about adding another continent to his medal haul. "I just consider it another world championship it doesn't matter where it is, I just want to win it."
And when he looks at an early picture of him in an AS Monaco kit as a small boy, he would not tell the young version of him to do it any other way.
"Don't change anything. Just do it like you did," he said about the young Kentin in the picture. "This guy; it was his dream, his biggest dream [to win a world championship] and that's why I won't change anything: just follow your path."