19 Jan. 2023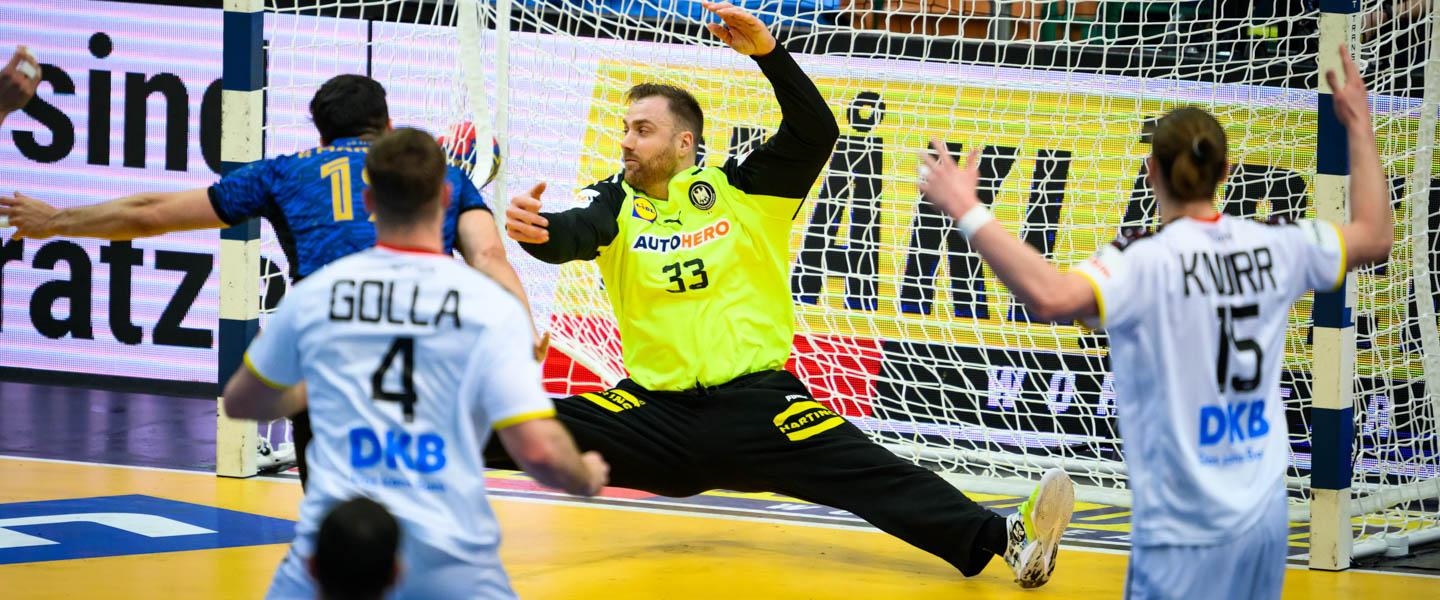 For the first time since 2017, Germany threw off an edition of the IHF Men's World Championship with a four-match winning streak, delivering an excellent attacking performance against Argentina (39:19) and enhancing their chances for a quarter-final berth.
Main Round Group III
Germany vs Argentina 39:19 (24:11)
Germany have been putting up impressive numbers in the preliminary round, scoring 102 goals, as one of the best attacks in the competition, with back Juri Knorr running the show against Qatar, Serbia and Algeria. But how would they look in the main round when opponents tend to get tougher?
The first answer came in their first match in the Spodek Arena in Katowice against Argentina, as Alfreð Gislason's side duly fulfilled their role as favourites and took the most impressive win so far at Poland/Sweden 2023, with an excellent first half that tied the record for the number of goals in Germany's history of 163 matches at the IHF Men's World Championship.
There was nothing to stop Germany, neither the two timeouts called by Argentina coach Guillermo Milano in the first 30 minutes, nor the ultra-aggressive tactics both in defence, where the South American side tried a 5-1 system, and in attack, where they substituted the goalkeeper for an outfield player to create a seven-on-six superiority.
Every time Argentina tried something, Germany answered in full and extended their lead. Knorr once again stole the show with four goals and six assists, having a direct hand in 10 of Germany's 24 goals. Left wing Lukas Mertens added five goals to his tally, displaying an impressive form throughout the tournament, where he has only missed two shots, boasting an 88% shooting efficiency. And goalkeeper Andreas Wolff saved eight shots for an excellent 42% saving efficiency.
All in all, Germany jumped to a clear 24:11 lead and tied their highest number of goals scored in the first half at the IHF Men's World Championship since 20 years ago at Portugal 2003, when they also put 24 goals past Australia. 
It was the signal for Gislason to take it easier and rest some of his key players in the second half to avoid injuries, as tougher tests against the Netherlands and Norway follow, Germany's plan being to clinch the first place in the group.
A totally new lineup went on the court in the second half, with fringe players receiving meaningful minutes, just like in the previous match against Algeria, with Knorr, Mertens or Wolff being rested.
Yet that did not stop Germany from extending their lead and securing the highest win at Poland/Sweden 2023 (39:19), a 20-goal drubbing of Argentina, which saw Germany fall just short of having their eighth match in history with at least 40 goals scored at the IHF Men's World Championship.
While Germany totally dominated, Argentina failed to rise to the occasion, as the South American side finished the match with a meagre 40% attacking efficiency and 14 turnovers as they simply could not build up on their magnificent win against North Macedonia in the preliminary round.
Conceding their third loss in four matches at Poland/Sweden, Argentina need a win in their last two matches to avoid their worst-ever finish in the competition, which is currently 22nd place at their debut in the competition at Japan 1997.
With six points, Germany can seal a quarter-finals berth on Saturday when they face the Netherlands, a win ensuring safe passage to the knockout phase of the competition. After losing against both Norway and Germany, Argentina are now out of contention for a quarter-final berth as they cannot finish in one of the first two places in the group.
hummel Player of the Match: Lukas Mertens (Germany)