14 Aug. 2019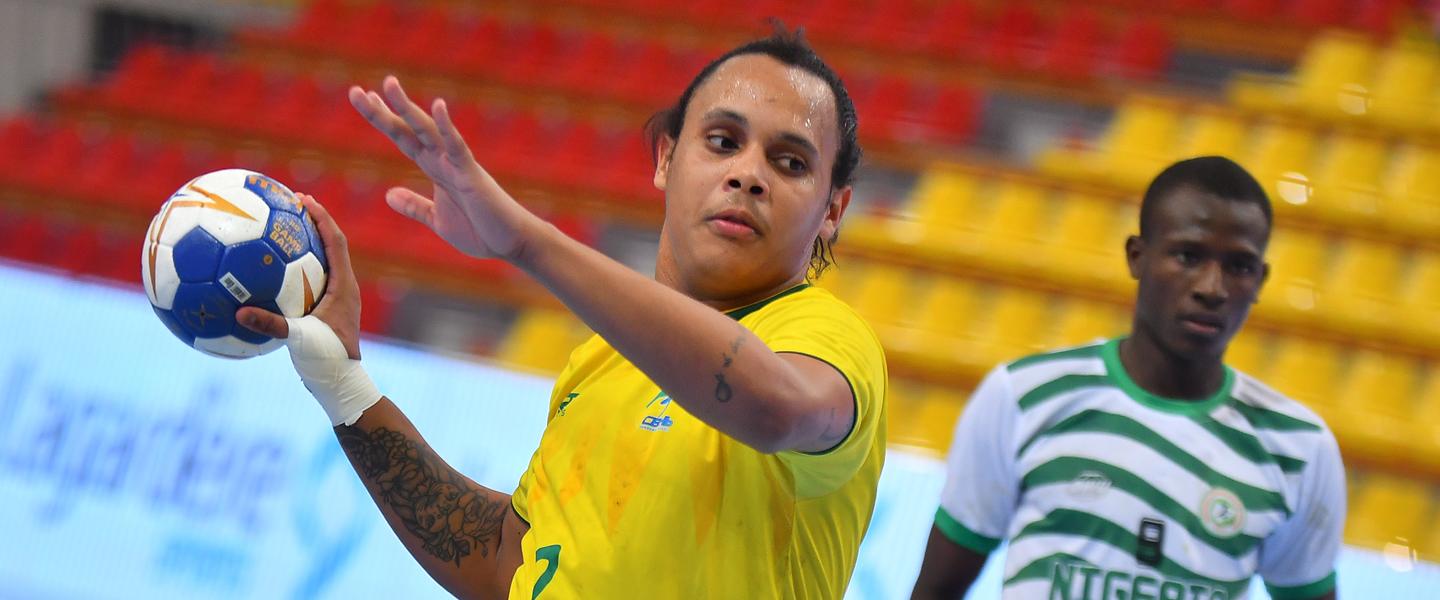 After both Brazil and Nigeria lost all five of their preliminary group games at the 2019 IHF Men's Youth World Championship in North Macedonia, one of them was going to finally get off the mark in Skopje early this morning in the opening match of the 21-24 placement round at the Boris Trajkovski Arena.
In the end, an early 6:0 run from Brazil in the second half saw them pull clear to take the win and play Chile tomorrow for 21/22 place, while Nigeria will play Canada for 23/24 place.
Placement Round 21-24
Nigeria vs Brazil 23:30 (14:14)
Boris Trajkovski Arena, Skopje
After just two minutes and 41 seconds in this match, Brazil's Tarcisio Freitas Oliveira fell down in a heap and received lengthy treatment, before being helped off the court.
The captain of his side would not play again in the match, but it did not affect his side ultimately as the South Americans went on to win by seven – but it took them well into the second half to break free.
Coach Alberto Gallina had taken a time out with his side 10:9 down in the 21st minute to adjust his 5-1 defence which had let Nigeria score five times, with just one in reply, over a five-minute spell after they were 8:5 behind. The scoring became more even towards the end of the half, which ended 14:14.
Due to what appeared a left shoulder injury, treated by ice during the warm-up and first half, Faruk Yusuf – third in the tournament top-scorer list could only play 21 minutes and ended with just four goals and Nigeria will be left to wonder what the right back could have done if fully fit.
But Gallina's half-time team talk worked wonders, and the Brazilians took control against the 14 men of Nigeria, who have the youngest (17.29 years), shortest (175.4 cm) and lightest (67.4 kg) squad on average out of all 24 teams in Skopje.
A one-sided half saw Nigeria register just nine strikes with Brazil scoring 16, as best player of the match Jose Luciano Costa da Silva scored four in the second period to add to his three in the first half and end up as the top-scorer in the game.
The difference in the end of seven would have been much higher had Nigeria's goalkeeping duo of Abbas Mohammed (nine saves from 27 shots, 33%) and, particularly, Obinna Okwor (9/19, 47%) had not performed at a very impressive level.

"We are happy with our first win," said Gallina to wch2019championship.com.mk. "We were hoping to play in the eighth-finals, but we didn't make it and now will try to get the best position in the President's Cup. 
"We started good, but we lost our captain early in the match and we needed time to re-organise our game and we did that in the second half."
Nigeria's coach Emeka Joseph Nnanami was philosophical in defeat. "I'm not disappointed," he said. "I know that my players played the best they can; maybe we could have won the match as we had chances, but didn't use them"
Best Player: Jose Luciano Costa da Silva (BRA)
Photo: WCH 2019 / Filip Viranovski