25 Apr. 2023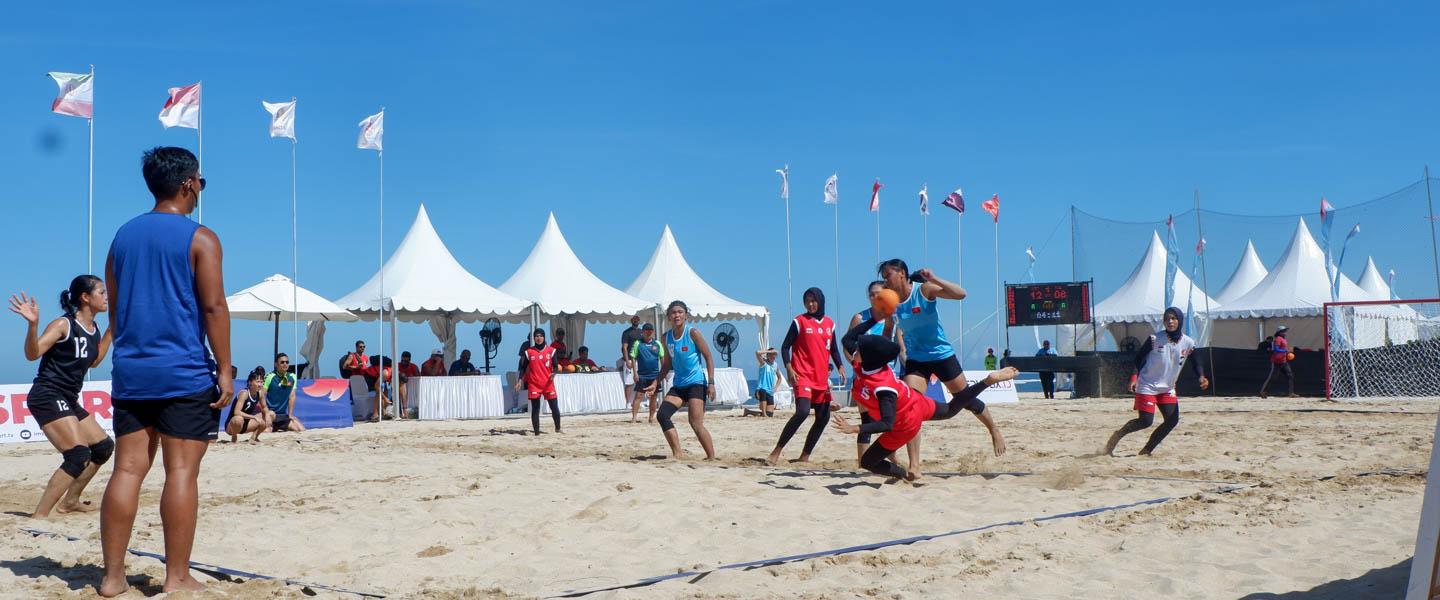 In August, Indonesia will host the second edition of the ANOC World Beach Games in Bali.
Beach handball is one of the 14 sports on offer at the event later this year, which follows hot on the heels of the 2023 AHF Men's and Women's Asian Beach Handball Championships which were played on the island last month.
As hosting nation, Indonesia's men's and women's teams automatically qualified for both events which presented them with a valuable opportunity to compete against and gain valuable experience from their continental and global rivals both on and off the sand.
"It's about continuing Indonesia's legacy in the eyes of the world," explains Indonesia's women's coach Rika Atia to ihf.info when asked about what hosting those mega-events means to beach handball in the country.
And Atia should know.
In 2008, Bali hosted the first edition of the Asian Beach Games, an event which saw Indonesia make their debut on the global beach handball stage – with Atia in the women's team. The women's team appeared again in the 2010 edition, but a win escaped them on both occasions.
But the events were more than the sports on show.
"We will always remember 2008 as Indonesia hosted the Asian Beach Games with the aim of accelerating recovery from the crisis at that time," added Atia in reference to the 2018 Sulawesi earthquake in the country.
"Now it is repeating itself for the World Beach Games. Indonesia is hosting again with the aim of making sport a unifying tool for the nation and accelerating post-pandemic recovery which is felt almost all over the world. I have followed the development of beach handball from then until now."
The ANOC World Beach Games represent a large part of the Indonesian Olympic Committee's plan to reinforce its bid to host the 2036 Olympic Games in Nusantara and are yet another major sporting event hosted by the country, which also successfully hosted the 2018 Asian Games. 
Now, both their beach handball teams are preparing for another competition on home sand. 
"Our training camp will start in May," explains Atia. "It's not easy to find the best players in Indonesia, because, considering that Indonesia is very broad and consists of several regions that are very far apart, there is little competition, but we are really trying to keep gathering the best players in our country.
"Our journey has been extraordinary, but we know that we and all of the world have just gone through the COVID-19 pandemic. Now we have to prepare as hosts and work hard to be able to fight all the other countries; it's extraordinary [for us]. We practice, but we realise that our ability is still below that of other countries."
But every journey has steps and Atia and her team are walking their own path, adding to their history and legacy last month, when Indonesia appeared at their first-ever Asian Women's Beach Handball Championship.
It was a competition which also saw them record their first-ever victory, a 2-0 win over Hong Kong. This ensured the bronze medal in the four-team event won by the continental powerhouse Vietnam, who finished ahead of the Philippines, a team which Indonesia took to a shoot-out in their opener.
"Our first game against the Philippines was a really great game," said Atia about the clash which saw them win the first set 17:16, lose the second 12:14 before eventually succumbing via shoot-out 4:9.
"Seeing that the men's team won the opening game on the first day (a 2-1 victory over China) we didn't want to miss the taste of victory. We were very excited and confident that we could get that win, but that made us slip a little in the last seconds against a strong Philippines team.
"The Vietnamese team were amazing," added Atia about the quality they faced on home sand last month. "They are a team that have been practising for a very long time and have a technique that is quite perfect. They are very disciplined in defence and very compact in attack. They play very comfortably, interestingly and beautifully in every game.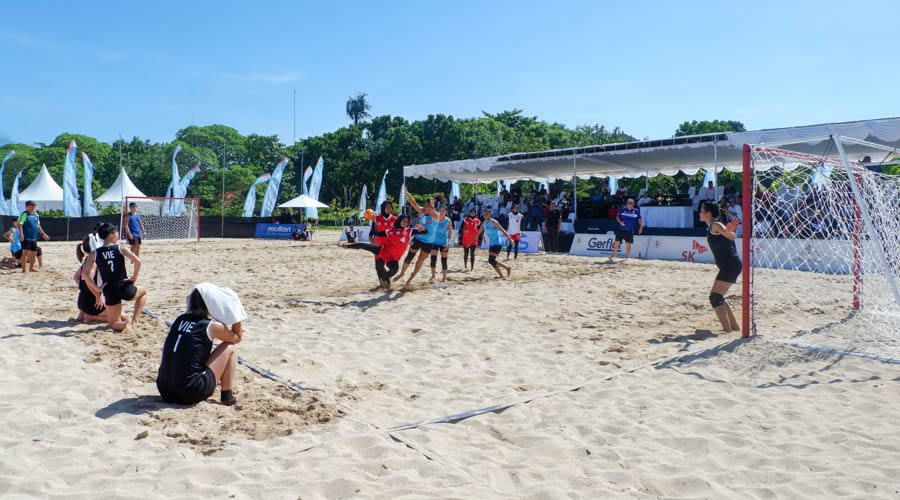 "We are close friends and I often discuss them with our players at breakfast or dinner, but us, as a very young women's team with not much experience, we have the passion and belief and also the incredible passion of the crowd who supported us in every game."
Helping oversee both the men's and women's teams in the continental championship was Danish handball coach Tonni Kjaer, who started playing handball aged nine in Thisted, Denmark, and then started coaching at the tender age of 15.
And handball has allowed him to go on an incredible journey. Coaching indoor handball in Denmark for many years, he has also overseen teams in both the Faroe Islands and Norway, as well as coaching Thailand's women's national team and Kenya's men's and women's teams and their men's younger age category selections.
As an exchange student in Ghana in the mid-1980s, he worked with the handball association to set up a course for students and worked in Argentina and Greenland as well as with coaches in Singapore in the mid-2010s.
With beach handball, he has worked at club level in Denmark and Norway in the European summer stretching back to 1996 and now finds himself in Indonesia, 26 years later.
"In 1996, the Danish beach handball tour started and we jumped on the train," explained Kjaer to ihf.info about his incredible handball voyage.
"Much later, in October 2022, I was working with Central Java in Indonesia as an indoor coach, but also with a little beach handball. I was then invited to join the Indonesia teams at the 
2022 South East Asia Handball Federation Beach Handball Championship
https://www.ihf.info/media-center/news/thailands-men-and-women-dominate-home-sand-south-east-asian-beach-champs and, luckily, they also wanted me to come back for the Asian championships and the World Beach Games."
With time comes development,and in just 15 years the sport has already grown exponentially in Indonesia, but Atia is sure more is to come with plenty of competitions on the horizon, including the Southeast Asian Games in Thailand in December 2025.
"Handball has been known in Indonesia since 2008 and has started to develop well every year following the development of the Southeast Asian, Asian and World championships," she explains. 
"In Indonesia, the socialisation of handball starts from the world of education and then continues with inter-school competitions, then national competitions. It will be developed to look for national players in every school and region according to the age group and events that are followed."
There will be a lot of hard work and training between now and August for Atia and her players, but that does not stop her thinking of what could be possible in the future.
"I have different dreams for the sport," she says.
"My dream as a female athlete, who has played, is to continue to be able to maintain the participation of the Indonesian women's team in international and world events. My dream as a coach is that I can continue to train my best athletes with heart and hard work and my dream as a mother in handball is to continue to love my children by teaching them to love this game with heart and play happily.
"I really hope that with the support of the (Indonesia) Government, all these dreams can come true, and we also really hope for support and assistance for us as developing countries to help develop handball properly in our country."
Photo: Asian Handball Federation