19 Sep. 2019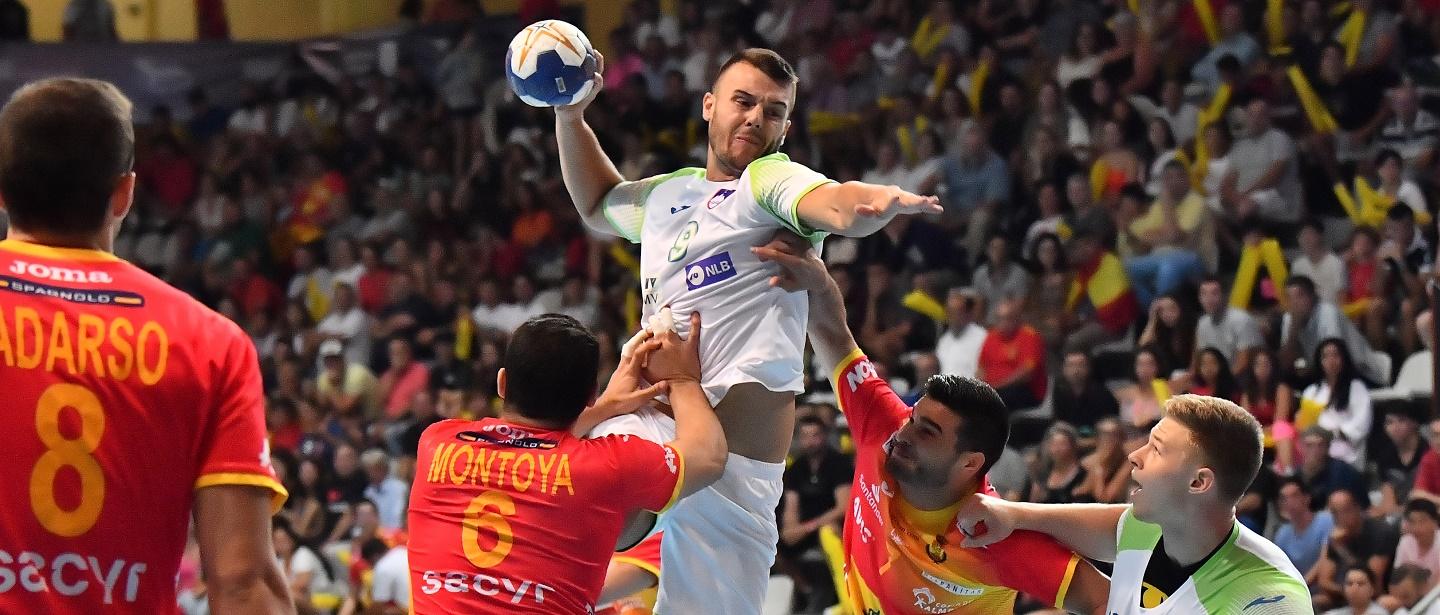 This September IHF.info looks back at a busy past few months of younger age world championships with both the 2019 IHF Men's Junior and Youth World Championships played in Spain and North Macedonia respectively.
Today we look at the 'Best Player of the Match' award-winners from the 2019 IHF Men's Junior World Championship held in Spain. The award is given to one player in each match, decided by the IHF Analysts and IHF Officials on site in the arena.
To look at all the statistics from Spain 2019, provided by toma-soft, then visit HERE.
In Pontevedra and Vigo a total of 92 games were played. The final does not feature the award, so 91 awards in total were given.
By position, both centre back and left back received the most awards with 20 each. However, IHF.info uses the official squad information submitted by the federations and the Portugal Handball Federation put Andre Gomes down as a 'back' on their official squad list, although he is listed as a left back for his club FC Porto Sofarma. If we take this position into account then his best player performance against Germany in the eighth-final thriller would mean that left back 'wins' the most important position with 21 awards.
Looking at the team awards, Croatia and Egypt come out on top. Both teams played nine games and were awarded the best player of the match in eight of them, although Croatia effectively won the award in every match possible as their ninth game was the final. The missing match award for Egypt was in their semi-final, which was won by France's Noah Gaudin.
23 of the 24 teams at Spain 2019 won an award with the 23/24 placement match between Kosovo and Australia featuring two teams who had not won an award so far. In the end, Kosovo won the match with their right wing Albin Xhafolli receiving the award to leave Australia as the only nation not to win one.
Finally, we look at the players, and Slovenia's left back Gregor Ocvirk (pictured) won the most individual awards with four, followed by Ivan Martinovic from Croatia and Noah Gaudin from France with three each. Eight other players were on two each.
2019 IHF Men's Junior World Championship – Best Player of the Match Awarding
Position
Back – 1
Centre Back – 20 
Goalkeeper – 15
Left Back – 20
Left Wing – 3
Line Player – 9
Right Back – 14
Right Wing – 9
Team
8 – Croatia, Egypt
7 – Denmark, Slovenia
6 – France
5 – Germany, Portugal, Sweden
4 – Brazil, Spain, Norway, Tunisia
3 – Hungary, Iceland, Japan
2 – Argentina, Bahrain, Chile, Korea, Nigeria, Serbia, United States of America
1 – Kosovo
0 – Australia 
Player
4 – Gregor Ocvirk (Slovenia, pictured)
3 – Ivan Martinovic (Croatia), Noah Gaudin (France)
2 – Ignacio Tomas Lopez Perez (Argentina), Filip Vistorop (Croatia), Mathias Gidsel (Denmark), Abdelrhman Taha Ali (Egypt), Mohsen Ramadan Mahmoud (Egypt), Viktor Gisil Hallgrimsson (Iceland), Hikaru Nakamura (Japan), Diogo Silva (Portugal)
Match
Match#    Teams    Player    Country    Position
1    SLO-TUN    Gregor Ocvirk    SLO    Left Back
2    SRB-JPN    Hikaru Nakamura    JPN    Goalkeeper
3    ESP-USA    Mamadou Diocou Soumare    ESP    Right Wing
4    FRA-NGR    Edouard Kempf    FRA    Right Wing
5    EGY-AUS    Hazem Mamdouh Mohamed    EGY    Right Back
6    SWE-KOR    Gustav Davidsson    SWE    Centre Back
7    POR-BRA    Joao Santos    BRA    Left Back
8    CRO-KOS    Filip Vistorop    CRO    Centre Back
9    HUN-BRN    Dominik Mathe    HUN    Right Back
10    GER-ARG    Hendrik Schreiber    GER    Centre Back
11    ISL-CHI    Viktor Gisil Hallgrimsson    ISL    Goalkeeper
12    NOR-DEN    Nikolai Vinther    DEN    Right Wing
13    NGR-EGY    Abdelrhman Taha Ali    EGY    Goalkeeper
14    KOR-FRA    Kyllian Villeminot    FRA    Centre Back
15    AUS-SWE    Gzim Salihi     SWE    Right Back
16    ARG-ISL    Bjarni Ofeigur Valdimarsson    ISL    Left Back
17    DEN-GER    Christoffer Bonde    DEN    Goalkeeper
18    CHI-NOR    Thomas Horneland Boilesen    NOR    Centre Back
19    JPN-SLO    Kristjan Horzen    SLO    Line Player
20    USA-SRB    Nikola Ivanovic    SRB    Right Back
21    TUN-ESP    Gonzalo Perez Arce    ESP    Right Wing
22    BRA-CRO    Ivan Eres    CRO    Goalkeeper
23    BRN-POR    Diogo Silva    POR    Right Back
24    KOS-HUN    Peter Toth    HUN    Right Wing
25    TUN-JPN    Ala Mustapha    TUN    Left Back
26    SLO-USA    Tadej Mazej    SLO    Left Wing
27    ESP-SRB    Pol Valera Rovira    ESP    Centre Back
28    FRA-AUS    Noah Gaudin    FRA    Centre Back
29    EGY-SWE    Abdelrhman Taha Ali    EGY    Goalkeeper
30    NGR-KOR    Rakchan Kim    KOR    Left Back
31    BRA-BRN    Pedro Pacheco    BRA    Centre Back
32    CRO-HUN    Ivan Martinovic    CRO    Right Back
33    POR-KOS    Diogo Silva    POR    Right Back
34    GER-CHI    Sebastian Heymann    GER    Left Back
35    ISL-NOR    Robin Paulsen Haug    NOR    Goalkeeper
36    ARG-DEN    Mathias Gidsel    DEN    Right Back
37    SWE-FRA    David Sandberg    SWE    Centre Back
38    EGY-KOR    Hassan Walid Ahmed Kaddah    EGY    Left Back
39    AUS-NGR    Michael Agbaji Solomon    NGR    Goalkeeper
40    NOR-GER    Till Klimpke    GER    Goalkeeper
41    CHI-ARG    Vicente Gonzalez    CHI    Goalkeeper
42    ISL-DEN    Viktor Gisil Hallgrimsson    ISL    Goalkeeper
43    SRB-SLO    Gregor Ocvirk    SLO    Left Back
44    USA-TUN    Nicholas Robinson    USA    Goalkeeper
45    ESP-JPN    Natan Antonio Suarez Diaz    ESP    Left Back
46    CRO-BRN    Halil Jaganjac    CRO    Left Back
47    HUN-POR    Luis Frade    POR    Line Player
48    KOS-BRA    Guilherme Torriani    BRA    Left Wing
49    SRB-TUN    Mohamed Aziz Aidi    TUN    Left Back
50    JPN-USA    Hikaru Nakamura    JPN    Goalkeeper
51    SLO-ESP    Gregor Ocvirk    SLO    Left Back
52    KOR-AUS    Yoseb Lee    KOR    Centre Back
53    SWE-NGR    Gustaf Wedberg    SWE    Right Wing
54    FRA-EGY    Mohsen Ramadan Mahmoud    EGY    Right Back
55    POR-CRO    Josip Sarac    CRO    Left Back
56    HUN-BRA    Guilherme Silva    BRA    Line Player
57    BRN-KOS    Ahmed Fadhul    BRN    Right Wing
58    DEN-CHI    Lukas Jorgensen    DEN    Line Player
59    NOR-ARG    Emil Kheri Imsgard    NOR    Goalkeeper
60    GER-ISL    Max Neuhaus    GER    Centre Back
61    USA-AUS    Amir Benjamin Seifert    USA    Centre Back
62    JPN-NGR    Rennesuke Tokuda    JPN    Right Back
63    EGY-SRB    Mohsen Ramadan Mahmoud    EGY    Right Back
64    NOR-BRA    Tord Aksnes Lode    NOR    Right Wing
65    FRA-ESP    Noah Gaudin    FRA    Centre Back
66    DEN-HUN    Emil Laerke    DEN    Left Back
67    KOS-ARG    Ignacio Tomas Lopez Perez    ARG     Left Back
68    BRN-CHI    Aaron Codina    CHI    Left Back
69    POR-GER    Andre Gomes    POR    Back
70    SLO-KOR    Marko Kotar    SLO    Centre Back
71    TUN-SWE    Mohamed Amine Darmoul    TUN    Centre Back
72    CRO-ISL    Filip Vistorop    CRO    Centre Back
73    USA-ARG    Ignacio Tomas Lopez Perez    ARG     Left Back
74    JPN-BRN    Ahmed Ali    BRN    Centre Back
75    AUS-KOS    Albin Xhafolli    KOS    Right Wing
76    NGR-CHI    Ibrahim Adio Owolabi    NGR    Line Player
77    BRA-SWE    Ludvig Jurmala Astrom    SWE    Line Player
78    GER-ESP    Marcel Timm    GER    Line Player
79    HUN-KOR    Miklos Rosta    HUN    Line Player
80    ISL-SRB    Boris Radivojevic    SRB    Left Wing
81    EGY-NOR    Shehab Abdalla Ahmed    EGY    Left Back
82    FRA-DEN    Elohim Prandi    FRA    Left Back
83    POR-SLO    Diogo Valerio    POR    Goalkeeper
84    TUN-CRO    Ivan Martinovic    CRO    Right Back
85    NOR-DEN    Mathias Gidsel    DEN    Right Back
86    SLO-TUN    Gregor Ocvirk    SLO    Left Back
87    EGY-FRA    Noah Gaudin    FRA    Centre Back
88    POR-CRO    Ivan Martinovic    CRO    Right Back
89    NOR-TUN    Ghazi Ben Ghali    TUN    Line Player
90    DEN-SLO    Frederik Tilsted    DEN    Centre Back
91    EGY-POR    Seif Elderaa    EGY    Centre Back
92    FRA-CRO    No best player awarded