24 Sep. 2019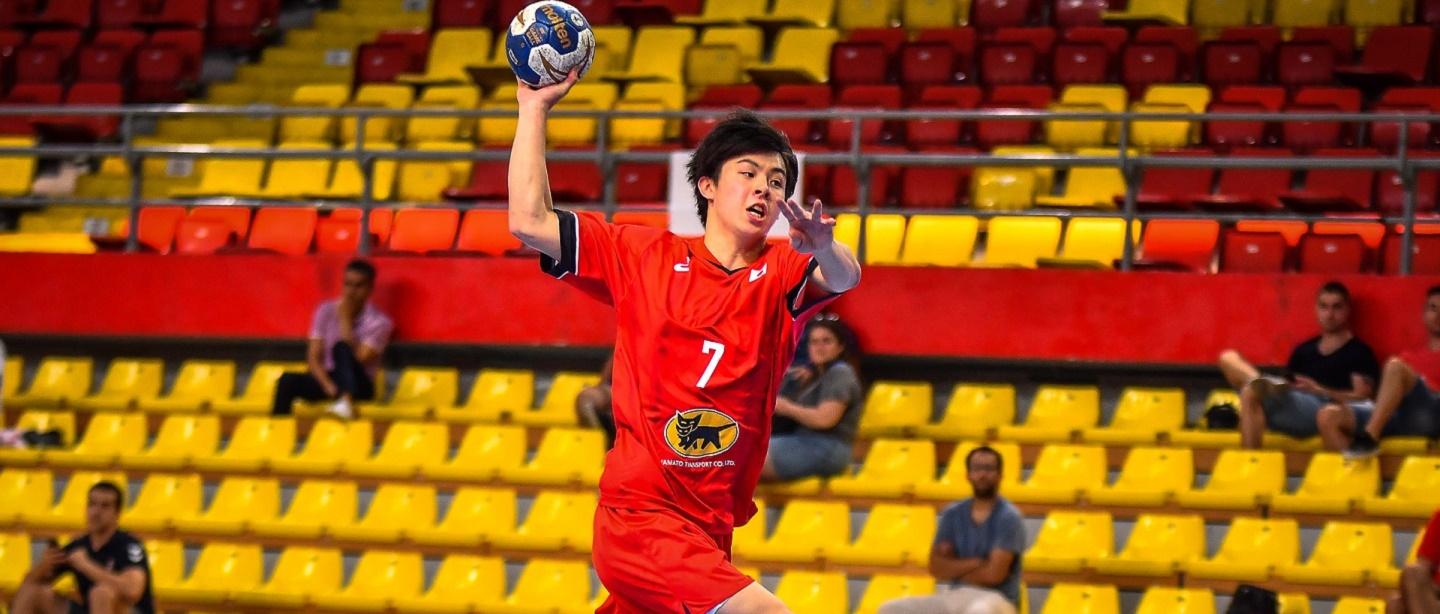 This September IHF.info looks back at a busy past few months of younger age world championships with both the 2019 IHF Men's Junior and Youth World Championships played in Spain and North Macedonia respectively.
Today we look at the 'Best Player of the Match' award-winners from the 2019 IHF Men's Youth World Championship, held in North Macedonia. The award is given to one player in each match, decided by the IHF Analysts and IHF Officials on site in the arena.
To look at all the statistics from North Macedonia 2019, provided by toma-soft, click here.
In Skopje, 92 games were played. The final does not feature the award, so 91 awards in total were given.
Centre back was the clear winner out of all the positions given by the federations in their official squad lists. Twenty-six of the 91 awards were given to this position, with left back (15) and goalkeeper (14) just behind.
The final four teams in the competition – Denmark, Egypt, Germany and Portugal – both won seven awards in their nine games with Canada the only side out of the 24 teams failing to win one.
Finally, we look at the players and three players won the award three times with Mads Hoxer Hangaard (Denmark), Ahmed Hesham Elsayed (Egypt) and Kosuke Yasuhira (Japan, pictured) proving to be the most influential players for their teams in just under half of their games played in the competition. Fifteen players won the award twice for their country.
2019 IHF Men's Youth World Championship – Best Player of the Match Awarding
Position
Back – 1
Centre Back –  26
Goalkeeper – 14
Left Back – 15
Left Wing – 13
Line Player – 3
Right Back – 10
Right Wing – 9
Team
7 – Denmark, Egypt, Germany, Portugal
6 – Spain, Hungary
5 – Croatia, France, Japan, Sweden
4 – Iceland 
3 – Argentina, Bahrain, North Macedonia, Norway, Slovenia
2 – Brazil, Nigeria, Serbia, Chinese Taipei, Tunisia
1 – Chile, Saudi Arabia
0 – Canada
Player
3 – Mads Hoxer Hangaard (Denmark), Ahmed Hesham Elsayed (Egypt), Kosuke Yasuhira (Japan)
2 – Jose Luciano Costa da Silva (Brazil), Mohamed Mohamed (Bahrain), Svend Bro Rughave (Denmark), Roberto Rodriguez Lario (Spain), Alex Pascual Garcia (Spain), Sadou Ntanzi (France), Drevy Paschal (France), Julian Koster (Germany), Benedek Nagy (Hungary), Bence Hornyak (Hungary), Mads Falck Rekstad (Norway), Joel Ribeiro (Portugal), William Andersson Moberg (Sweden), Tsai Chih Chang (Chinese Taipei), Khaled Saidi (Tunisia)
Match
Match #    Teams    Player    Country    Position
1    CRO-NOR    Stipe Puric    CRO    Goalkeeper
2    ESP-KSA    Alex Pascual Garcia    ESP    Left Wing
3    SLO-CHI    Tadej Kljun    SLO    Right Back
4    SWE-EGY    Ahmed Hesham Elsayed    EGY    Centre Back
5    FRA-CAN    Drevy Paschal    FRA    Left Wing
6    HUN-TPE    Kristof Gyori    HUN    Goalkeeper
7    DEN-JPN    Svend Bro Rughave    DEN    Goalkeeper
8    BRN-NGR    Mohamed Mohamed    BRN    Centre Back
9    MKD-ARG    Juan Ignacio Villarreal    ARG    Goalkeeper
10    ISL-TUN    Dagur Gautason    ISL    Left Wing
11    GER-POR    Salvador Salvador    POR    Left Back
12    SRB-BRA    Jovica Nikolic     SRB    Right Back
13    EGY-FRA    Drevy Paschal    FRA    Left Wing
14    TPE-SWE    Marcus Norrbrink    SWE    Left Back
15    CAN-HUN    Bence Hornyak    HUN    Right Wing
16    TUN-GER    Nils Lichtlein    GER    Right Back
17    BRA-ISL    Haukur Thrastarson    ISL    Left Back
18    POR-SRB    Martim Costa    POR    Left Back
19    NOR-ESP    Alex Pascual Garcia    ESP    Left Wing
20    CHI-CRO    Marin Sincic    CRO    Right Wing
21    KSA-SLO    Enej Jovicic Slatinek    SLO    Centre Back
22    JPN-BRN    Taiga Tsutaya    JPN    Right Back
23    ARG-DEN    Emil Jessen    DEN    Left Back
24    NGR-MKD    Nenad Kosteski    MKD    Right Wing
25    CRO-KSA    Fran Mileta    CRO    Right Wing
26    ESP-SLO    Roberto Rodriguez Lario    ESP    Goalkeeper
27    NOR-CHI    Mads Falck Rekstad    NOR    Left Wing
28    SWE-CAN    Isak Persson    SWE    Right Wing
29    FRA-HUN    Akos Kohegyi    HUN    Centre Back
30    EGY-TPE    Mohab Mohamed Abdelhak    EGY    Right Back
31    DEN-NGR    Faruk Yusuf    NGR    Right Back
32    JPN-ARG    Kosuke Yasuhira    JPN    Centre Back
33    BRN-MKD    Martin Serafimov    MKD    Right Back
34    ISL-POR    Daniel Neves    POR    Left Back
35    GER-SRB    Lukas Diedrich    GER    Goalkeeper
36    TUN-BRA    Khaled Saidi    TUN    Centre Back
37    FRA-TPE    Sadou Ntanzi    FRA    Centre Back
38    HUN-SWE    William Andersson Moberg    SWE    Left Back
39    CAN-EGY    Omar Ahmed Hamdy Lotfy    EGY    Left Wing
40    GER-BRA    Julius Meyer-Siebert    GER    Left Back
41    SRB-ISL    Stiven Tobar Valencia    ISL    Left Wing
42    POR-TUN    Andre Sousa    POR    Centre Back
43    ESP-CHI    Ander Izquierdo Labayen    ESP    Centre Back
44    SLO-CRO    Karpo Sirotić    CRO    Centre Back
45    KSA-NOR    Mads Falck Rekstad    NOR    Left Wing
46    BRN-ARG    Joaquin Barcelo Garcia    ARG    Left Wing
47    NGR-JPN    Daiki Kani    JPN    Left Wing
48    MKD-DEN    Mads Hoxer Hangaard    DEN    Right Back
49    CHI-KSA    Hamdi Mohammed Aboobaid    KSA    Back
50    SLO-NOR    Ola Hoftun Lillelien    NOR    Right Wing
51    CRO-ESP    Veron Nacinovic    CRO    Line Player
52    TPE-CAN    Tsai Chih Chang    TPE    Goalkeeper
53    HUN-EGY    Ahmed Hesham Elsayed    EGY    Centre Back
54    SWE-FRA    Alexander Regen    SWE    Line Player
55    ARG-NGR    Martin Nicolas Jung    ARG    Centre Back
56    DEN-BRN    Oliver Wosniak    DEN    Left Back
57    JPN-MKD    Kosuke Yasuhira    JPN    Centre Back
58    BRA-POR    Joel Ribeiro    POR    Centre Back
59    SRB-TUN    Khaled Saidi    TUN    Centre Back
60    ISL-GER    Veit Mavers    GER    Centre Back
61    CHI-CAN    Rodrigo Aedo    CHI    Left Wing
62    KSA-TPE    Tsai Chih Chang    TPE    Goalkeeper
63    EGY-SLO    Abdelrahman Mohamed Homayed    EGY    Goalkeeper
64    CRO-HUN    Benedek Nagy    HUN    Goalkeeper
65    FRA-NOR    Sadou Ntanzi    FRA    Centre Back
66    ESP-SWE    Oscar Garcia Sanchez    ESP    Left Wing
67    NGR-BRA    Jose Luciano Costa da Silva    BRA    Left Back
68    BRN-SRB    Mujtaba Alzaimoor    BRN    Left Back
69    ARG-GER    Merlin Fuss    GER    Right Wing
70    ISL-JPN    Tumi Steinn Runarsson    ISL    Centre Back
71    POR-MKD    Joel Ribeiro    POR    Centre Back
72    DEN-TUN    Mads Hoxer Hangaard    DEN    Right Back
73    KSA-SRB    Uroš Kojadinovic    SRB    Right Wing
74    TPE-BRN    Mohamed Mohamed    BRN    Centre Back
75    CAN-NGR    Ibrahim Dikko    NGR    Centre Back
76    CHI-BRA    Jose Luciano Costa da Silva    BRA    Left Back
77    NOR-SWE    William Andersson Moberg    SWE    Left Back
78    CRO-JPN    Kosuke Yasuhira    JPN    Centre Back
79    SLO-TUN    Domen Tajnik    SLO    Centre Back
80    ARG-MKD    Kristijan Simonoski    MKD    Line Player
81    EGY-ISL    Hassan Walid Ahmed Kaddah    EGY    Left Back
82    FRA-POR    Martim Costa    POR    Left Back
83    GER-HUN    Julian Koster    GER    Centre Back
84    ESP-DEN    Svend Bro Rughave    DEN    Goalkeeper
85    ISL-FRA    Valentin Gouy    FRA    Goalkeeper
86    HUN-ESP    Bence Hornyak    HUN    Right Wing
87    EGY-POR    Ahmed Hesham Elsayed    EGY    Centre Back
88    GER-DEN    Julian Koster    GER    Centre Back
89    ISL-ESP    Roberto Rodriguez Lario    ESP    Goalkeeper
90    FRA-HUN    Benedek Nagy    HUN    Goalkeeper
91    POR-DEN    Mads Hoxer Hangaard    DEN    Right Back
92    EGY-DEN    No best player awarded