10 Dec. 2021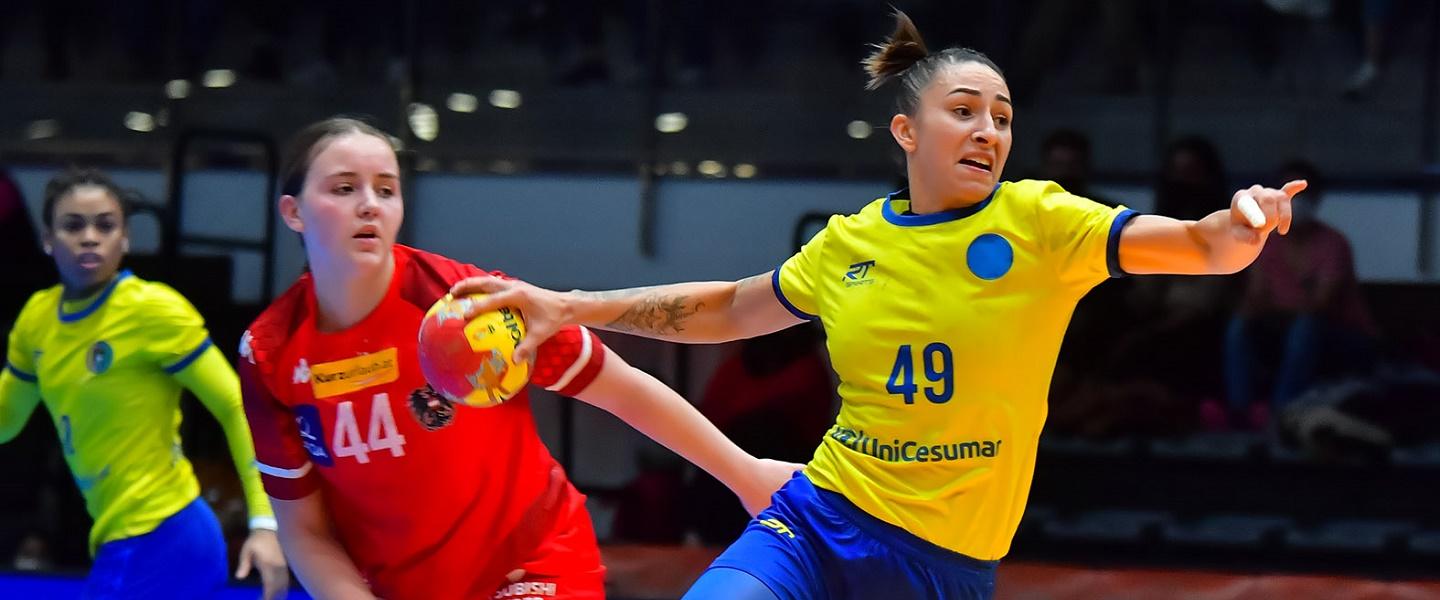 The last time Brazil won their first four games at the IHF Women's World Championship, they secured the gold medal for the first time in their history, producing the biggest surprise ever in the history of the competition.
Fool everybody once, shame on them. Fool everybody twice, then the blame is definitely on the opponents. Therefore, when Brazil, a team in a full-on rebuild, started with four wins at Spain 2021, opponents began to take notice.
The wins against Croatia, Japan, Paraguay and Austria, where Brazil barely dropped the tempo, definitely had their opponents taking notes. Few of them are really able to explain how a team that barely has the experience needed to compete at this level managed to start the tournament flawlessly, with only European powerhouses like Denmark, France, Germany, Norway and Spain replicating the South American's side form.
Now, Brazil can seal a quarter-final berth for the first time in eight years and finish in the top eight for the fourth time in 13 editions, provided they do not lose in the South American derby against Argentina in Torrevieja on Friday.
But for Ana Paula Rodrigues Belo, handball runs smoothly and Brazil are exactly where they were supposed to be before the start of the tournament.
The 34-year-old centre back, who has scored 751 goals in her career for the Brazilian women's national team in 207 matches, is one of the only two players in the current roster who won the gold medal at Serbia 2013.
The other one is another veteran, goalkeeper Barbara Arenhart, who has saved 32 shots for a 32% saving efficiency in the first four games at Spain 2021.
"We are undergoing a serious rebuild, with the players who served Brazil with pride and passion in the past making way for new stars. While I did not expect us to play so well, we are perfectly positioned to try and write history again. I am just happy for our start and the way we have been playing," said Rodrigues Belo to ihf.info.
Since Serbia 2013, Brazil have dominated the continental competitions, winning the Pan-American Games, the Pan-American Championship and the South and Central America Championship twice, but have hit a rut in major international competitions.
The downward spiral has been a tough pill to swallow for the proud South American team, as Brazil finished 10th at Denmark 2015, 18th at Germany 2017 and 17th at Japan 2019. They have won as many games at Spain 2021 as they did in the previous two editions of the IHF Women's World Championship, despite boasting a younger, more inexperienced team.
"Some things are difficult to explain, but we were properly motivated by the results we had in the previous tournaments. It is not easy to win the gold medal and then finish on the places we did. Therefore, we had that fire burning inside us and it helped us to get better and work even harder," added Rodrigues Belo.
Missing a medal at the Olympic Games Rio 2016 was a blow, but the final straw for the golden generation was the Olympic Games Tokyo 2020. Brazil had an amazing start, drawing against the silver medallists, ROC, 24:24, following up with a win against Hungary, 33:27. Three consecutive losses meant that Brazil finished 11th out of 12 teams, which prompted a flurry of changes in the squad.
Long-serving coach Jorge Duenas was let go, while crucial players like right wing Alexandra do Nascimento and left back Eduarda Amorim decided to meet an end to their international careers. Both do Nascimento and Amorim had more than 200 international matches played for Brazil, scoring more than 600 goals each.
It was a huge blow for Brazil, who do not have the infrastructure needed to create young players to replace stalwarts like do Nascimento and Amorim, with all but one of the 16 players in their roster, line player Livia Ventura, plying their trade in Europe.
Amorim was in the stands in Castelló during the games played by Brazil in the preliminary round, morphing into their biggest fan, cheering and shouting in the stands.
"It was surely nice to see Duda there, because the memories will be forever with us. So just knowing we had that support was a good feeling," said Rodrigues Belo.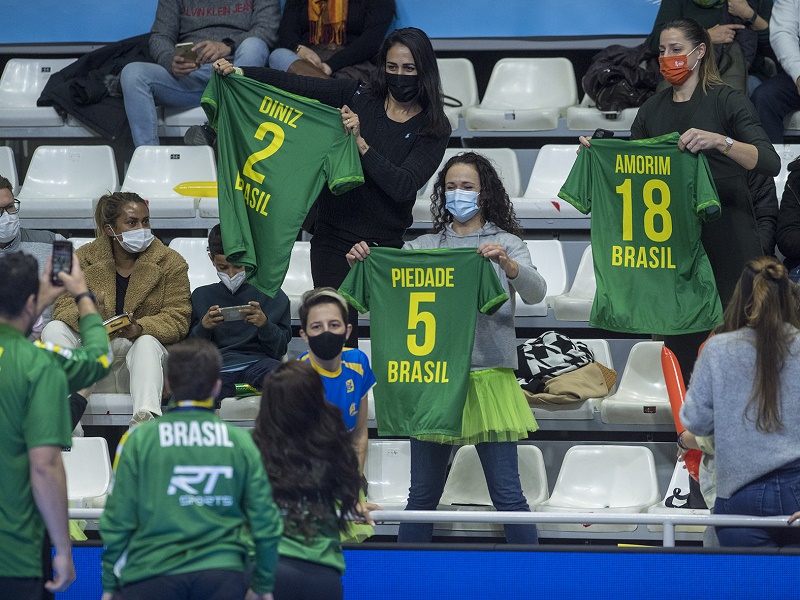 Mirroring the plan put in place a decade ago, when a strong Brazilian contingent moved to Austrian powerhouse Hypo Niederösterreich to gain experience, seven players of their current team, including Rodrigues Belo, currently play for Romanian outfit HC Dunarea Braila.
"Our domestic league is not creating players who can really light up the sky at this level. Therefore, it is only normal for many of them to go to Europe and learn the game there, the way it is played by the European powerhouses.
"I would not say that seven of us playing at the same club is a big plus for us, but it helps in some terms. However, the best thing for us is we had the time to develop as a team, with a training camp prior to Spain 2021 that helped us with our chemistry and understanding," added Rodrigues Belo.
For coach Cristiano Silva, who served as an assistant for both Duenas and for Morten Soubak, who led the title-winning campaign at Serbia 2013, this is his first experience as the head coach, yet boasting first-hand knowledge about Brazilian handball and the players was invaluable.
As is the European experience for virtually all the players who have taken Brazil into a well-known path at the IHF Women's World Championship.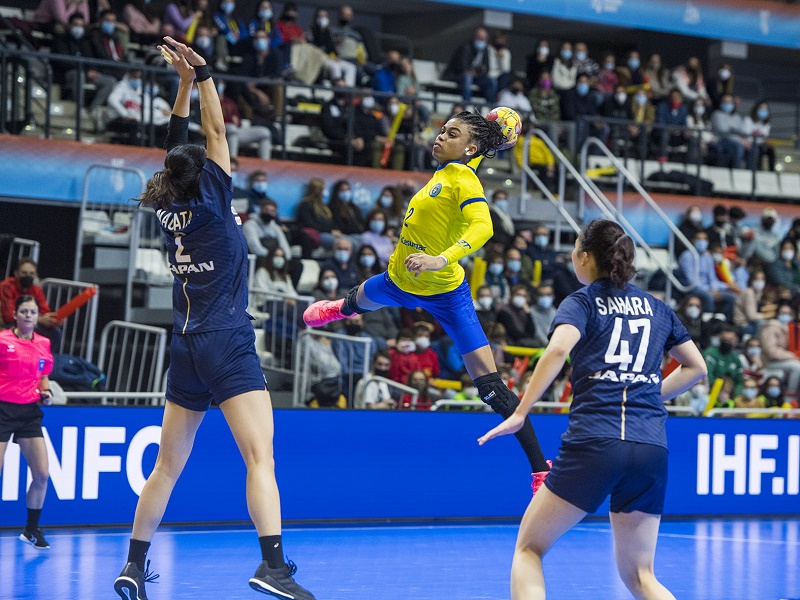 Rodrigues Belo is definitely the most experienced player in the squad, playing at her seventh consecutive edition of the world handball flagship competition. Besides the 34-year-old centre back, Arenhart is also there to add some cover, while bright prospect Bruna de Paula has also helped, scoring 16 goals and dishing 15 assists, despite playing only in three of Brazil's games at Spain 2021.
"I was blessed to play alongside some great players," said Rodrigues Belo.
Asked if de Paula is similar, in some way, to Serbia 2013 MVP Amorim, the centre back confirmed the assumption.
"You cannot compare them in any way, because the two are players with different profiles and qualities. But their importance to the squad, what they bring to the table, simply cannot be understated," concluded Rodrigues Belo.
Braila's centre back acted as one of the binding agents between two generations of Brazil's women national team, through thick and thin, in both amazing moments and also during the downfalls.
Whether the South American side win their second gold medal at the IHF Women's World Championship is still to be seen, however the feeling that they might be on a comeback path is definitely creeping in. And for the European powerhouses that have won 23 of the 25 editions of the IHF Women's World Championship, it is a team worth watching out for.
Photos: RFEBM / Á. Bermejo and RFEBM / J. L. Recio