07 Sep. 2023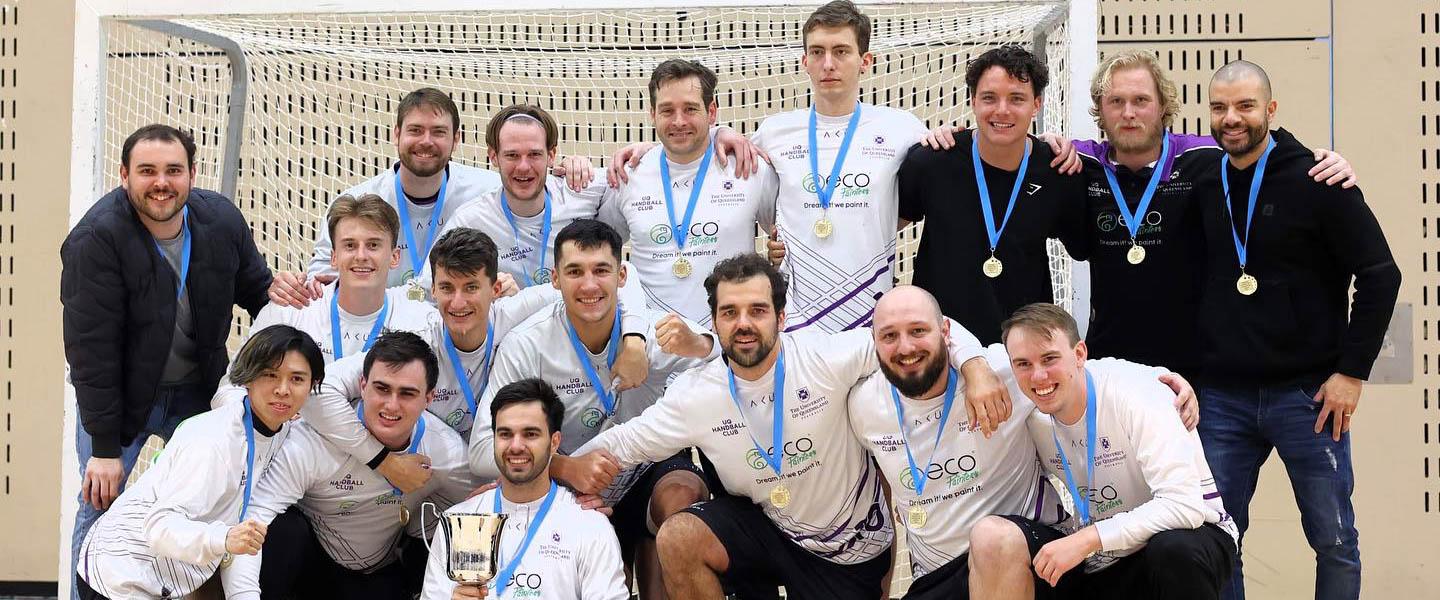 For the first time, an Oceania club other than Sydney University qualified for the IHF Men's Super Globe, and so the 2023 edition will see newcomers University of Queensland (UQ) debut at the global club championship. 
"We are a small club for a very small handball nation so to achieve qualification for the Super Globe after working towards it for so long is definitely one of our greatest achievements. It is an amazing reward for both the current and past members," says long-time club member Todd Morschel, who has acted in various capacities for the club, including as President, coach of both the men's and women's sides, and player. "We have been working towards this for a long time and everyone who has ever played for our club has contributed to this achievement — it really belongs to everyone."
Since the Australian and Oceania Club Championship — a competition evolved from numerous different formats that existed before it — became the qualifying pathway for the IHF Men's Super Globe, Sydney Uni were almost always the victors. Prior to the qualification system through the Australian and Oceania Club Championship, Oceania were represented at the Super Globe by a side named the Southern Stars, which was not an operating club but came to the event as ambassadors of the region.  
Before 2023, there was one exception to Sydney Uni's dominance at the Australian and Oceania Club Championship, when UQ took the trophy at the COVID-19-impacted edition in 2021. Sydney Uni were unable to attend that event because of COVID-19 travel restrictions so the story may or may not have been different. Either way, due to the difficulty arranging international sports events in that period, Sydney Uni were ultimately the Oceania representatives that year. 
The Australian and Oceania Club Championships are a relatively new competition, having been formed with the merging of some different events in 2014. Since that time, with Sydney Uni consistently on top, clubs like UQ, St Kilda and University of Technology Sydney were the hunters. Sydney Uni's consistent participation in the Super Globe naturally helped the club to develop, and they became the main team to beat at the Australian and Oceania Club Championships.  
Since 2019, UQ were the main contenders to knock Sydney off the top of the podium, as they reached the final for the first time that year and every year since. After Sydney Uni won the final in the three championships before 2019 by a minimum of 10 goals each time (against University of Technology Sydney and West Adelaide), UQ almost caused a big upset as they pushed the 2019 trophy match to extra time and ultimately lost by just one goal. 
In 2020, the championship was not possible due to COVID-19, and in 2021 it was an almost complete edition with some absences due to the travel restrictions still in effect within the region. With Sydney Uni absent, UQ played St Kilda in the final and took a decisive victory, 27:17. In 2022, it was once again Sydney Uni versus UQ in the final. UQ held the lead at half-time, but Sydney finished with a clear win, 26:21. 
"We worked our way up the championship rankings each year. Placing fourth in 2017 was a huge highlight for our team. Third place in 2018 with a team that was majority Australian-born players under 23 years of age was another great milestone for us, and then in 2019 we went to the final with Sydney Uni, losing by a single goal in overtime. That was a tough loss for our team, however it did prove to be a core motivator for us in those disrupted COVID-19 years. 2019 was our most successful year as a club, with our women's team winning the tournament and going to the Super Globe in China," says Morschel. 
The women's team were the winners of their competition at the Australian and Oceania Championships in 2019 and therefore participated in the IHF Women's Super Globe held in China — a milestone that represented a proud moment for the club.
The men's competition at the 2023 edition of the Australian and Oceania Club Championships saw a rollercoaster. Sydney Uni and St Kilda finished on top of their respective groups in the first phase, with UQ second on the table behind St Kilda after the Melbourne-based side won their mutual encounter. UQ therefore met Sydney Uni in the semi-final, securing a 28:27 victory that put UQ in the final for the fourth consecutive time and Sydney Uni out of it for the first time since the championship was implemented. Taking on St Kilda in the final, UQ won 31:25 and booked the historic IHF Men's Super Globe ticket. 
"In 2015, when we started this journey, we said it would take us five to eight years to beat Sydney Uni. It is a credit to them that they set the level of handball quite high in Australia and the rest of the teams had to improve to think about challenging them. This year would have been very hard for Sydney Uni, not making the final, but I think it shows that the level of handball in Australia is growing and evolving," says Morschel. 
Given the situation for handball in Australia, where all off-court positions in clubs and the federation are held by volunteers, funding is extremely limited, and players must pay their own way in almost all instances, such a dedicated long-term outlook is quite remarkable. As with all Australian handball clubs, foreign university students and other expatriates have contributed to the club, but UQ have also prioritised the development of local players — and that is now especially important for the Brisbane-based club with the home 2032 Olympic Games on the horizon. 
"Our club's focus, more than any other, is to provide a place where anyone, of any experience level, can come and play handball. Through this approach we have had many local people start playing handball in their first year of university, love the sport and train hard, and some have gone on to junior and senior national teams or [to clubs in] Europe," says Morschel.
"We are a club that has a lot of international students, but we really focus on the developement of local talent. We find that experienced international players are very happy to help their local-based teammates in their development. The coaches, senior players and committee are always talking about the local talent development. We take that into account with most of our decisions — it's in our club DNA." 
With a mix of locals and internationals working together to run the club, retention can be a difficult area — one that can significantly impact chances of success — but UQ have managed to keep a core group together for some time and reap the benefits of that. The overall approach to development highlights the commitment from all involved with the club. 
"As with all clubs in Australia we are a volunteer run organisation. All of our organising committee are either current or former players. Our treasuer is also the men's captain. Everyone lends a hand where they can and when we need help, like organising for the Super Globe, we ask the members and they always do all they can. We all share the cost of trainings, uniforms and balls. We have sponsors for individual tournaments, but nothing ongoing. The university supports us through fundraising, gym access and discounted rates on court hire. However, like all clubs in Australia, and a lot around the world, we are a member-funded organisation," says Morschel. 
"At the same time, our members are also coaching and managing junior representative teams and going to schools to teach handball. That's generally the case across Australia though — many clubs do the same thing and support their local communities how they can."
UQ are aware of the challenge that awaits in Dammam from November 7 to 12, when the 2023 IHF Men's Super Globe takes place. So what are the hopes and expectations for the Super Globe itself? 
"We have the Brisbane 2032 Olympics in our minds and we are all working towards that, so from this tournament we are looking for experience at the highest level for our athletes and coaches, then using what they have learnt and experienced to develop themselves and the next generation that will potentially represent Australia at the Brisbane 2032 Olympics," concludes Morschel.