04 Dec. 2019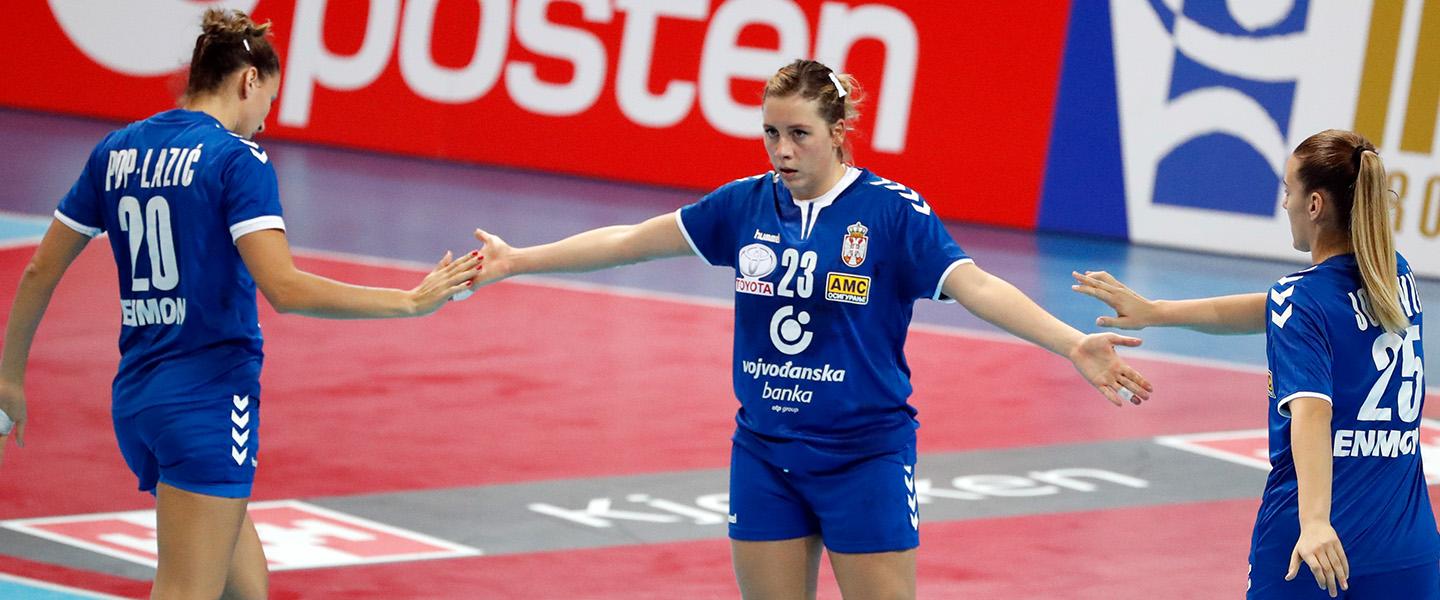 Currently level on four points in Group A, Serbia and the Netherlands will meet for a decisive match in Aqua Dome on Thursday 5 December. Both sides have lost once and won twice so far at Japan 2019. 
The Netherlands opened their 24th IHF Women's World Championship campaign with a surprising defeat to Slovenia – and a clear one no less, at 26:32. However, they recovered and have since enjoyed two strong wins, first defeating Angola 35:28 and then Cuba with a powerful attacking display that led to a 51:23 result. 
The 2017 IHF Women's World Championship bronze medallists are therefore now riding a confident wave, and will head into this clash versus Serbia aiming to continue their winning run. 
On the other hand, Serbia must recover from their first loss at Japan 2019, versus Norway in the previous round. The game was close throughout and Serbia had the lead for a time before being defeated by three in the last minutes. Their wins came against Angola, 32:25 in round 1, and Cuba, 46:27 in round 2. Considering the similar score lines against the opponents both have faced, it is clear an exciting match awaits. 
The Netherlands have had stronger results over recent years, consistently ranking among the top four at major international events since 2015. Serbia's best international rankings came in the years before the Netherlands rose to prominence – a silver medal at the home World Championship in 2013 and a semi-final appearance at the European championship one year earlier, also on Serbian soil. 
The Serbia team has changed considerably since then, but the results of the last few years should not be taken too seriously into account this time around, as the level played currently is very strong. The fact that Serbia could present such a challenge to Norway highlights their form, and there is a very real chance for them to defeat their round 4 rivals. 
The Netherlands also have a different team from that which reached the EHF EURO semi-finals last December in France, with Nycke Groot the most noticeable absence. Among the 16 players are several newcomers, and this clash with Serbia will certainly be another test after the tough one against Slovenia in round 1. 
The level within the Serbia team has less variance than the Netherlands, whose second line-up is not as strong as the starting, far more experienced seven. For the Netherlands, one stand-out star is left back Lois Abbingh, who is the fourth top scorer at Japan 2019 with 26 goals, including 17 scored out of 18 attempts from the penalty line.   
Neither side are certain of a main round berth yet, but a win in this encounter will go a long way towards securing that ticket. The clash throws off at 18:00 local time in Aqua Dome Kumamoto. 
5 December
Group A
Aqua Dome Kumamoto
Prior to the match of the day, Cuba will meet Slovenia at 15:00. For Cuba, the campaign at Japan 2019 has been tough, as they have suffered three losses in three matches – first to Norway, then Serbia and finally Netherlands. Slovenia have not collected a win since they defeated the Netherlands in round 1, having been defeated by Norway and Angola, but are eyeing their second in this encounter. 
In the final match of round 4 for the group, Norway will meet Angola at 20:30 local time. Considering their three consecutive wins, Norway are the clear favourites, but Angola have been known to shock before and their physical game can present some challenges to the European style of play. Angola have two points from their win versus Slovenia in the previous round, which followed defeats to Serbia and the Netherlands. Norway's victories have come against Cuba, Slovenia and Serbia. 
Group D
Park Dome Kumamoto
The penultimate day of matches in Group D sees the host nation Japan take on the already-qualified Russia at 18:00 with the European side looking to maximise their progression through to the semi-finals already, knowing that Japan are likely to qualify through to the main round as well, should results go to form.
Those points carried through will be vital but it will depend a lot on whether Sweden beat Argentina in the evening match (20:30). Sweden will want to continue their perfect record and get a fourth win in a row to set up a final group match clash against the Russians to win the group, but Argentina have hopes of qualifying too, knowing two wins from their final two games could be enough, depending on other results.
DR Congo and China both have zero points, so at least one will get off the mark in the opening match of the day, but, having lost to the top three teams in the group already and only able to get four points, the African side are out with their Asian opponents knowing a win, followed by a win over Japan in the final match could be all they need to progress themselves.
Click here for an overview of today's matches as well as live results, streaming, news and galleries.