14 Mar. 2021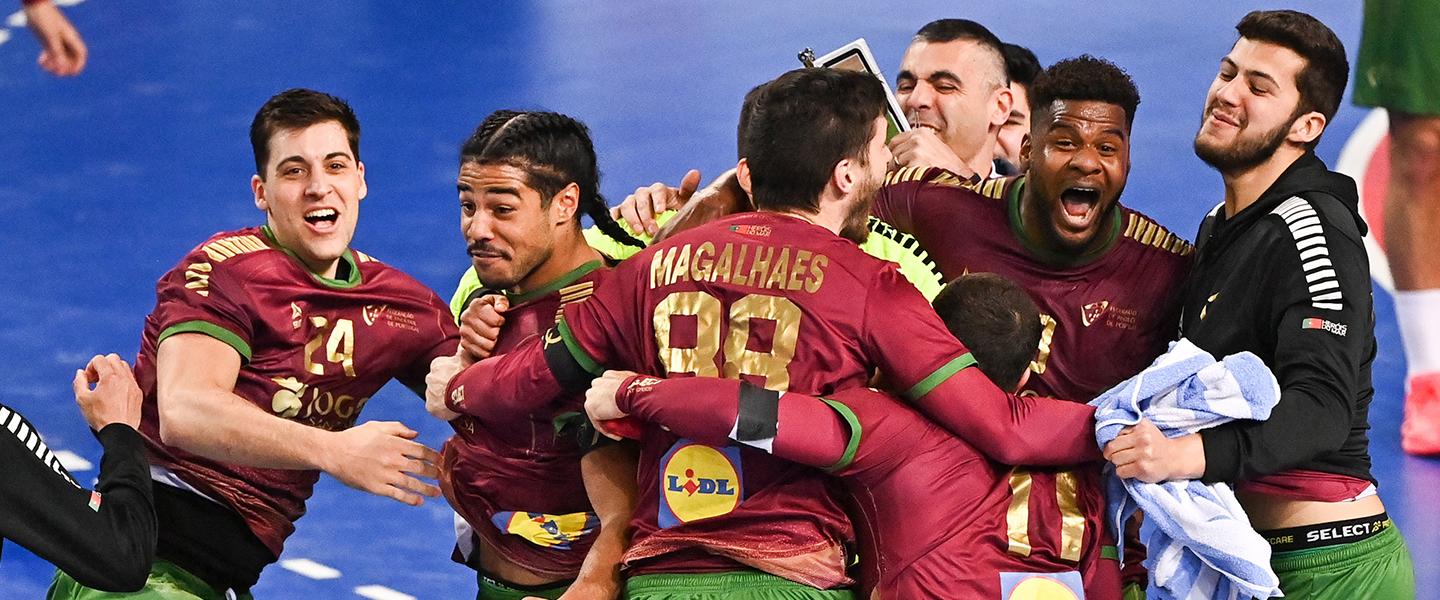 They might have a guardian angel looking after them, as Portugal mounted one of the greatest comebacks in the history of handball to secure their first-ever Olympic Games berth after a last-gasp win against France (29:28).
France also secured their eighth Olympic Games berth in a row, despite the loss, having won the first two games, while Croatia are out, due to a three-way tie-breaker.
TOURNAMENT 2
Portugal vs France 29:28 (12:13)
Seven weeks ago, Portugal needed a win against an already-qualified France to proceed to the quarter-finals of the 27th IHF Men's World Championship in Egypt. The 'Heroes of the Sea' crumbled under the pressure, as France handed them a painful 23:32 loss, leaving Portugal out of contention.
The scenario repeated itself in Tournament 2 of the Tokyo Handball Qualification 2020, as any Portugal win by as many as six goals would have seen both Paulo Pereira's team and the French side through, at Croatia's expense.
With the history there to be rewritten, Portugal fell short again, after a slow start, which saw France take a commanding 9:3 lead. It was the combination of right back Dika Mem, who scored twice and dished two assists, and right wing Luc Abalo, who scored three times, that lifted France to the superb start.
Missing key centre back Miguel Martins, who got injured in the last attack of the devastating 24:25 loss against Croatia on Saturday, Portugal lacked both the creativity and the determination to mount a comeback.
Calling a time-out, coach Paulo Pereira inspired the team to new confidence and when France lost Dika Mem due to a thigh injury, Portugal were able to pounce. 
With line player Luis Frade being unstoppable, scoring four goals from four shots, Portugal clawed their way back into the game, as the hosts only scored one goal in the last seven minutes and 23 seconds.
Finishing the half with a 7:2 run spurred by Frade and Pedro Portela, who added two more goals, Portugal were only one goal down at the break (12:13) and the wind was blowing into their sails once again.
With nothing to lose and everything to win, Portugal went all-in and deployed their usual seven-on-six tactic in attack by replacing their goalkeeper with a line player, either Daymaro Salina or Luis Frade.
And it worked wonders, as the 'Heroes of the Sea' took the lead for the first time in the game (18:17), after two very similar goals by left back Andre Gomes, who played as a makeshift right back.
However, every turnover and every failed chance turned into an immediate empty-goal shot, as the hosts bounced back and took back the lead (21:20).
With the Montpellier pair Hugo Descat and Melvyn Richardson duly taking advantage of playing in their home arena and combining for eight goals, France were back into the driver's seat with less than five minutes to go (28:25), despite Portugal's Antonio Areia's efforts on the right wing.
Areia's six goals were just enough to keep the Portuguese side in contention. However, it looked like their nerves and inexperience would stop them from reaching their Olympic dream.
For the second time in two days, Portugal looked so close, but yet so far from Tokyo 2020. But miracles happen.
France collapsed entirely in the last minutes and Portugal pounced every step of the way. Inexplicably calm and composed, the 'Heroes of the Sea' went back to the grueling step-by-step approach and duly delivered a masterful blow to France.
With only two seconds to go, centre back Rui Silva converted a fast break to complete a 4:0 run to end the game, effectively sealing the first-ever Olympic berth for Portugal. Tears started flowing both of joy and of sorrow, as line player Victor Iturriza took on the late Alfredo Quintana's shirt. 
It is now 'Direction Tokyo' for the Portuguese side, who completed a roller-coaster Tokyo Handball Qualification 2020 tournament and will progress for the first time to the Olympic Games.
France still won the group, yet the news was Croatia failing to qualify after losing the first game against the hosts by four goals. By the virtue of the tie-breaker, France won the tournament by a three-goal difference, Portugal were on 0, while Croatia had a -3 goal difference, hence finishing third.
Photo: FFHandball / Icon Sport