30 Apr. 2020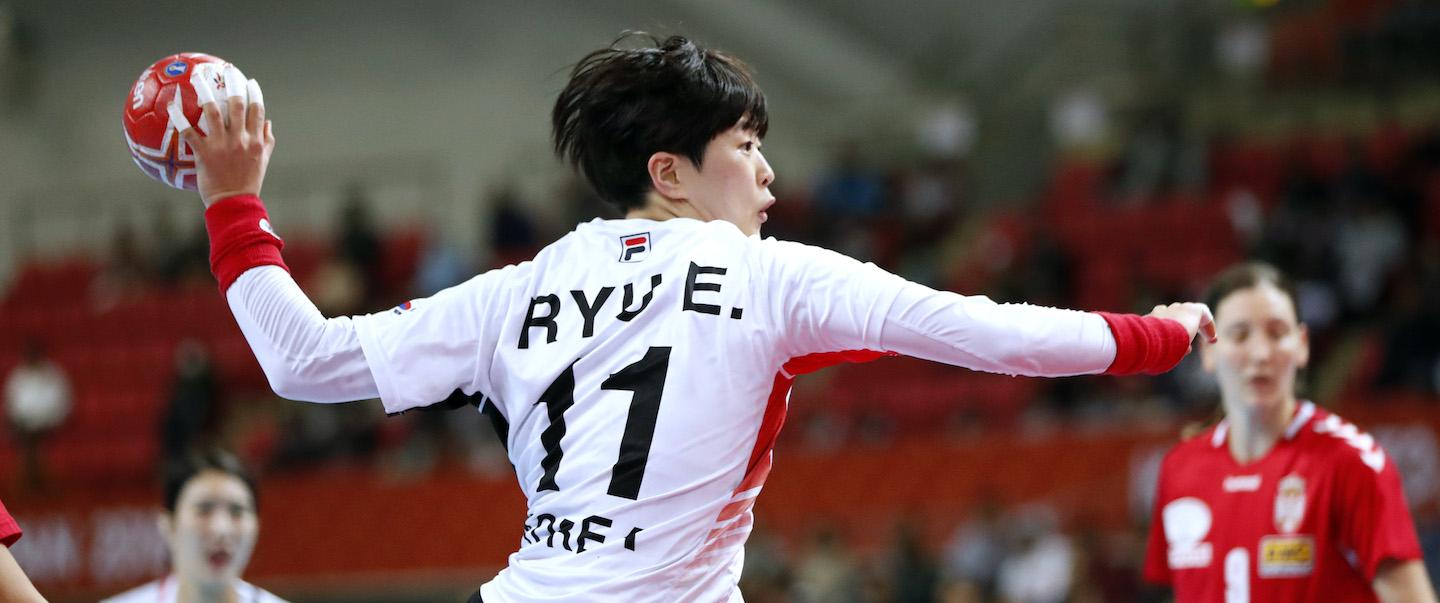 Exactly one year ago, in April 2019, Republic of Korea's women's national team right back Ryu Eun-Hee signed with top French club Paris 92.
At the time, the then 29-year-old had just led Busan Infrastructure Corporation to their first-ever Korean championship title (2018/19) winning numerous individual awards along the way, including the overall MVP (Most Valuable Player) of the league – all of which earned her the nickname of 'The Queen'.
Moving to France, adaptation
The move to the club in the south-west of Paris, initially for 12 months, with the option of an extension for another year, came after long discussions between the player, the club and with help from the Korean Handball Federation (KHF).
Despite not even having played a full season in France due to its early end caused by COVID-19, Ryu has already made her mark in Europe, winning the league's best player of the month award for February, thanks to 18 goals in those four weeks and 71 altogether in the season. 
The award, decided by fans and coaches in the league, represented clear success, and with it, the player will prolong her stay in the French capital.
"Fans are very interested in these monthly awards and vote a lot," said Ryu, speaking to IHF.info from her home in Incheon, Republic of Korea, having arrived back home on 19 March. "Also, I think I made a good impression on the coaches, which is meaningful and have shown a good image to many fans.
"I think I was able to play steadily without injury and showed better performances this year, than I did last year, earlier on in the season," added the player who is well-known for her long-range shots.
"In fact, these past 12 months I was very busy because I played both national team and club team games. I had to adjust at the beginning of my first season in Europe to the change of environment and adapt to the new team, so I was a lot more-busy early on then than I was from the beginning of this year.
"I am in Korea at the moment and cannot do much until later this month, due to the social distancing. I am working with a fitness programme made by the club and doing extra work myself, although I have not been walking around too much and avoid crowded places."
'The Queen' revealed she had been nervous about moving to France, becoming the first Korean player to move to Europe since Korea's legendary five-time Olympian Oh Seong-Ok played for Hypo in Austria from 2006-2010, but the move has paid off with the right back learning a lot – and quickly – on and off court.
"I worried a lot about leaving Korea because it meant that the whole environment would change for me," said Ryu, who celebrated her 30th birthday in February. "But I was glad to make good memories with Busan before moving to Paris – they were interested in me a long time before I eventually moved there and had contacted me a lot to express their interest, so maybe that's why I thought of them as a priority over other clubs.
"Matches in Europe are a lot more physical and faster than Korea," she said. "Of course, the height of players is much higher and there is also a lot of difference between offence and defence. It was also hard to adapt to the faster speed at the beginning – I had to be able to train at 100% in a short time after I arrived and the difference in France was that training seemed like it was actually playing a game.
"The referee's tendencies are also different, while the relationships of player to player and player to coaching staff are much more different than compared to Korea. In France, they are more 'horizontal' (flat), with the players expressing their opinions clearly. 
"In one training session, a 17-year-old player clicked their fingers at me and shouted 'Ryu' – I was very embarrassed and a bit shocked, but I understood: it was a cultural difference, in fact, I understood even more later when they did the same later to the head coach," she added, laughing.
"Communication within the team is mainly French, but the players who speak English and French translate French into English for me and I talk back to them in English."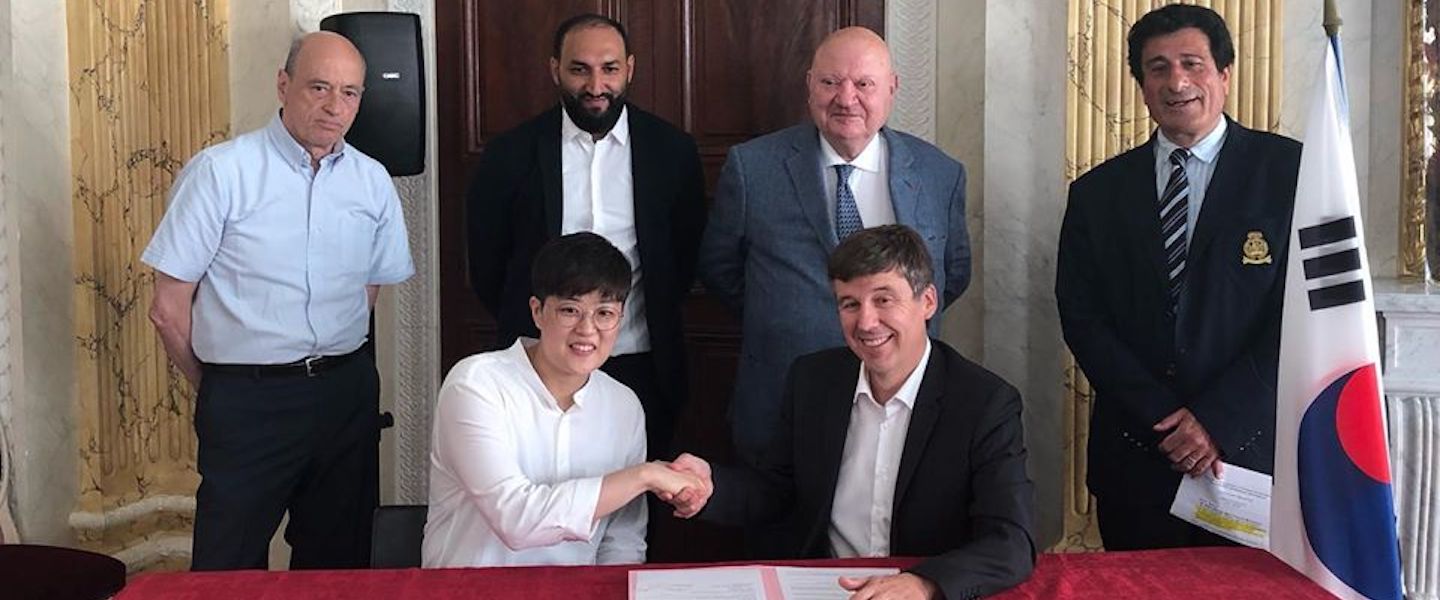 Amongst those helping her adjust in Paris is 2009 IHF Women's World Handball Player of the Year Allison Pineau, who has won both the IHF World Championship and EHF European Championship.
"When she joined the club, it was hard for her because she was very shy and I think she was afraid to try to speak English because she didn't know it so well," said 2016 Olympic Games silver medallist Pineau to IHF.info. 
"But she's taking French and English lessons and even taught us some Korean words because it's not easy, but we're all helping her to understand our language and we mostly speak in English when she doesn't try to make fun in French.
"In the first part of the season it was hard for her playing because the championship in France is more tough and rough than in Korea, plus the way how the referees whistle is totally different. It took time for her to find her path in games and express herself, but she has adapted very fast."
Return to Asia, Japan 2019
After getting settled in France, Ryu had to return to Asia, in November, for the 2019 IHF Women's World Championship in Kumamoto, Japan, where her Korea side finished a disappointing 11th after losing all three of their main round games, despite finishing top of their preliminary group.
Ryu led the goalscoring charts for a long time, eventually finishing second with 69 strikes, but won three best player of the match awards and played the most time for Korea (06:58:42) throughout their eight games, which included a victory against France in a group featuring just one team who had not won the World Championship previously.
"In the main round we lost without power and I think that's what needs to be developed," she said about her Japan 2019 experience. "Overall though I think we had a good experience as a team and a winning team is more important than any individual records.
"However, I am grateful that I played in the best physical condition without injury after a long time. I think I played the game faithfully with the new rules of the competition, which resulted in a good personal performance. 
"Playing against European players in France beforehand helped for the world championships and it gave me confidence and motivation to confront them and win, but I need to increase my shooting success rate a little bit more."
Despite the ultimate disappointment in Japan for the 2018 Asian Women's Championship winning side, club teammate Pineau noticed a marked difference in the right back since returning to Paris 92 after Kumamoto.
"Since the world championship she found her place in the team and is very good here," said Pineau. "It's impressive the way how she learns things, how she can interact with everyone and how she is now making fun with us. 
"At the beginning we needed time like always when you join a new team," added the French centre back about finding a rhythm with Ryu. "I needed to understand the way she plays and which timing I needed to go, or pass. 
"Her style is different to the European one of course, and I noticed a lot of things not to try. I asked questions to understand how she played and why she did 'this' or 'this', but I think she's the Korean player who plays the closest to the European style and winning the French league award in February is reward for what she has done since January."
Inspired by past Olympians, looking to Tokyo 2020 next year
Ryu and her Korea side have a lot of history to live up to as Korea have dominated the medal rounds of women's handball at the Olympic Games, appearing in medal matches in eight of the 11 tournaments so far – 1984 (silver), 1988 (gold), 1992 (gold), 1996 (silver), 2000 (fourth), 2004 (silver), 2008 (bronze), 2012 (fourth), while the men won silver in 1988 at the Games held on home soil in Seoul.
Combined with this, the country has history with the IHF World Handball Player of the Year Awards too with Kim Hyun-Mee (1989) and Lim O-Kyeong (1996) winning the women's award, while current Korean national team coach Kang Jae-Won (1989) and Yoon Kyung-Shin (2001) won the men's equivalent – Kang himself was Ryu's coach in Busan and actively encouraged her move to France.
Now that Tokyo 2020 has been put back a year due to the COVID-19 outbreak, Ryu is even more focussed with what she wants to achieve and is well-aware of the history of her nation on the ultimate stage.
"My dream ever since I was young was to be a player in Europe and win an Olympic medal," said Ryu, who was part of the Korea team which lost out on bronze to Spain after extra time at London 2012. 
"Now I want an Olympic medal and will do my best to get it. When I was a middle school student, I watched the 2004 Olympic Games in Athens and there was a part of that, watching the Korea players and team, which motivated me, and I want to continue the achievements of my seniors."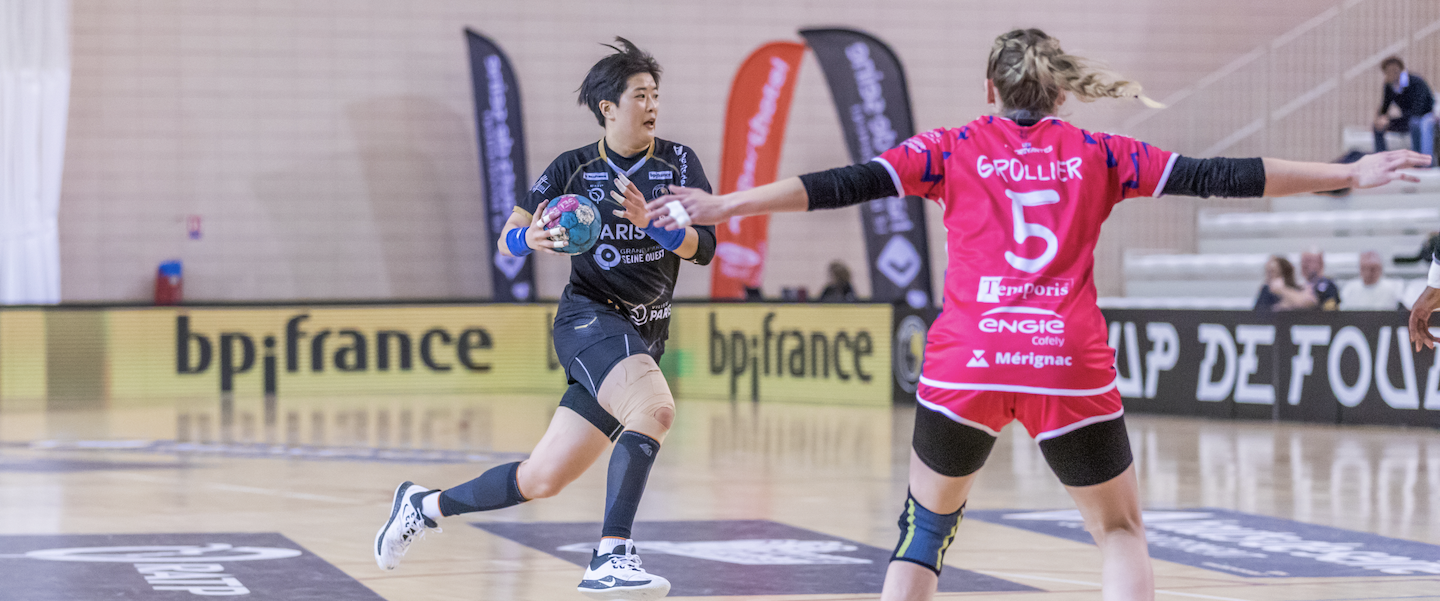 The love of the game, the future and the next generation
The 30-year-old is now well-aware that she is a role model for the younger generation coming through from Korea and is held up as a force for change back home, not least by national team coach Kang.
"Ryu has got a chance to grow even further," he said to IHF.info. "Her experience in Europe will not only have positive impacts on her individually, but also on the national team."
Her impact is felt throughout Korean handball according to Jung Choi, KHF Board Member, Executive Member of the Handball Academy in Korea and Council Member of the Asian Handball Federation.
"We are all really proud of her," said Choi to IHF.info about Ryu and her success so far in one of the world's toughest women's leagues.
"In Korea, we don't have agents or agencies like in Europe, but if players want to go out of Korea to play handball then we at the KHF help organise this for them free-of-charge, and we did this with Ryu – we help with contacting the team – or teams – which are interested, review contracts and support the signing of them. The KHF will always help to send players to Europe it the players want to go.
"Many Korean players used to play in Europe before, and we had good results, winning medals at the Olympic Games and World Championships, but, of course, results are not always proportional to players playing handball outside of Korea, but I believe it does have something to do with it.
"Everyone wants to play handball in Europe because it's the best and for Ryu it has definitely been successful, we saw how her play had improved already in Kumamoto last December and I believe she has just started.
"We are not only talking about senior players like Ryu moving to Europe to play club handball, but at the Handball Academy in Korea we are actively looking for youth and junior players wanting to play for teams in Europe and will support them to do so."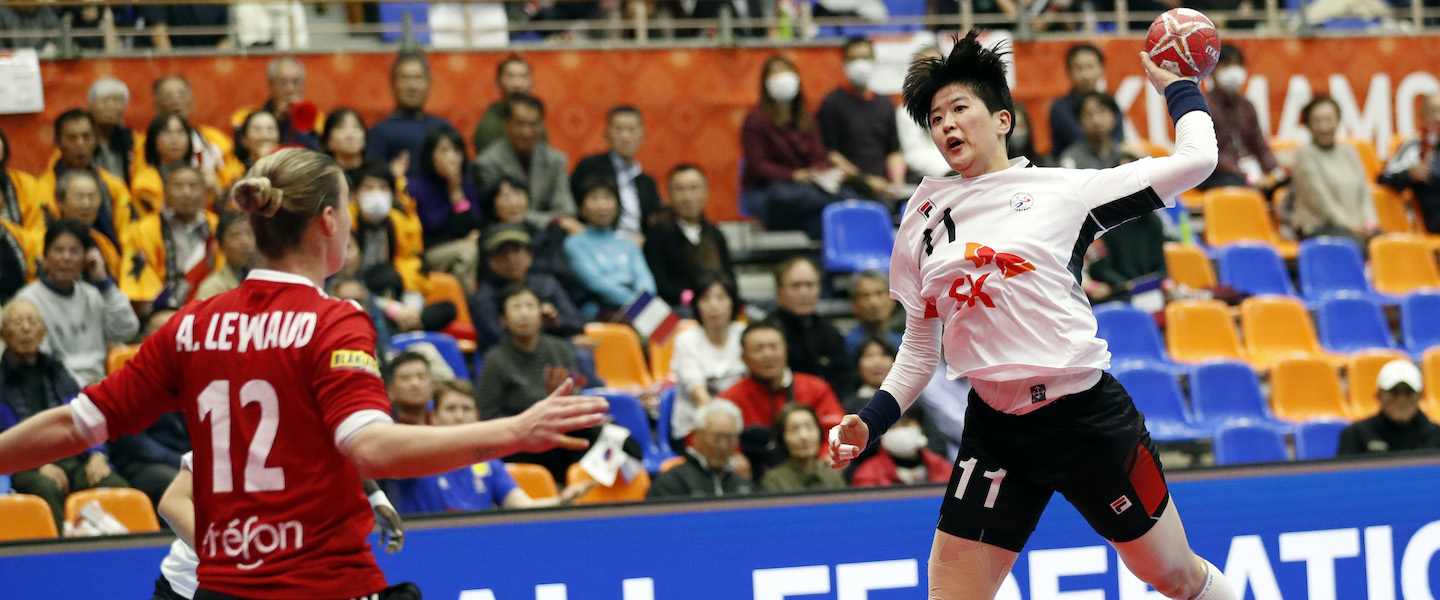 For Ryu, she is keen to promote players moving abroad but is focussed on her own goals first.
"Personally, I hope they go abroad and experience playing in Europe," said Ryu about her national teammates and players in Korean clubs. "But I don't think I can step up and do it myself – I really want to be in the Champions League, and it would be better with the Paris 92 team now.
"After I decided to play handball, my dad said to me; 'Don't tell me you're done because you decided to start,' and it seems to have affected me and my career so far. In fact, my parents have been my greatest inspiration and I am grateful for their support and care."
So, what would she say to any Korean boy or girl who is deciding which sport to play? Why should they play handball instead of football, baseball or something else?
"Although handball is not as popular a sport in Korea as some others, it has its own charm," she said. "If you actually watch it, you can feel the fast speed and a strong struggle. I would say to anyone; 'Why not try and experience it first at a stadium?"
And her love of handball shines through clearly when asked what she enjoys the most about the global game. 
"Since it's a team sport, it feels better to score through team play and it makes me happier to have my teammate score with an assist from me."
While Ryu Eun-Hee has had to adapt to life in France, she has given IHF.info some tips about dipping their toes into a little bit of current Korean culture, something which Pineau and her teammates have already experienced after she cooked a Korean speciality for them at the beginning of the season.
Ryu Eun-Hee: Korean Recommendations
Film: Parasite (Four-time 2020 Oscar Academy Award Winner)
Music: BTS (Bangtan Boys – seven-member band)
Drink: Soju (Traditional alcoholic drink)
Food: Half and Half – Seasoned and Plain Spicy Chicken (반반 in Korean or 'Banban')
Phrase: 끝날때까지 끝난게 아니다 (It ain't over 'til it's over)