30 Sep. 2019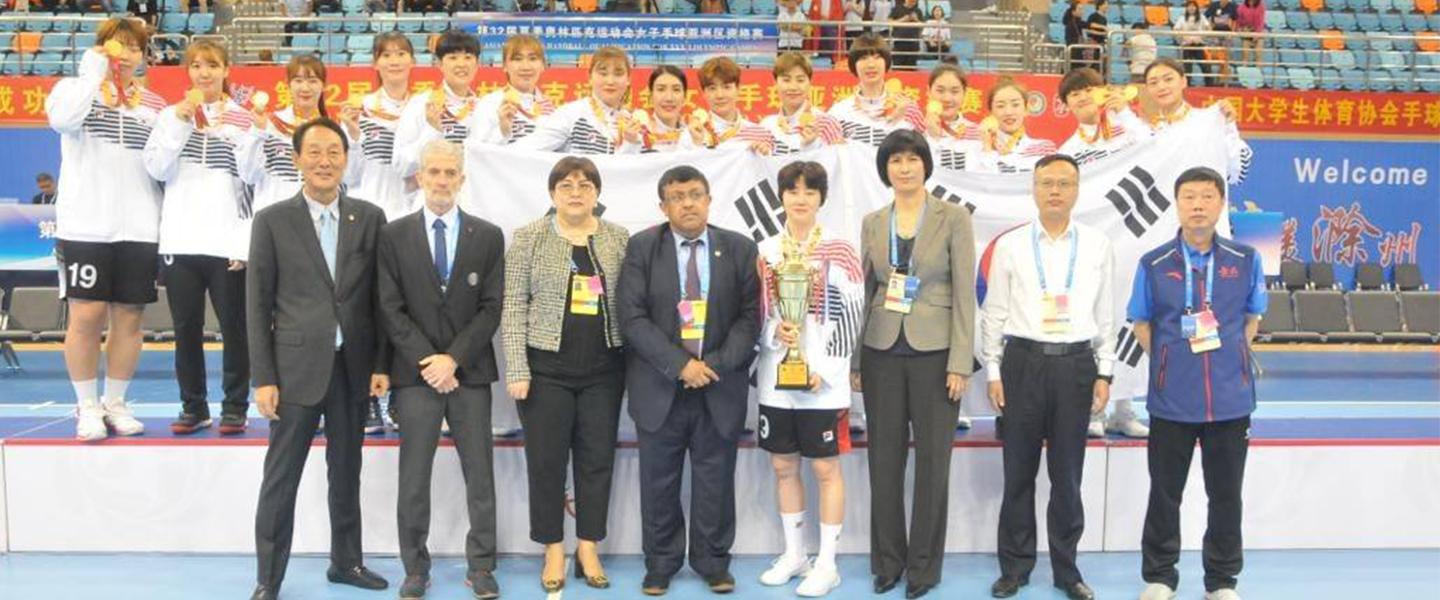 After 15 matches, Korea Republic's women's side have won the 2019 AHF Women's Asian Olympic Qualification Tournament in Chuzhou, PR of China for the Tokyo 2020 Olympic Games.
Alongside hosts China (CHN), Kazakhstan (KAZ), Hong Kong (HKG), Thailand (THA), Democratic People's Republic of Korea (PRK) and Republic of Korea (KOR) played each other once with the side finishing top of the group automatically qualifying through to Tokyo 2020 and the second-placed team automatically qualifying through to the IHF Women's Olympic Qualification Tournaments to be held next year, although two teams could be at the qualification tournaments depending on the result of the women's world championship later this year.
Korea Republic confirmed their place at Tokyo 2020 with wins against all five of their opponents: vs China (32:20), People's Republic of Korea (39:21), Kazakhstan (29:25), Hong Kong (41:13) and Thailand (40:14).
Korea's Harang Jo and People's Republic of Korea's Solmi U ended as the top-scorers in the competition with 29 goals each, while Korea's goalkeeper Saeyoung Park ended as the best goalkeeper with 43 saves from 102 attempts faced (42.2% save rate) – the highest amount of saves and highest save ratio percentage.
Park's goalkeeping prowess helped to contribute to her Korea side having the best defensive record in the competition, as they conceded just 93 goals in their five games, 10 ahead of China, with 103. In second place. 
Korea also scored the most goals (181), nearly 40 ahead of the next best scorers – the People's Republic of Korea, with 142 strikes.
The result means Korea continue their record of qualifying for every single women's Olympic Games handball competition since the 1984 edition, held in Los Angeles, USA. 
In 1984 they won silver, the same as at Atlanta 1996 and Athens 2004. The took gold at Seoul 1988 and Barcelona 1992 and won bronze at Beijing 2008. At Sydney 2000 and London 2012 they finished fourth, before their lowest-ever ranking last time around, at Rio 2016, where they ended in 10th spot.
As hosts of the 2020 Olympic Games, Japan have automatically qualified through to Tokyo 2020.
FINAL RANKING
1 Republic of Korea
2 PR of China
3 People's Republic of Korea
4 Kazakhstan
5 Hong Kong
6 Thailand
RESULTS
Monday 23 September
KAZ vs HKG 30:16 (16:7)
KOR vs PRK 39:21 (20:10)
CHN vs THA 36:17 (17:9)
Tuesday 24 September
KOR vs KAZ 29:25 (15:13)
HKG vs THA 33:22 (19:10)
PRK vs CHN 25:22 (11:11)
Wednesday 25 September
Rest Day
Thursday 26 September
THA vs KOR 14:40 (6:21)
KAZ vs PRK 24:22 (12:10)
CHN vs HKG 34:10 (21:4)
Friday 27 September
PRK vs THA 36:16 (18:8)
HKG vs KOR 13:41 (4:21)
KAZ vs CHN 19:26 (10:12)
Saturday 28 September
Rest Day
Sunday 29 September
THA vs KAZ 17:35 (8:16)
HKG vs PRK 14:38 (6:19)
CHN vs KOR 20:32 (8:17)
 
Photo: Asian Handball Federation