16 Feb. 2021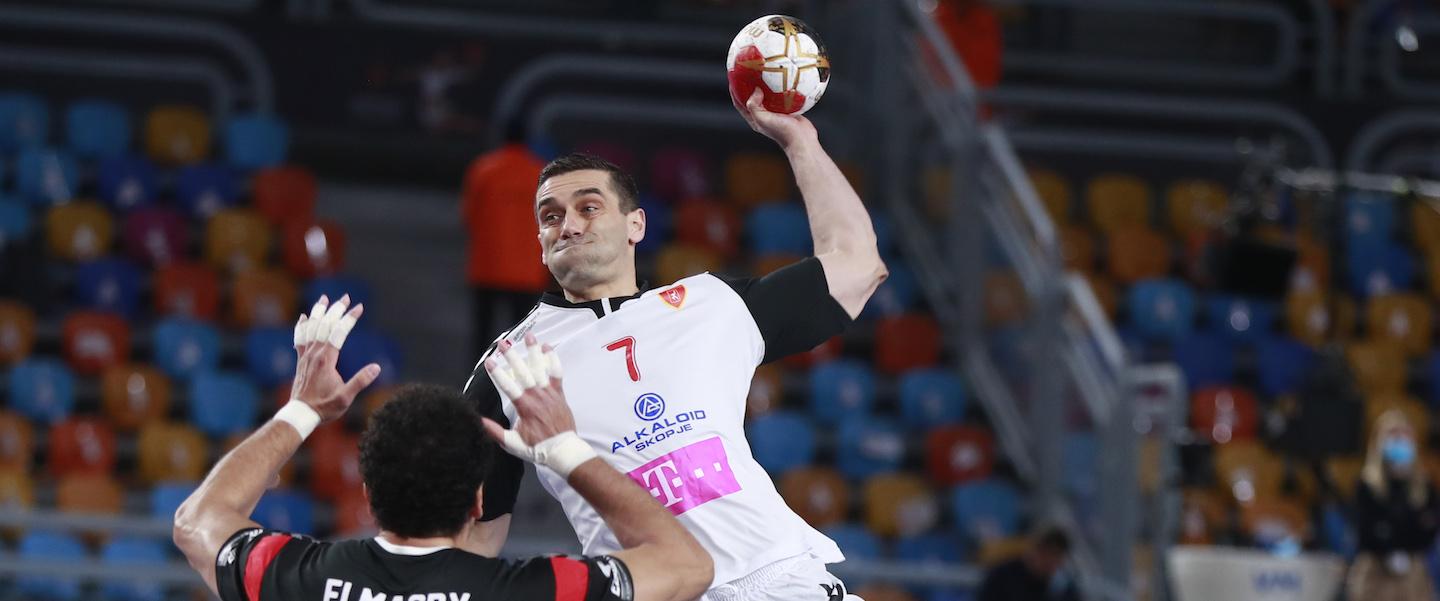 They say handball is about teamwork and there is no I in team. North Macedonia, though, a nation renowned for their fighting spirit and their determination, have one true handball legend, who has been synonymous with the team: Kiril Lazarov, their 'King'.
Of course, other key players have stepped up as well during Lazarov's 24 years in the North Macedonian team, who have qualified seven times for IHF Men's World Championships, but no one was more influential than the 'King' himself, a skilful right back, with a rocket of a shot, who scored more than 1,600 goals for his national team.
In good times and bad, Lazarov has always been there for North Macedonia, becoming the first player to score at least one goal at IHF Men's World Championships in four different decades. 
His epic adventure in the men's flagship event began at Egypt 1999, continued over the next 22 years, and finished at another major event hosted by the African nation, in January 2021.
"It is a fun fact and I never knew or thought about it. It is a very nice feeling to be an integral part of the history of the IHF Men's World Championship and scoring goals in so many tournaments over four decades. It is not an easy feat to achieve, but it is also a feat which is dedicated to my teammates, who played alongside me at the highest level, representing North Macedonia," said Lazarov to ihf.info.
The logical appointment that came out of nowhere
Life is all about opportunities and Lazarov faced one of his own. Not that he lacked any, with an illustrious career, playing for powerhouses like Barça, Telekom Veszprem, RK Zagreb or BM Atletico Madrid. 
A two-time IHF Super Globe winner with Atletico Madrid and one-time EHF Champions League Men winner with Barça, Lazarov knew that his time as a player was probably up. Now, at the age of 40, the strong right back could only keep up with young guns for so long, therefore when the call came, he was ready.
After a disappointing performance at Egypt 2021, where North Macedonia finished 23rd, their worst-ever placement at the IHF Men's World Championship, then coach Danilo Brestovac was let go.
The logical appointment? Lazarov himself, who had already started studying for his Master Coach license and is the 'King'-elect in North Macedonian handball.
Despite having no previous experience as a coach, Lazarov can galvanise an aging squad, starting a long rebuilding project, hoping to inspire young players to improve and overcome their limits, like 'King' Kiril himself did as a rookie.
"I always wanted big challenges, this always helped me to become better and be myself. It is a pleasure for me to be the coach of the North Macedonian men's national team, whom I played for since 1997. I am aware of the challenges, I am aware of how difficult it will be, but I still believe I can improve the team and work for my favourite team ever," added Lazarov.
"My favourite moment? Croatia 2009"
It is easy to say that Lazarov has seen and felt it all in handball. He is the all-time top scorer in the EHF Champions League Men with 1,360 goals, while more than 300 goals at the IHF Men's World Championship and 182 goals at the EHF EURO for the North Macedonian side.
Lazarov also holds the record for the largest number of goals scored at an IHF Men's World Championship, 92, at Croatia 2009.
The North Macedonian ace was the top scorer at two editions of the World Championship, one edition of the EHF EURO and in two seasons in the EHF Champions League Men, which propelled Lazarov in a league of his own.
"The favourite moment of my career? Probably Croatia 2009, when I scored 92 goals for my national side, the all-time record of the competition. For sure, I am very satisfied about my career," said Lazarov.
But for a player who had it all, who won almost everything that could be won at club level, what makes Lazarov tick, what inspires his desire to be competitive even at the zenith of his career?
"Sport is my life, handball is my love. It is not hard to train and play, it is my pleasure and my work. Although I prefer to play matches than to train, I still try to be in the best shape as I possibly can. I do not want people to remind me that in my last years of my career I was not in proper shape or at my best. That is my principal motivation," adds the 40-year-old superstar.
A positive reaction from the fans
However, even Lazarov knows this is the end of the road for him as a player. "This was probably my last IHF Men's World Championship as a player," conceded the North Macedonian right back.
Now, a bigger challenge awaits. An undeterred player on the court, Lazarov will swap the player jersey for the tracksuit of the coach, in a move that was approved by the North Macedonian Handball Federation, by the players and was a delight for the fans.
Qualifying for the EHF EURO 2022 will be crucial for the North Macedonian side, with Lazarov himself contributing 17 goals in the wins against Switzerland and Finland last November in the qualifying phase of the tournament.
"Big work is ahead, but I am motivated because the fans have accepted this decision. However, we are in the middle of a generational change, which is a long process that will require patience. We need to qualify for important tournaments and make the steps forward accordingly. I am confident that I can take up this challenge," said Lazarov.
For a player who has seen it all on the court, the lack of experience might be a paradox, but the North Macedonian star will relish the opportunity.
Playing for the best clubs in the world, Lazarov had the chance to learn and be influenced by the tactical masterminds in men's handball over the last 25 years. 
"I do not want to point out many names, I have worked with excellent coaches throughout my career. I learnt many things from them which I will use in my coach career," Lazarov added.
Yet, taking a close look at the teams he played for, a star-studded line-up of coaches who influenced Lazarov becomes obvious. Starting with Lino Cervar at Zagreb, following with Talant Dujshebaev at Atletico Madrid and finishing with Spanish aces Xavier Pascual at Barça and Raul Gonzalez for the North Macedonian national team, one can easily see why Lazarov was mesmerised by the possibility of becoming a coach.
"Always with high ambitions" 
This is not a decision that will make or break his future coaching career. Lazarov's reputation and the objectives set for the near future are enough to not put pressure on his shoulders.
Yet the experienced player, who is slowly transitioning into a coach, knows the challenges.
"To be a coach is very difficult, you have to think for the entire team and find the best ways to win. When you are a player, you only concentrate on what you have to do specifically on the court, to be the best player in that game," says Lazarov.
When asked what will change in his routine, the North Macedonian star replied immediately: "I will spend more time improving my mentality, rather than meaning I will need to find the easiest ways to make the players better and work with them to unlock their potential."
Creating a new Lazarov or a new generation for the North Macedonian handball is no easy task and cannot be rushed, despite the ambitions and the expectations of the fans.
Lazarov is aware of that. Complacency was never a word in his vocabulary and his motivation and work ethic were always top notch, as the captain of his national team. He expects nothing else from his squad, now in his position as a coach.
"I always have high ambitions. That is the first condition to succeed. I had an excellent career as a player but it doesn't mean that I did not have any issues. It will be the same as a coach. That is why only the most dedicated and the most resilient succeed," concluded Lazarov.
The North Macedonian right back was always a pleasure to watch, a threat in front of the goal and, at times, impossible to stop by defenders. He decided to stay in handball and impart his knowledge and experience as a coach. His chance is now and, judging by his career as a player, Lazarov will not miss this chance.