31 Mar. 2021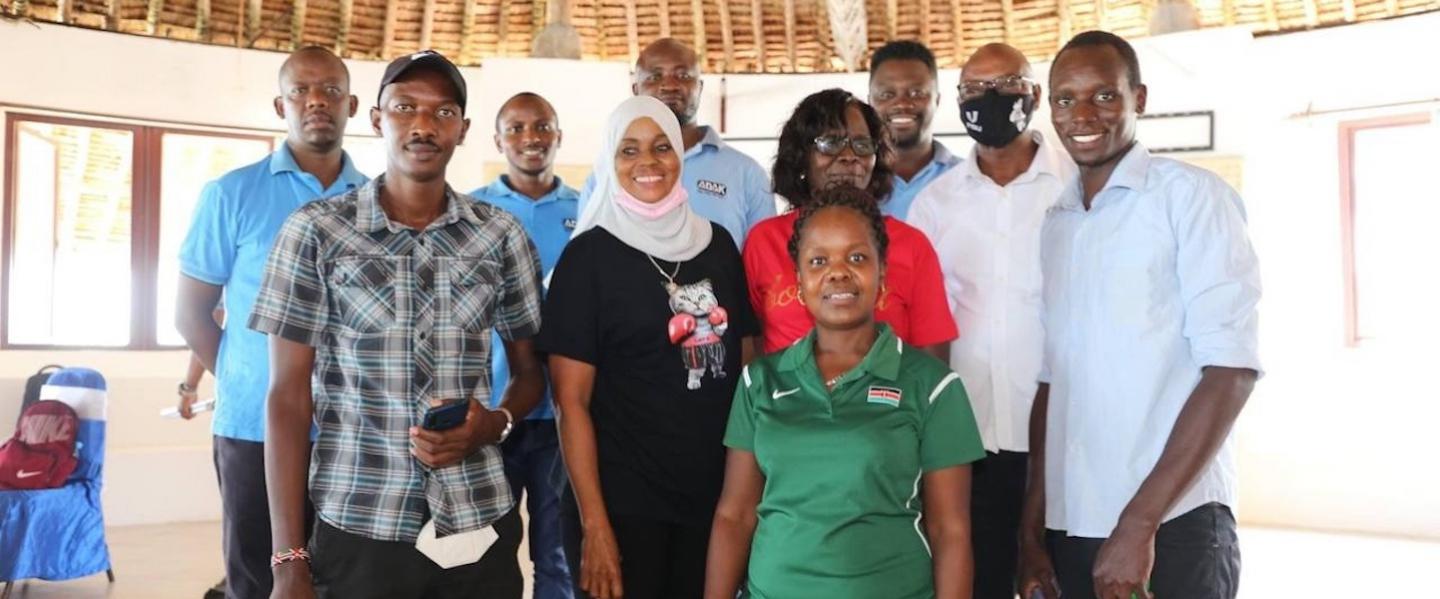 Throughout Gender Equality Month in March, the IHF celebrates women in various roles in handball in a special series. Part three highlights the inspirational Caroline Nyadiero from the Kenyan Handball Federation (KHF) whose passion for helping others extends beyond the court.
Carline Nyadiero is a true trailblazer not only for handball – where she is a KHF Executive Board member (representing Coastal Branch), in charge of beach handball across the African nation and Chairperson of the Kenyan Handball Women's Commission – but for her country too, using the sandy version of handball to combat wider social issues.
ihf.info: Can you remember where and when you discovered handball?
Caroline Nyadiero: I started my journey in sports aged eight, by slowly participating and joining the local neighbour girls' and Primary School football teams. I then captained both my high school team and Changamwe Ladies Football Club.
I eventually discovered handball in 2010, through my younger brother who was actively involved in games and who insisted I tag along with him to watch every game he played. 
During one of these games he introduced me to his school coach, Titus Kesekwa, who encouraged me to join and support their local club, 'Glorious Handball Club'. One of my first roles was to lead a team for their participation in the 'East and Central Africa Handball Competition' in Nairobi, which was a success.
Eventually, elections were called for the Coastal Branch of the KHF and I became the first female Chairperson. My first task was to take a combined coastal team to an event in Zanzibar, Tanzania.
I really felt that I had started a new journey of discovering who I really was, why I was here and developed a new sense of purposefulness in my life to become a role model.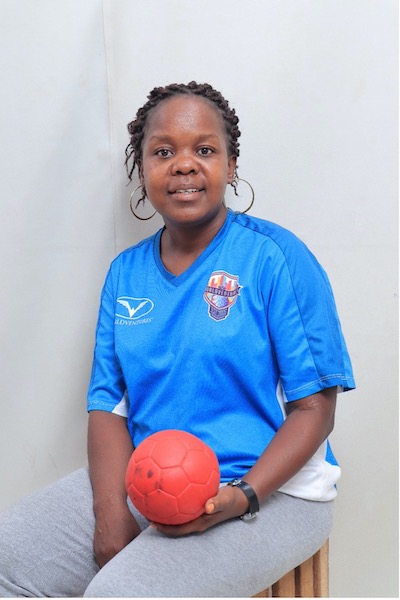 ihf.info: Anyone who knows you, or follows you on social media, will know about your love for beach handball which you have said is because of its fair play, spectacle and atmosphere. Why is the sport so important to you?
Caroline Nyadiero: Beach Handball is so important to me as it provides ways to escape the stress of our daily lives and allows us to come together as a community.
It also influences our understanding of gender roles and socio-economic issues in the society, improves overall fitness levels – especially in young boys and girls, provides great access and opportunities to individuals living in vulnerable communities and gives them a platform to demonstrate their God-given abilities and talents.
The sport instils discipline as well as improving performance in different tasks and, moreover, it promotes our sense of patriotism and oneness as a country or region in Africa.
ihf.info: Tell us about your involvement with beach handball in Kenya.
Three years after discovering handball for the first time, in 2013, and due to the fact that I reside in the south-east coastal city of Mombasa, famous for its pristine beaches, I had the idea of developing beach handball.
By this time I was on the KHF Executive Board, and I put forward this proposal to the members who unanimously agreed to pass the resolution. With their blessings, and over time, I started organising beach events and training sessions, learning through downloading tutorials on YouTube.
In May 2013, the IHF then supported us with a five-year 'Beach Handball Training Programme' pioneered by IHF Beach Handball Working Group member Sasa Kuburovic from Serbia, and IHF Beach Handball Lecturer Ioannis Meimaridis from Greece. They travelled all the way to train us in Mombasa and I will forever be grateful to IHF for this long-sightedness.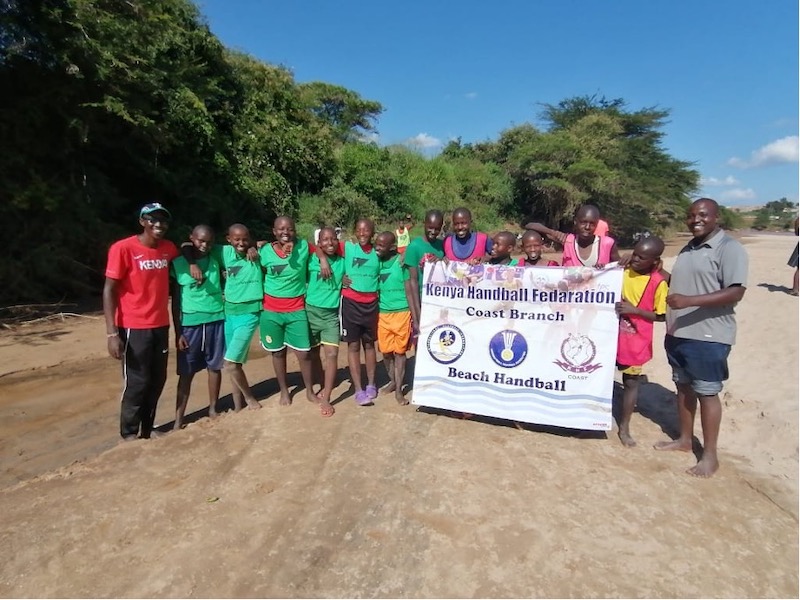 ihf.info: You are very much involved with the promotion of socio-economic development, working on numerous social initiatives in the community including financial literacy and 'period poverty' (distributing sanitary towels), both through your work with the KHF and with the 'Golden Eagle Foundation'. Why is it important to work in the community?
Caroline Nyadiero: First of all, I want to reiterate that I am so passionate about working with the disadvantaged and those who are vulnerable in society. At the Golden Eagle Foundation, where I am Executive Director, we have several ongoing programmes which mostly deal with issues that affect young girls, women and children. We even have a programme which purposely deals with youth and sports and which is doing a tremendous job.
Of course, we still face issues like a lack of funding and access to grants from donors or even individuals, but the Foundation is solidly anchored on its vision of empowering vulnerable communities at the grassroots level and I am so happy that we are impacting on societies in our own little way.
ihf.info: You have also been active in promoting your athletes to play clean and play fair too.
Caroline Nyadiero: Yes, with the help of our National Director Charles Omondi, I managed to organise and host a successful Anti-Doping Agency of Kenya (ADAK) training and workshop which saw trainers travel all the way from Nairobi to Mombasa to educate our players and officials. It was a great event and workshop for our athletes with very engaging and knowledgeable educators.
ihf.info: You were recently a finalist in the South African 'Momentum g sport Awards' which recognises women in sports in the region. What did it mean to be nominated and why are these awards important?
Caroline Nyadiero: My nomination itself and then being named a finalist made me feel so excited, proud, delighted and privileged. It opened up my eyes to future possibilities and opportunities out there. It confirmed my belief that all my efforts and sacrifices in sport are being recognised and appreciated not only in my country Kenya, but also in Africa and the world at large.
ihf.info: We are coming to the end of Gender Equality Month in March. What are your thoughts about gender equality within handball from your first-hand experience? What was it like when you first started working in the sport, where is it now and what needs to be done in the future, both at your national level in Kenya and international level?
Caroline Nyadiero: The globe is still male-dominated and gender equality issues have never been fully addressed. Women need to be encouraged and empowered to take up more challenging and decision-making governance roles in their respective local branches and even international federations.
Since I joined the world of handball there has been slow but steady steps to correct the ills of the past and take corrective measures as far as gender equality is concerned. 
Going forward, there should be fairness and a call to changing the culture and structure of sport to ensure it becomes equally accessible to everyone in the society. This, and many more barriers can be overcome by embracing diversity and rejecting stereotyping, chauvinistic and xenophobic attitudes.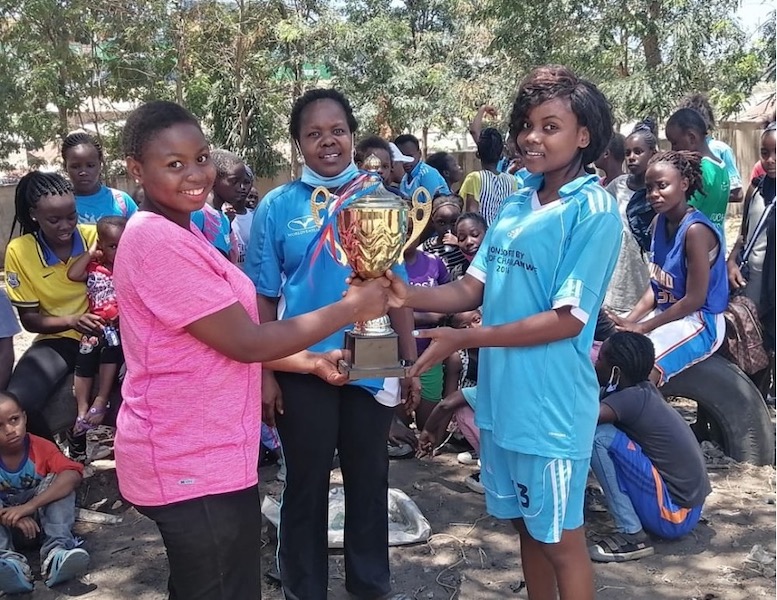 ihf.info: You are one of just two female members of the KHF Executive Board, what challenges did/do you face due to your gender and have you seen any positive changes resulting from your appointment in terms of gender equality awareness?
Caroline Nyadiero: Kenya, like some other similar countries, has a constitution which ensures gender balancing and gender considerations in all facets of our society, but women are still hesitant to take up more challenging governance roles and we have other challenges like a lack of sponsorship and advertising campaigns still affecting women in sport.
Women must fight for their rightful place in the society without expecting favours, nothing comes in a silver plate. The KHF has always been at the forefront to ensure that most women and girls take up more leadership roles for affirmative action to be achieved.
I was only the second woman to be elected to the KHF Executive Board and the only woman in the office. When I started I was excited, but I knew I had a hard task ahead of me of ensuring that more ladies are climbing this ladder so we may take up roles in handball and make the world a better place.
ihf.info: The KHF has both a Women's Commission and Women's Beach Handball Commission, why is it important to have these within Kenyan handball?
Caroline Nyadiero: Both of these commissions were formed to sensitise women to rise up and take leadership and governance roles within our grassroots and national levels. They are actively-involved in complementing the federation's role in ensuring gender balancing is realised.
ihf.info: In interviews ahead of the Momentum g sport Awards you mention a number of issues facing women in Kenya including gender stereotyping/traditional beliefs and lack of role models but praise the constitution which ensures gender equality. How important is it that law plays its part in enforcing gender equality but also that people also change their attitudes through [self-]education and social awareness?
Caroline Nyadiero: In our Bill of Rights, every person is equal before the law and has the right to equal protection and benefit of the law. Women have the right to equal treatment, including the right of equal opportunities in political, economic, cultural and social spheres. Both direct and indirect discrimination is forbidden. Our Government is mandated to take legislative and other measures, including affirmative action programmes and policies that are designed to redress any disadvantage suffered by individuals or groups because of past discrimination.
The above, coupled with civic education, has ensured that women are more self-conscious and willing to take on more challenging roles without fear or intimidation.
ihf.info: Sadly, the Kenyan Government has forced the newly-started Kenyan league of just a week to shut down due to COVID, but you have a number of national teams in both the 7-a-side and beach disciplines and genders with clubs and players spread across the country. How would you assess the current state of Kenyan handball in the country compared to other sports, in the continent of Africa and on a global level?
Caroline Nyadiero: First of all let me pass my condolences to the people of the world who may have lost their loved ones due to this scourge. Secondly, we all know that COVID-19 is a global disease and highly contagious, I therefore call upon everyone to heed to the health protocols and keep themselves and their loved ones safe.
Having said that, the Kenyan Government recently tightened restrictions amid a spike in COVID-19 deaths in five counties. The new measures included the suspension of all sporting activities including handball in the whole country. 
Whereas the foregoing measures will have adverse effects on sports calendars and constrain our usual way of life, the measures are temporary and necessary to contain the spread of the disease and therefore stop further loss of lives.
But I am glad to inform the world that during the peak of the coronavirus for us in the middle of last year, the IHF came up with numerous campaigns to ensure that people played at home. 
Our handball team were at the forefront to ensure that they kept fit and played at home as can be seen in the IHF weekly sports videos which were being shared on social media. This idea needs to be adopted by other sport disciplines as well to ensure that players are kept fit even during lockdowns and curfews.
And all of us in the Kenyan beach handball community, together with our coaches, referees and players, continue to innovate and come up with online tutorials and videos to ensure the beach handball spirit is kept alive.
ihf.info: 2021 will be a historic year for Kenyan women's handball as the senior team will make their debut at the postponed 2020 CAHB African Women's Championship this June, in Cameroon. What does this mean for women's handball in your country and for inspiring younger players to take up the game as they can see a clear pathway?
Caroline Nyadiero: This means a lot to our female players and they are still in high spirits, despite the onset of COVID-19 pandemic. This championship will provide them with exposure and publicity which will boost their morale and I urge all young players – in both disciplines – to follow in their footsteps, come out and let their stars shine. To us, the sky is the limit.
 
ihf.info: Beach handball appears to be one of those sports made for Kenya and the country is embracing it wholeheartedly. Coach Titus, who you mentioned earlier, is on the African Beach Handball Commission and Kenya was represented at the first African Beach Games held in Cape Verde in 2019. Why is beach handball so popular in Kenya?
Caroline Nyadiero: There are various reasons why beach handball is so popular: the entertainment, competitiveness and moves. It does not require a structural court to play on just any beach with an open space of unobstructed sand can be used.
This means ease of access and beach handball is steadily gaining ground as an alternative beach sport just like other sports disciplines.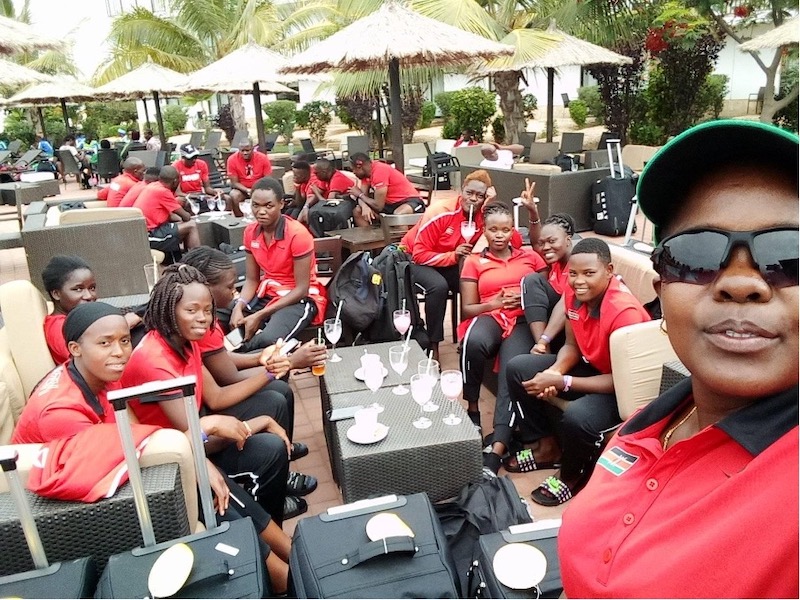 ihf.info: You are also using beach handball for a serious purpose too, addressing serious social issues, including to counter radicalism.
Caroline Nyadiero: My main concern is how to use sport to uplift the lives of young girls and women. To make a positive change, I have been running a project called 'Championing Gender Equality through Beach Handball in Coastal Kenya'.
Due to our coastal area being in close proximity to the neighbouring war-torn country of Somalia, for the past five years now I have been championing and advocating for the promotion of handball as a sport in order to build leadership skills among the girls with a single aim to foster self- discipline and avert their recruitment into radicalism and violent extremism.
Sport has the utmost potential to change dreams and lives. By teaching women and girls the values of cohesion, self-reliance, teamwork, resilience and hard work, it has become one of the pillars of gender equality. In collaboration with the Kenyan government and other stakeholders, we have made a lot of strides and the extremism cases have reduced tremendously but it is still a continuing process and with time, we will eliminate it permanently.
ihf.info: What are your dreams and hopes looking to the future?
Caroline Nyadiero: The future looks so bright in handball and the wider sports world. I am so positive and encouraged by the development the IHF is undertaking in the development of handball, especially in beach handball. There is brighter future ahead for our upcoming sportswomen and so far I am so excited with the progress being made.
 
You can follow Caroline on Facebook carol.nyadiero, Twitter @nyadiero and Instagram @carolnyadiero.
For more information about handball in Kenya, visit their Twitter and Facebook pages.